In my family and many Chilean homes, scrambled eggs are something we eat every day or at least every other day. My usual weekend breakfast as a child was a "marraqueta" (a kind of bread similar to the French baguette) with scrambled eggs.
Another classic was returning from the beach to a pan of these scrambled eggs with cheese and tomatoes. Made with eggs and cheese from local farms and tomatoes from the garden, for me, they are insuperable.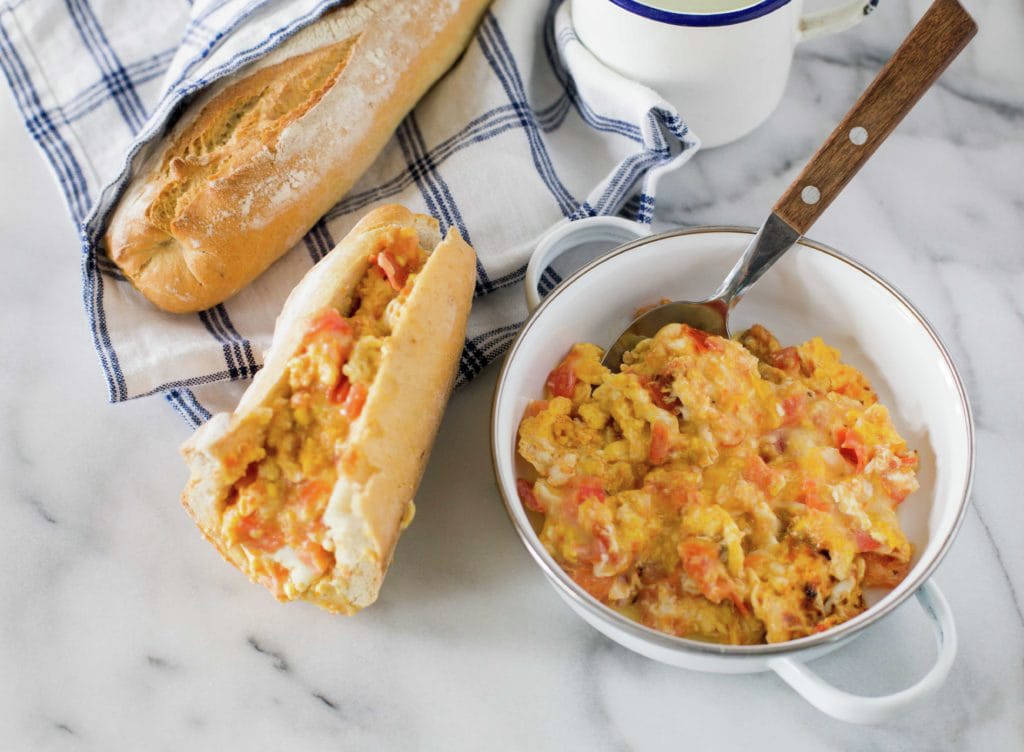 My grandfather always had eggs for breakfast, adding whatever leftover meat, ham, onion, and sausage were available.
Chilean breakfasts at hotels are often hearty and diverse, reflecting the country's rich culinary heritage. While no fixed traditional Chilean breakfast exists, some items are commonly enjoyed throughout the country:
Huevos

: Eggs are a common breakfast item in Chile, and they can be prepared in various ways, such as scrambled "revueltos," fried, or in an omelet.

Café con Leche or Te

: Chileans often enjoy coffee with milk (café con leche) or tea (usually black or herbal) with breakfast.

Cereal or Oats

: Many Chileans consume cereals or oats with milk or yogurt and sometimes add fruits such as bananas or berries for extra flavor and nutrition.

Bread

: Bread is an everyday breakfast staple in Chile. Various bread, including Hallullas, Marraquetas, or Tostadas is often paired with different types of cheese, such as fresh white cheese Queso Fresco or Mantecoso cheese similar to Havarti, avocado, jam, and butter.

Juices

: Freshly squeezed fruit juices, such as orange, papaya, pineapple, and mango juice, are popular in Chilean breakfasts, providing a refreshing start to the day.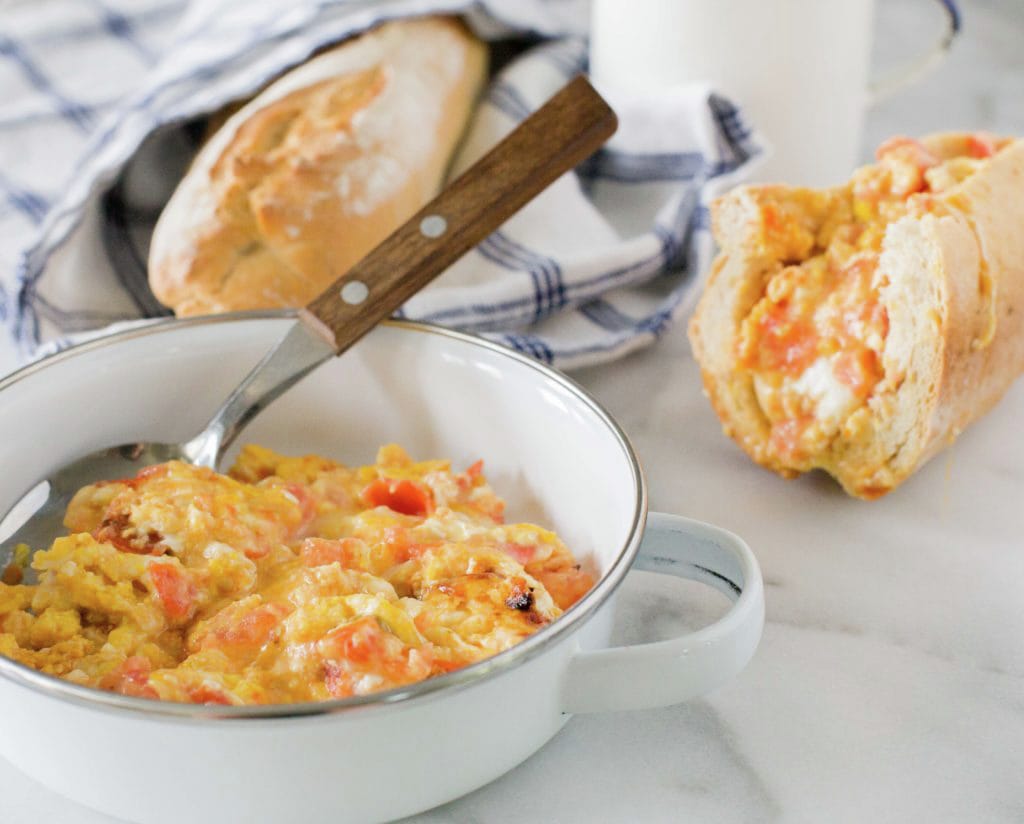 In the US, it is our custom on Sunday afternoons to have "once" with our kids. We often make bread at home, which in Chile is unusual, but we have adopted it in our ritual, and the other thing always at the table next to bread is a skillet with scrambled eggs.
Another Chilean scrambled egg popular in Chile is Huevos revueltos con cebolla (Onion Scrambled eggs).
Print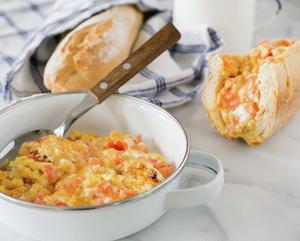 Scrambled eggs with cheese and tomatoes
A perfect breakfast for a slow summer morning.
Total Time:

25 minutes

Yield:

2
1

chopped tomato cubes

60

grams

or

2

ounces

of cheese to melt (Havarti or muenster)

3

–

4

eggs
salt
bread to serve, ideally something rustic
Instructions
In a medium skillet, cook the chopped tomatoes over medium heat until all the tomato juice has evaporated—season with salt.

Add cheese and cook for 1 minute to begin to melt.

Lower the heat and add eggs, stir slowly and take out the flame before the eggs are ready. They will finish cooking with the residual heat.

Serve with bread, or take out the bread crumbs, fill with eggs, and serve as a sandwich.
Enjoy hot or room temperature.

Notes
I wrote this sponsored conversation on behalf of the American Egg Board in 2016. The opinions and text are all mine.
Author:

Pilar Hernandez

Prep Time:

15 minutes

Cook Time:

10 minutes

Category:

Breakfast

Method:

Stove-cooked

Cuisine:

Chilean
Keywords: Scrambled eggs with tomatoes and cheese, huevos con tomate y queso