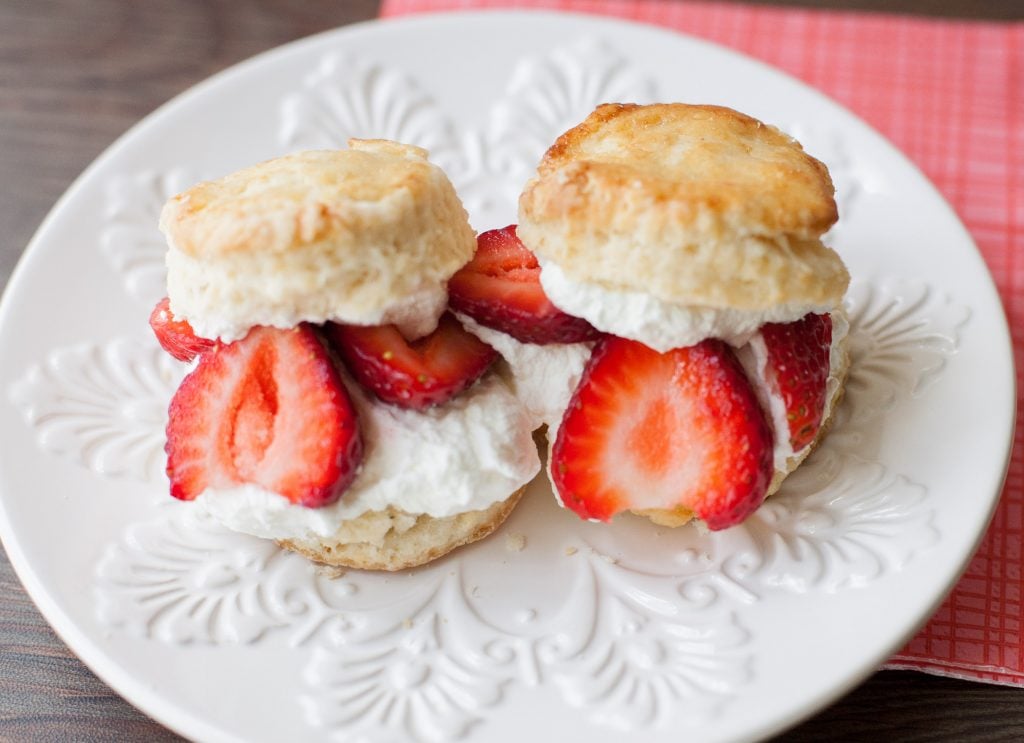 I'm sure these little guys they do not need an introduction, I love how they are in between a cookie and a sweet bread. But flexible enough to adapt to different fillings and fruits. I love doing this during the summer.
Strawberry Shortcakes
for 12 shortcakes middle size or 20 cocktail size
Ingredients:
2 cups all-purpose flour
2 teaspoons baking powder
1 teaspoon salt
1 1/2 tablespoon granulated sugar
8 tablespoons (115 grams) cold butter, cubed
2/3 cup (160 ml) heavy cream
1 yolk to paint the rolls
sweetened whipped cream and chopped fruit macerated for 2 hours in 1 tablespoon sugar
Preparation:
Preheat oven to 200C or 400F. Prepare a baking sheet, cover with parchment paper or Silpat.
Sift the flour, baking powder, salt and sugar in a medium bowl. Using 2 knives add the cold butter and work by "cutting" the butter and integrating it with the flour to make crumbs the size of a grain of corn or so. Add the cream and stir with a fork or spoon until blended only. If you continue to beat them you will end with hard shortcakes.
 Knead lightly on a floured counter (20 seconds).
Roll until dough is 2 cm thick and cut with a round cookie cutter. I used one of 3 cm in diameter, for use a medium round cookie cutter around 6cm. in diameter. Floured the cutter each time.
Place the rolls in the prepared baking sheet and brush with the beaten egg yolk.
Bake for 15-20 minutes or until risen and golden brown.
Let it cool
Halved and serve with whipped cream and fresh or macerated fruit or other sauce you like.
Recipe adapted from David Lebovitz