The recipe Smoked Salmon Roulade with Cream Cheese and Avocado Cream is sponsored by America's Dairy Farm Families and Importers, collaborating with the Innovation Center for U.S.Dairy. All opinions are mine.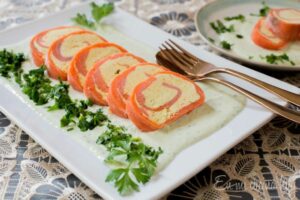 The holidays and end-of-year dinners are coming soon, and one thing I learned from my mother is that you need to plan and decide on a menu that allows you to make some things in advance. This starter or appetizer Smoked Salmon Roulade with Cream Cheese and Avocado Cream is tasty, easy to make, unique, and served cold.
In my family, traditionally for Christmas and New Year's Eve, the first course was always fish or seafood, and the main dish would be turkey or pork. Some years it was shrimp, prawns, and other smoked salmon. I love all these flavors.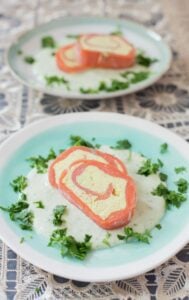 The stuffing with cream cheese and vegetables is tasty and has a beautiful color. You can use different vegetables and give them a personal touch. I used plain yogurt for the sauce, which makes for a very fresh and tasty sauce combined with the cucumber and avocado. I never stop being amazed by how flexible dairy products are. The avocado and cucumber sauce is also perfect for salad dressing or dipping sauce.
Since coming back from my visit to the WildCat dairy farm in central Texas, I have a deeper appreciation for the families that own and manage dairy farms in the USA, the great sense of responsibility and pride for what they do. It was terrific to see how they continuously innovate to create a better future for our children and grandchildren.
Dairy farmers are committed to caring for our environment, water management (including recycling several times, 3-5 times on average), waste, and land management. They are a sustainable industry. With the technology and management improvements currently adopted to produce 1-gallon milk: 90% less land is used, 65% less water, and the carbon footprint has been reduced by 63% compared to 1944—an outstanding and never-ending effort on their part.
Back to the end-of-year celebrations, other tips to help to have stress-free dinners include:
When planning the menu, immediately decide what kind of plates you will use and whether serving the starter or dessert on disposable plates would be reasonable. The same goes for the cutlery. I do not recommend washing dishes in between, although this often happened to my grandparents (another era).
Set the table the day before. Make flower arrangements or centerpieces in advance. Prepare trays with glasses for the toast. Arrange plates for snacks—lay napkins.
Serve cake for dessert; it's best if it's been allowed to rest overnight and always impressive. Or pie. With a plate of fruit, there are dessert options for everyone.
Print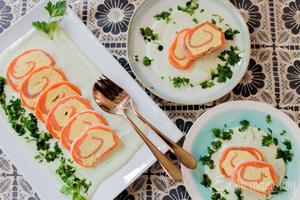 Smoked Salmon Roulade with Cream Cheese and Avocado Cream
A great appetizer or buffet dish.
Total Time:

1 hour

Yield:

10
For the salmon roulade,
2

packages (8 ounces) cream cheese, soft

1

pepper, red, yellow or orange, washed and seeded

1

carrot, peeled and chopped

8

green onions, white part and little of the green

16 ounces

(

450 grams

) smoked salmon
salt, pepper
For the sauce,
1 cup

plain yogurt

1

cucumber

1

avocado
juice of

one

lemon
salt, pepper
Instructions
Prepare the vegetable cream cheese. You can use the food processor or chop finely and mix it by hand. If you are using the food processor, grate the carrot first, then add green onions, then pepper and finally cream cheese. Add salt and pepper, combine well and adjust seasoning.
On the counter place two overlapping sheets of plastic wrap, make a rectangle of 30×20 cm with smoked salmon. Place a thin layer of veggie cream cheese. Carefully roll, use the plastic wrap to help yourself. Wrap well and freeze for 4 hours or overnight. Take out of the freezer 30 minutes before slicing
Prepare the sauce, combine all ingredients in the blender and process until you obtain a sauce. Adjust seasoning. Refrigerate. Can be made the day before and keep refrigerated.
Cut medallions of 1 cm. thickness.
To plate, pour some sauce and a salmon medallion on top. Garnish with chopped parsley or chives. Serve cold.
Author:

Pilar Hernandez

Prep Time:

1 hour

Cook Time:

0 minutes

Category:

Appetizer

Method:

Cold

Cuisine:

International
Keywords: Smoked Salmon Roulade with Cream Cheese and Avocado Cream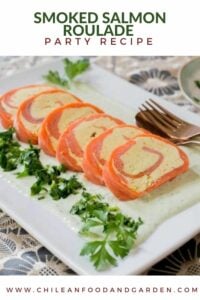 This post is created with America's Dairy Farm Families and Importers, partnering with the Innovation Center for U.S. Dairy. However, the views and opinions included are my own.