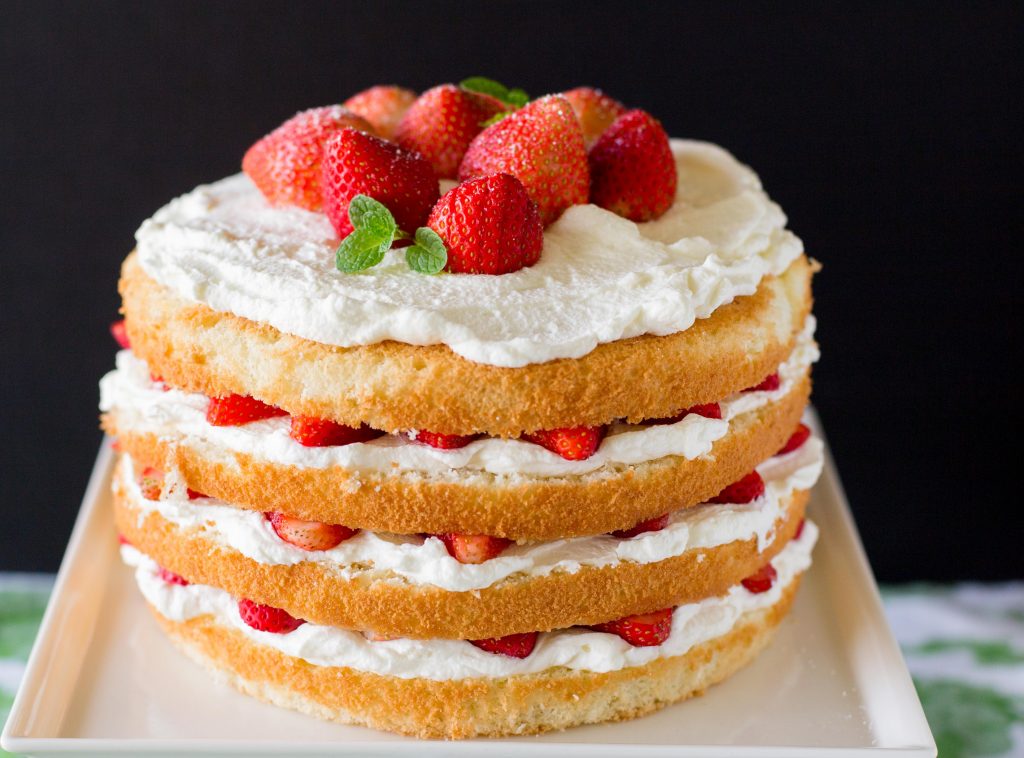 In my husband's family, this cake is the most traditional one. This year my husband asked me for this cake for his birthday. This cake melts in your mouth and complements any fruit. I generally do the genoise 2 days before the birthday, refrigerate tightly wrapped in plastic wrap and fill the cakes the day before to allow flavors to blend.
Strawberries and Cream Cake
for the genoise (step by step photos here)
225 grams of sifted cake flour
6 eggs
225 grams of sugar
1/4 teaspoon salt
1 teaspoon vanilla extract
50 grams of melted butter
Preheat oven to 365F or 185C. Prepare a cake pan of 23 cm in diameter and at least 7 cm high. Cover the bottom with parchment paper.
In a bowl mix the eggs, sugar, salt and vanilla whisk, heat in a double boiler until it reaches a temperature of 115F or 46C. Take it out of the bath, and beat with electric mixer at high speed until the mixture rises and collapses after leaving a ring on the edge of the bowl.
With a spatula, incorporate the sifted flour in 3 steps, using soft folding movements, add the melted butter and incorporate on the same manner.
Pour the mixture into the prepared pan and bake for 25-30 minutes until lightly golden.
Cool on a wire rack and then wrap and refrigerate. Do not un-mold until you go to cut and assemble the cake.
to assemble the cake,
500 grams of strawberries
2 cups chilled whipping cream
4 tablespoons granulated sugar
Cut strawberries, reserve 8 whole to decorate on top.
Whip cream with mixer on high speed until it forms soft waves, lower the speed to low and add sugar in a steady rain. Go back to high speed and continue beating until stiff peaks. Do not overbeat. It is easier if the bowl and beaters are very cold, I placed them in the freezer for 5 minutes.
Un-mold the cake and remove parchment paper, cut cake in 3 layers.
Place one layer on the plate that you will serve the cake, covered with cream, strawberries, cake. Repeat until finished.
Garnish with strawberries and mint. Sprinkle with powdered sugar before serving. Keep refrigerated.