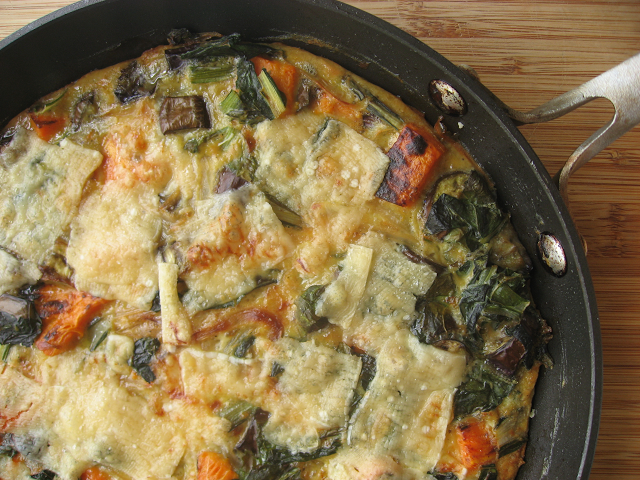 Growing up in Chile, tortillas were one vegetable: carrots, green beans, chard, and noodles, but to me, that's boring.
I prefer, a thousand times, a meal with flavors that complement each other, and they change in every bite.
So my current Tortillas have all kinds of vegetables in them. Anything in the season is fair game.

Vegetable Frittata
4 people
Ingredients:
2 tablespoons olive oil
1/2 chopped onion
1 sweet potato
2 small or 1 medium eggplant
5-8 Swiss chard leaves washed and chopped into strips, stems included
5 eggs
salt and pepper
Parmesan cheese to top, optional
Preparation:
In a medium nonstick skillet (the same you will use for the tortilla) over medium-high heat, heat one tablespoon of oil and fry the onion until caramelized, about 25 minutes, or until cooked about 8 minutes, stirring occasionally. In the meantime, put the sweet potato in a bowl that can go to the microwave and place a thin layer of water, pierce the sweet potato five times with a fork and cook in the microwave on high until cooked and you can smoothly go through with a fork, about 6-8 minutes. Allow cooling.
Remove the onion to a dish, and without adding more oil, sauté over medium heat the diced eggplant, add the Swiss chard and cook until the eggplant is lightly golden. Put on the same dish with onion.
In the same skillet over medium heat, brown the cooked and cubed sweet potato. Remove to the same dish with the other vegetables.
In a large bowl, beat the eggs for 30 seconds with a round whisk until well blended and frothy. Add all the vegetables and season with salt and pepper.
Wipe clean the skillet with a paper towel and place another tablespoon of oil. Let heat for 1 minute over medium heat, pour the vegetable mixture and eggs into the pan, and flatten slightly to make it all the same level. Reduce heat to low and let cook for about 30 minutes until the center feels cooked and not wet.
Preheat the oven broiler. Cut skinny slices of Parmesan cheese, use the vegetable peeler and cover the tortilla with cheese. Broil in the oven, let stand for 10 minutes and serve.