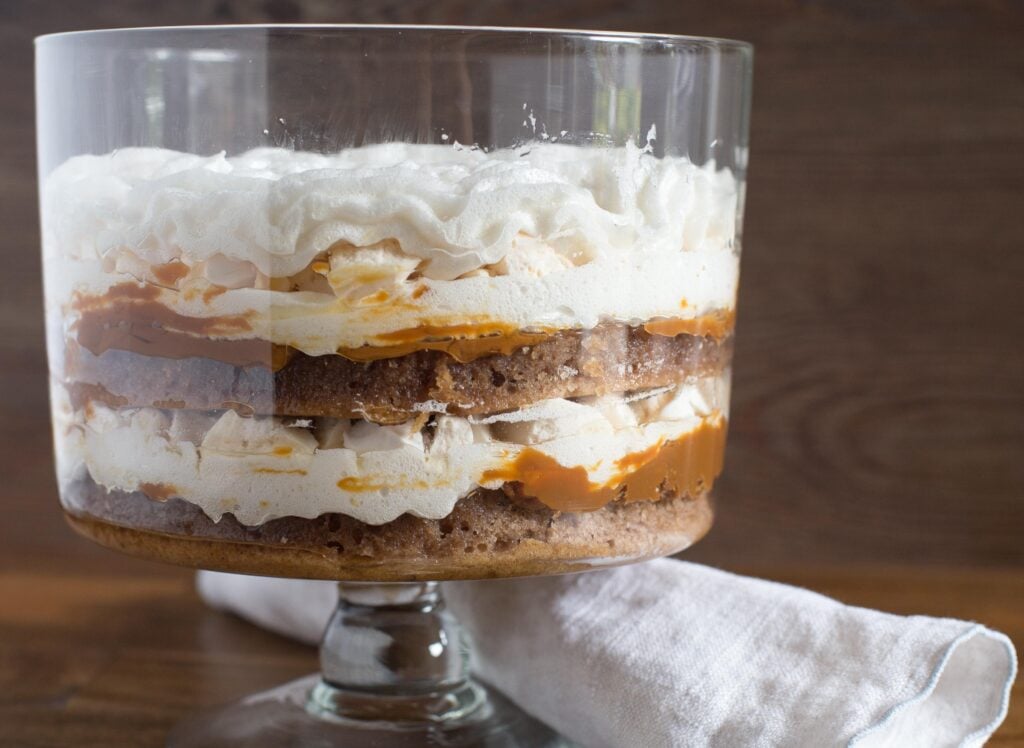 I thought of baking a Walnut Dulce de Leche Meringue Cake, but I got confused, and the cakes were too thin to split. So here goes the adaptation to trifle dessert. If you're afraid of cakes, you can achieve the same combination of flavors and layers in a trifle, which is why they were so popular. I recommend you do this; it's much easier to assemble than a cake.
A faithful follower of the blog from my hometown Rancagua: Jose Ignacio, suggested this recipe to me. Thank you so much!
I love this trend in cakes in Chile, where layers of meringue, cake, and different fillings mix, leaving everyone happy. The other combination I like is Queen Anne: walnut cake, cherry jam, vanilla, and puff pastry with dulce de leche and Chantilly cream.
For a cake, I recommend doubling the recipe.
Print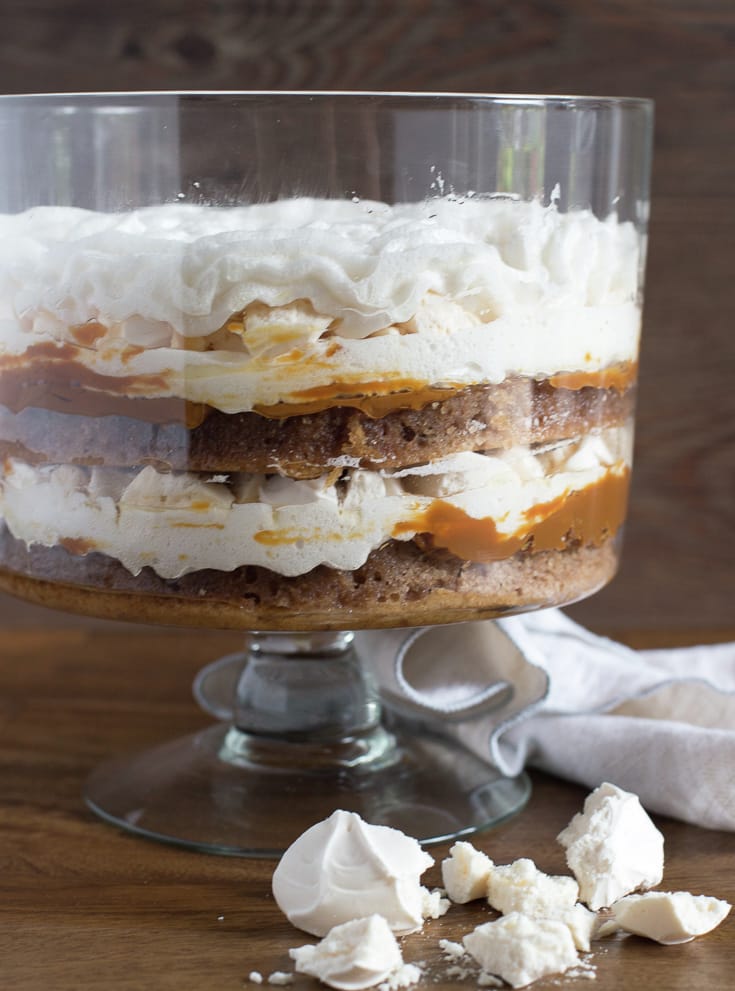 Dulce de Leche Meringue Trifle
A delicious and great-looking dessert.
Total Time:

2 hours 30 minutes

Yield:

12
For the cake,
1 1/2

cups

walnuts

2/3

cup

granulated sugar

115

grams

(4oz) 8 tablespoons of unsalted butter at room temperature

4

eggs, yolks, and whites separated

1 teaspoon

vanilla extract

1/2

cup

all-purpose flour

1/2 teaspoon

salt
For the Swiss meringue
4

egg whites

12 tablespoons

granulated sugar

1 teaspoon

vanilla extract
To assemble the dessert,
2

walnut cakes
a portion of Swiss meringue

1

can of dulce de leche (

380 grams

)

2

meringue discs or 4 cups of chopped meringues (I used Trader's Joe)
Instructions
Make the cake: Preheat the oven to 350F or 180C.
Prepare two cake pans of 20 cm. In diameter (8″), place parchment paper at the bottom.
Put the walnuts and the sugar in the food processor until they are finely ground. Add the butter cut into cubes, process until well incorporated, add the egg yolks, and process until it is all well integrated. Add vanilla, and blend.

Beat the egg whites with the salt until stiff peaks form.
Transfer the nut mixture to a large bowl and add flour, mixing with a spatula just enough to integrate everything. Add one-half of the egg whites and then the other half, using soft strokes. Place half of the batter into each pan.
Bake at 350F or 180C for about 25 minutes until golden. Let cool entirely on a wire rack before unmolding.

Make the Meringue: Assemble the water bath: put 3 inches of water in a large pot over high heat until it boils, and lower the fire to a simmer. Gather the ingredients in a large bowl placed on top of the pot without touching the water.
Beat in the double boiler; the water should continue boiling gently, initially at low speed and then high, for about 5-8 minutes, until stiff peaks of meringue form, then continue beating outside the bath until cold, about 5 minutes more.
Assemble: Place a walnut cake at the bottom of the trifle, covered with dulce de leche and then a thin layer of swiss meringue, sprinkle with crushed meringue, then repeat, and end with Swiss meringue.

Serve the same day—no need to refrigerate.

Author:

Pilar Hernandez

Prep Time:

2 hours

Cook Time:

30 minutes

Category:

Dessert

Method:

Oven

Cuisine:

Chilean
Keywords: Walnut Meringue Trifle, Dulce de Leche Meringue Trifle