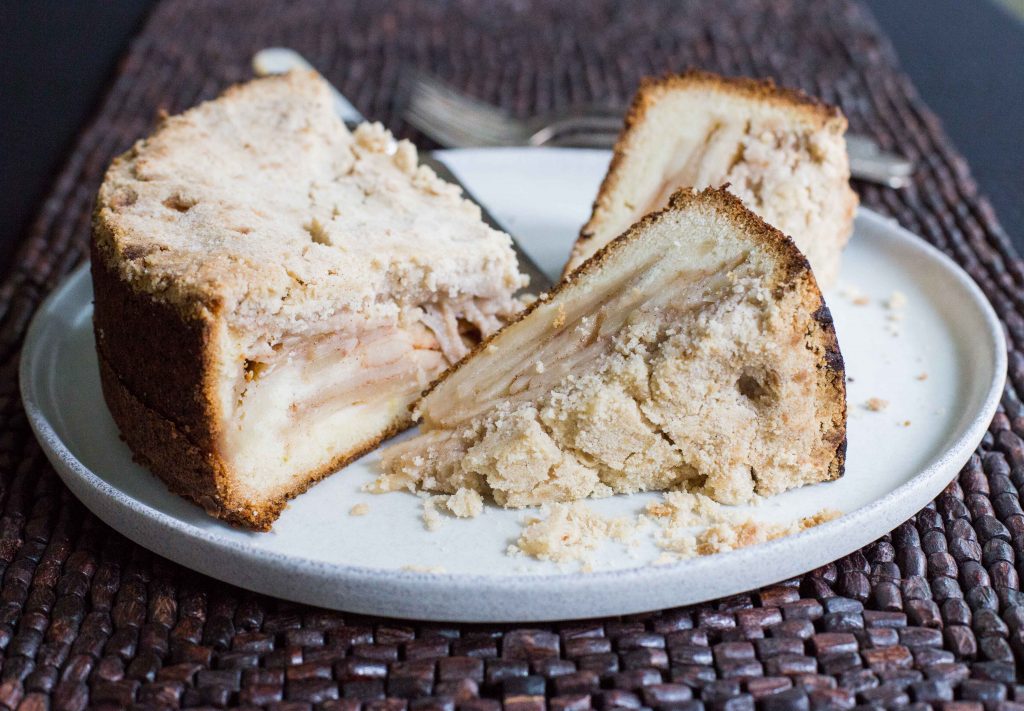 On the southern part of Chile, on the lake region, 10 hours south of Santiago, there is a significant population of German descendant, they brought their heritage and cooking on the 1800′. Many dishes have been adopted and are now enjoyed all over the country, like this fabulous Apple kuchen with crumbs.
This is my version, simplify, and adapted from what I remember my mother doing. Enjoy!
Apple Kuchen with Crumbs
8-10 people
Ingredients:
for the crumbs,
150 grams of granulated sugar
250 grams of all-purpose flour
1/2 teaspoons ground cinnamon
115 grams of cold unsalted butter
pinch of salt
In a broad bowl mix the sugar, flour, cinnamon, and salt. Add the cold butter and cut into small pieces, working with two knives finish with your hands, should look like sand, with some big chunks. Refrigerate until ready to use.
For the apple filling,
750 grams of green apples, 3 large
2 tablespoons granulated sugar
1/2 teaspoon cinnamon
2 tablespoons breadcrumbs
Wash and peel the apples, cut out the centers, and remove the seeds, chop them into thin slices. Place in a large bowl and mix with sugar and cinnamon. Let stand while making the dough.
For the dough,
115 grams of butter
1 cup granulated sugar
2 cups all-purpose flour
2 teaspoons baking powder
2 eggs
1 teaspoon vanilla extract
In a bowl with a hand mixer on medium speed, beat butter and sugar until creamy, about 5 minutes. Add one egg, beat until incorporated, then the other, and repeat. Add vanilla and beat. Sifted together the flour with the baking powder and add. Beat until it begins to form a dough, finished working with your hand, it should be a soft dough.
Pre heat the oven to 200C or 400F. Prepare a springform pan of diameter 23 cm or 9″ — butter well.
Place dough in the pan and working with floured hands press the dough to cover the bottom and most of the edges.
Sprinkle with breadcrumbs; this will absorb the juices of the apples so that the dough doesn't get wet.
Place apple slices neatly.
Cover with crumbs, lightly pressing.
Bake for 50 minutes to 1 hour, or until a stick goes through everything with ease and comes out clean.
Let cool on a wire rack until cold. Run a knife around the border and open the ring. Serve with ice cream or as my mom did with a splash of heavy cream.