Chilean restaurant menus reflect the diverse and unique culinary traditions of Chile, drawing from a wide range of ingredients and flavors. Chilean cuisine is heavily influenced by the country's geography, which includes a long coastline, fertile valleys, and the Andes mountains. Here are some common elements you might find on a Chilean restaurant menu:
Empanadas: These savory turnovers are a staple of Chilean cuisine. They can be filled with various ingredients, such as ground beef, cheese, seafood, or vegetables.
Cazuela: A traditional Chilean soup made with meat (often chicken or beef), potatoes, corn, pumpkin, and other vegetables. It's typically seasoned with paprika and oregano and served with a flavorful broth.
Pastel de Choclo: A popular dish in Chile made with a corn-based topping, similar to a corn pie, often filled with ground beef, chicken, olives, raisins, and hard-boiled eggs.
Pebre: A spicy condiment or sauce made from ingredients like cilantro, tomatoes, onion, garlic, chili peppers, and lemon juice. It's served as a salsa or dip with various Chilean dishes.
Seafood: Chile's long coastline means seafood plays a significant role in its cuisine. Look for dishes like ceviche, paila marina (a seafood stew), and various preparations of fish and shellfish.
Asado: This is the Chilean version of a barbecue, and you can find grilled meats, such as beef, pork, and sausages, on the menu. It is often served with traditional accompaniments like pebre and bread.
Chorrillana: A hearty dish made with french fries topped with beef, sausages, onions, and fried eggs. It's a popular pub or comfort food option.
Chupe de Mariscos: Another seafood dish, this is a creamy seafood soup or chowder made with various shellfish and flavored with herbs and spices.
Completos: Chilean hot dogs are often loaded with toppings like avocado, sauerkraut, mayonnaise, and more.
Mote con Huesillo: A traditional Chilean beverage made from dried peaches (huesillo) and wheat berries (mote) served in sweet syrup.
Wines: Chile is renowned for its wine production, so you'll find a variety of Chilean wines on the menu. Common wine varieties include Cabernet Sauvignon, Merlot, and Carmenere.
Desserts: Look for sweet treats like rice pudding, leche asada (a caramel flan), and panqueques con manjar (crepes with dulce de leche).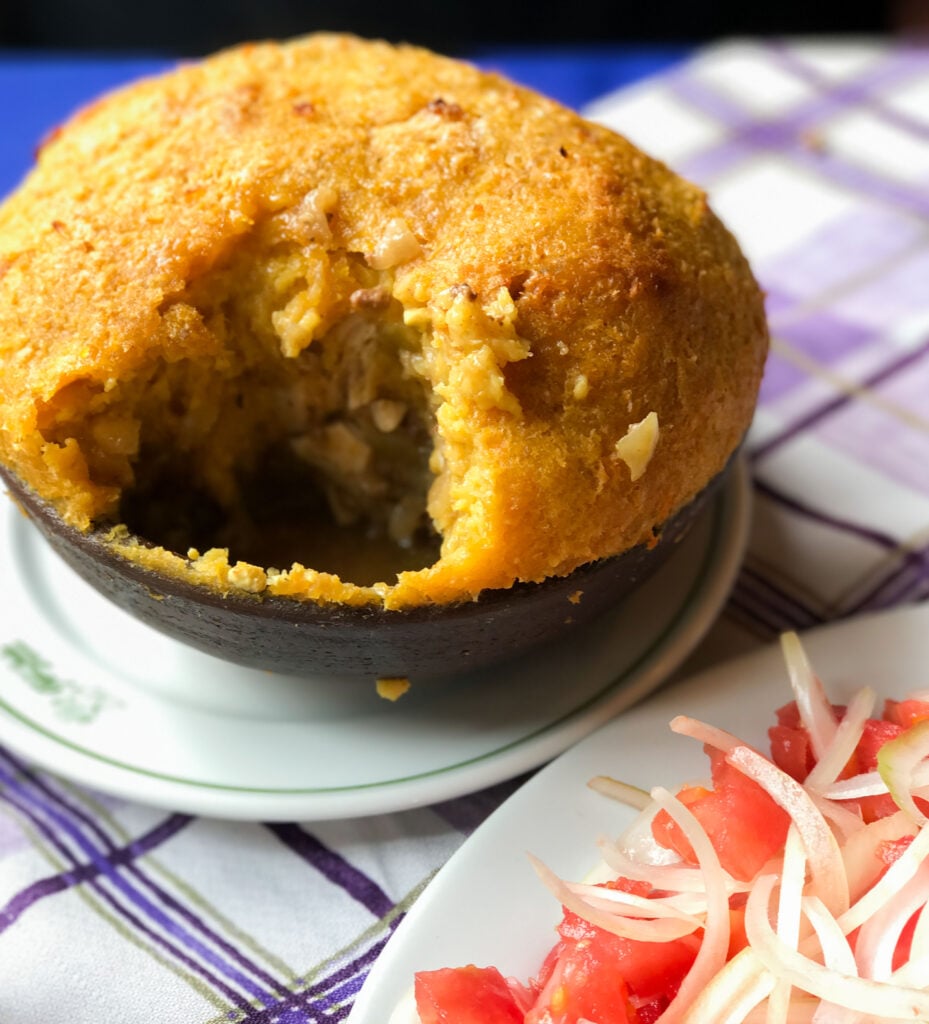 Chilean cuisine is diverse, mixing indigenous ingredients, Spanish influences, and other cultural contributions. Restaurant menus in Chile often showcase this rich culinary heritage and offer a wide range of options for diners.
For planning a Chilean homemade lunch or dinner, cooking with in-season vegetables is at the heart of Chilean cuisine because food tastes better and is less expensive. If you are not sure what varieties of veggies or herbs to use, please read our article: The Chilean Pantry.
There is always bread on the table in Chile, so we suggest one for each seasonal menu.
Café o Agüitas de yerbas: coffee and herbal tea (affiliated link) are generally offered after dessert.
Wine, sodas, or plain water are the most common beverages to accompany foods.
If you need inspiration for a Chilean breakfast or a Chilean Once (Tea-time).
Click on the recipe names to go to the recipe.
Spring menu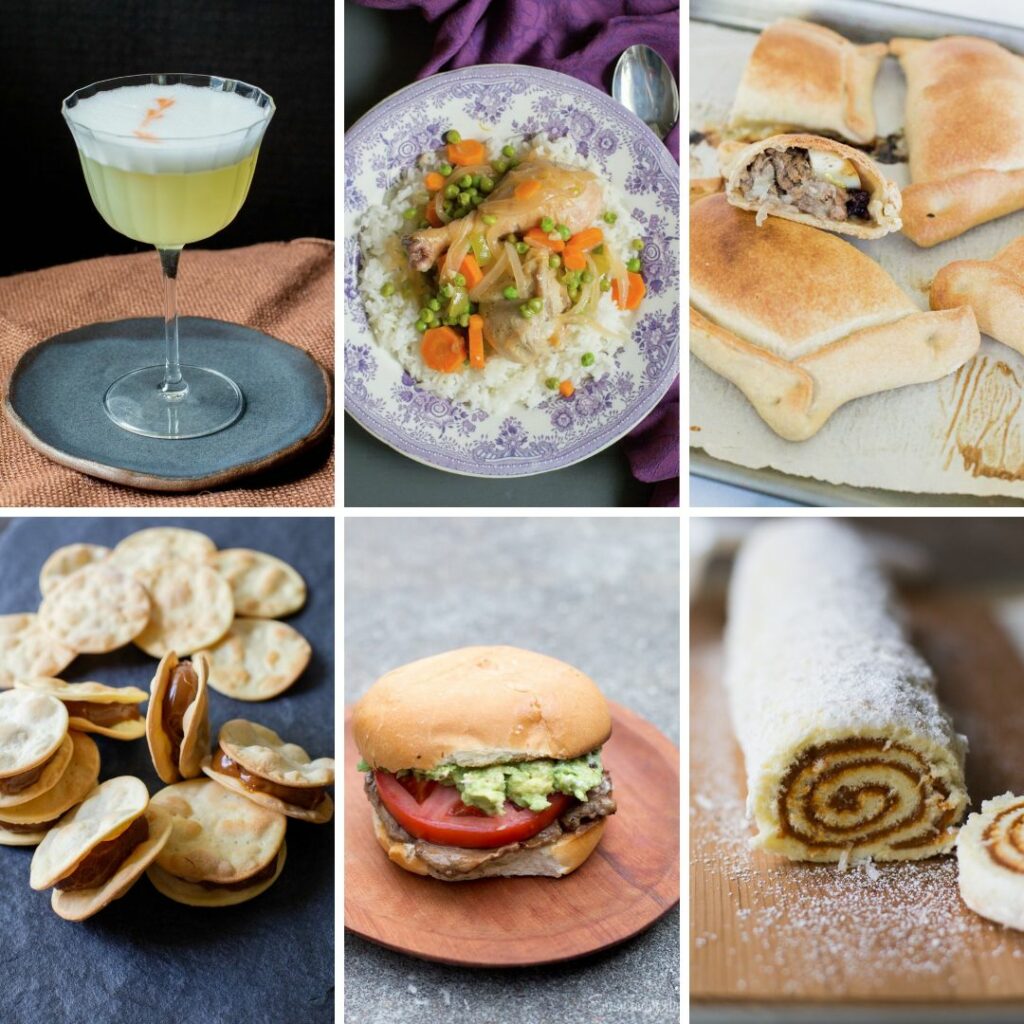 Appetizer: Pisco sour, pan amasado, pebre.
Main: Empanadas de Pino or Pollo Arvejado
Dessert: Chilean Alfajores
Seasonal Cake: Brazo de Reina
Seasonal Sandwich: Churrasco
Summer menu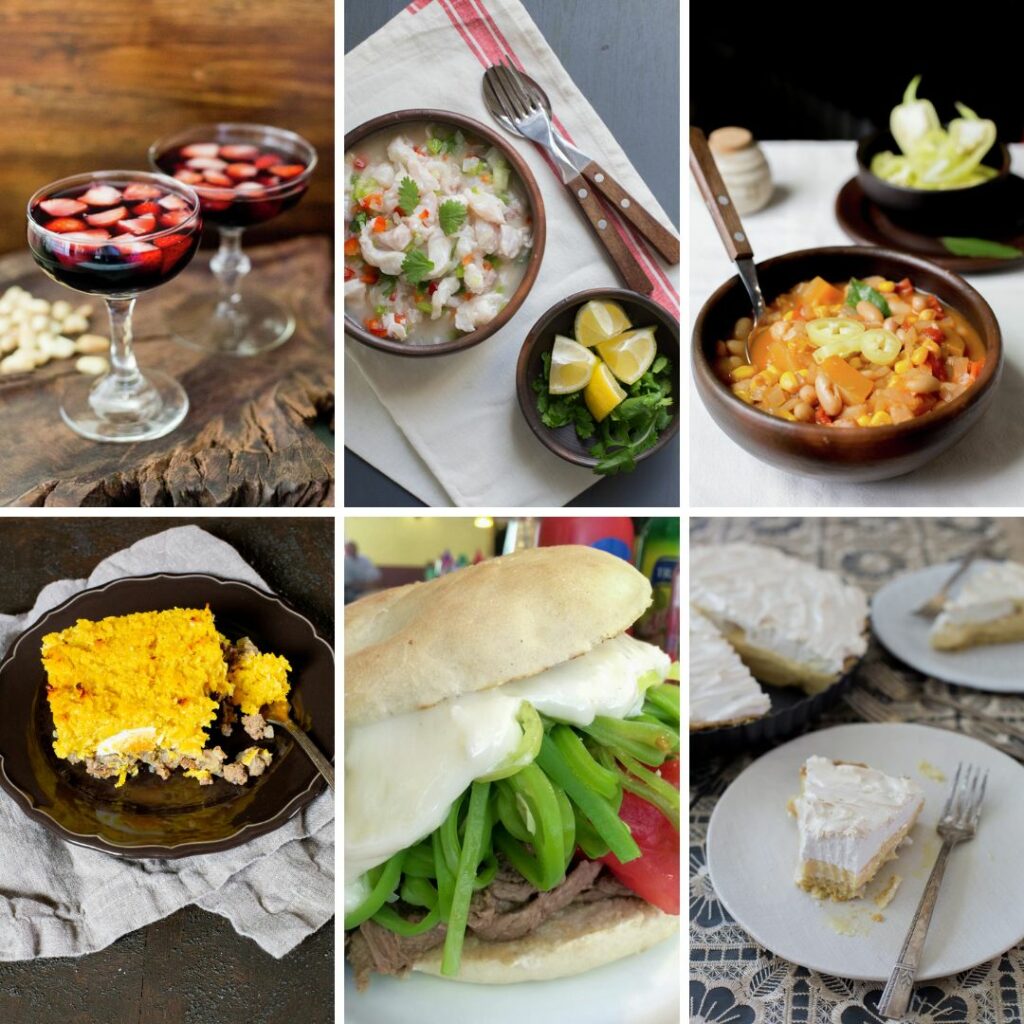 Appetizer: Borgoña, Dobladitas, Chilean Ceviche
Main: Pastel de choclo or Porotos Granados
Sides: Ensalada chilena
Dessert: Mote con Huesillos
Seasonal Cake: Pie de Limón
Seasonal Sandwich: Chacarero
Fall menu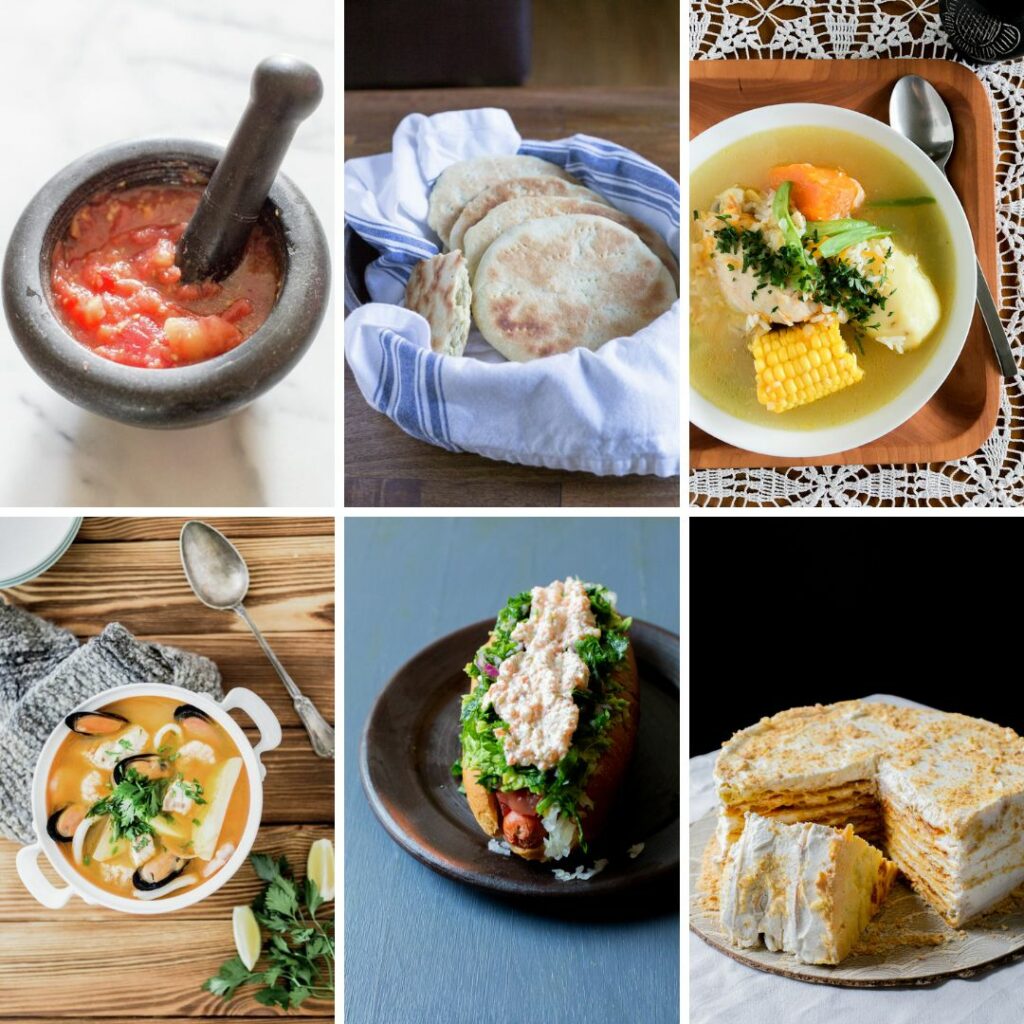 Appetizer: Churrascas, Chancho en Piedra
Main: Cazuela de Pollo or Paila Marina
Dessert: Sémola con leche
Seasonal Cake: Torta Pompadour
Seasonal Sandwich: Completo
Winter menu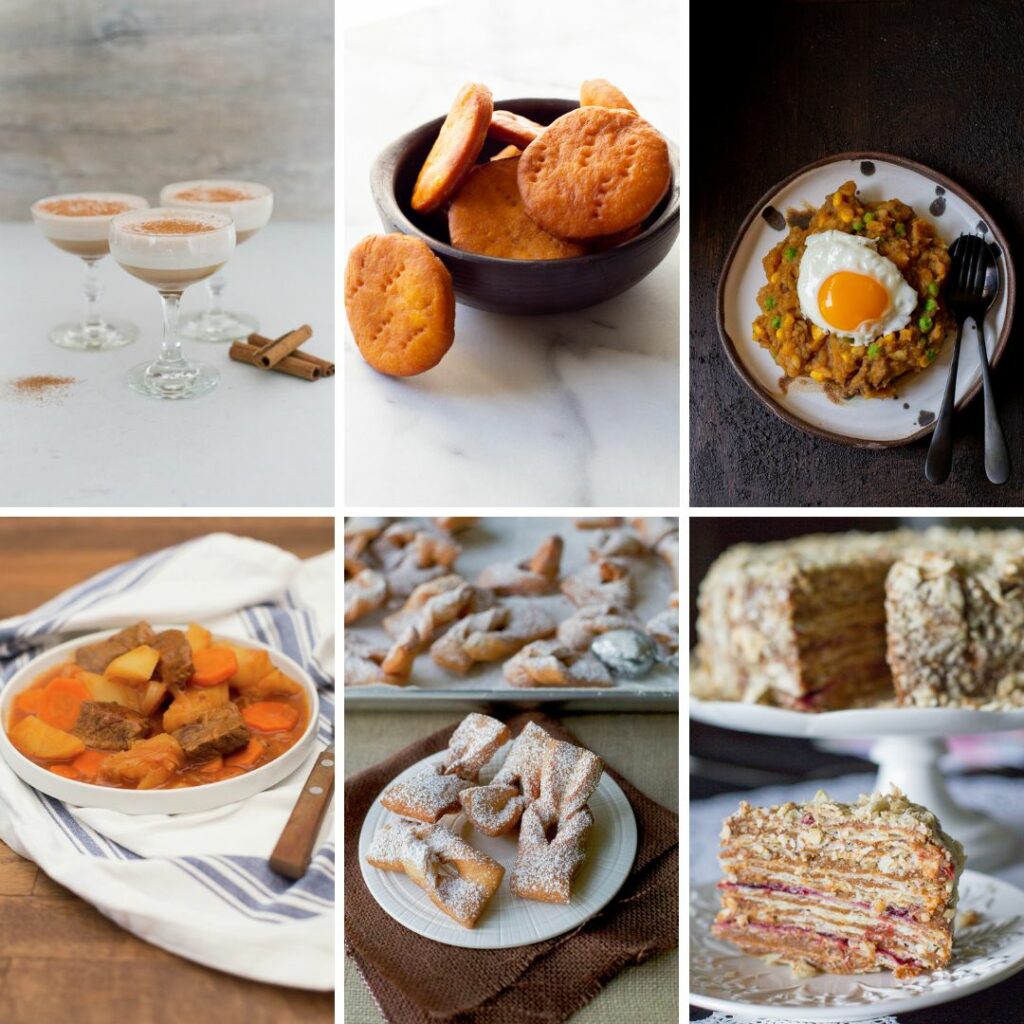 Appetizer: Sopaipillas, Pebre, Vaina (Sherry cocktail)
Main: Charquicán or Estofado (beef stew)
Dessert: Leche asada or Calzones rotos
Seasonal Cake: Mil Hojas or Thousand layer cake
Seasonal Sandwich: Barros Luco (beef and melted cheese)