This blog post is sponsored by Nestlé® Carnation. The content and opinions expressed here are mine.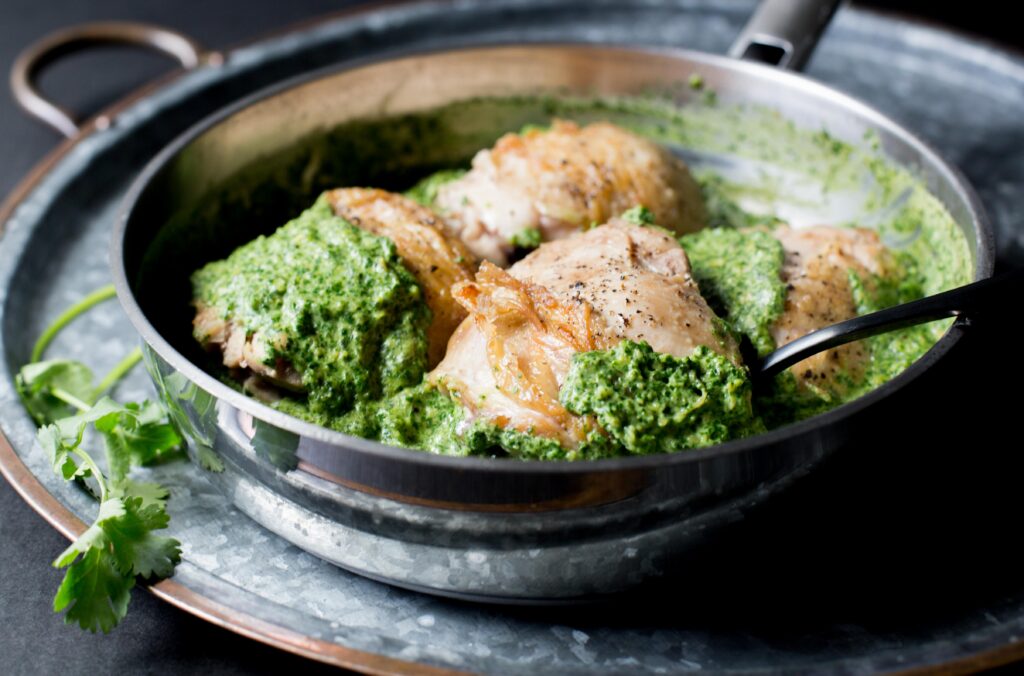 I love publishing quick, savory recipes that solve the dilemma of a delicious, but time-intensive dinner or lunch. Today, I'm doing that and also introducing you to Nestlé Carnation Evaporated Milk, a product that has made my life easier and my recipes tastier!
I'm so excited about the new Carnation Evaporated Milk packaging, now in a re-closable container – and in three new varieties – that makes it possible to easily refrigerate for quick, convenient use in everything from savory dinners to morning coffee. You can still find it in the same aisle at the supermarket (baking products at my regular Kroger) to have as a staple in your pantry/fridge. It only needs refrigeration once opened and lasts for up to 10 days.
I grew up in Chile, where evaporated milk is ubiquitous and used for vegetable creams, sauces, and desserts. Have you ever tried evaporated milk bread puddings? They are excellent.
In Peru, the use of evaporated milk is also widespread. For this recipe, I took some inspiration from the traditional Peruvian dish Ají de Gallina, which uses evaporated milk and water crackers (to thicken).
I love using Carnation Evaporated Milk in sauces and soups. The concentrated flavor (it has less water) complements our Latin flavors very well and adds richness. It is one of the secret ingredients in my pantry. See recipe and tips on the Carnation website.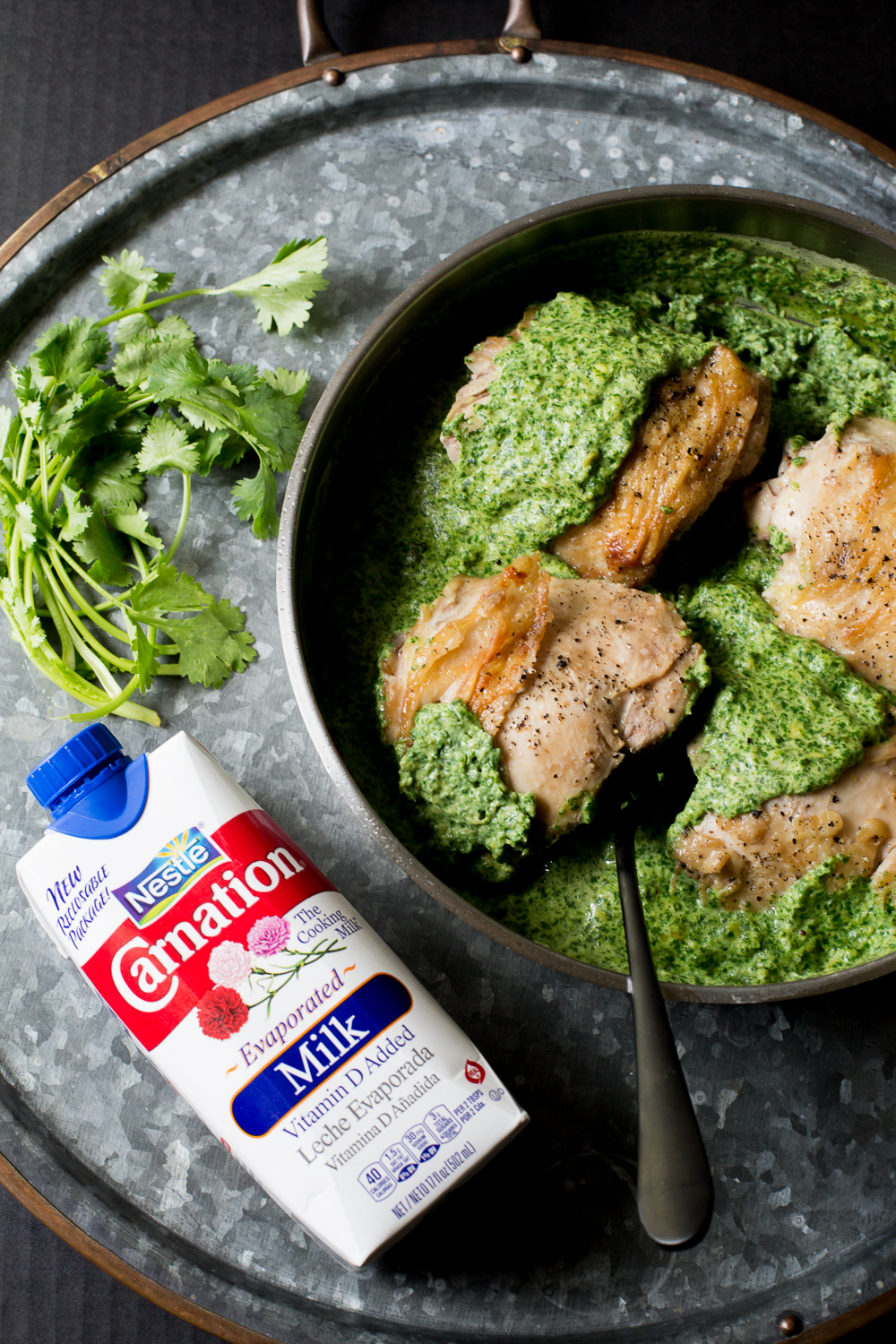 In addition to the new packaging for Carnation Evaporated Milk, they have also launched a Lactose-Free Evaporated Milk and Almond Cooking Milk. They suit a range of diets/preferences (vegan, gluten-free and organic) and open up a world of possibilities and ways to add flavor to meals.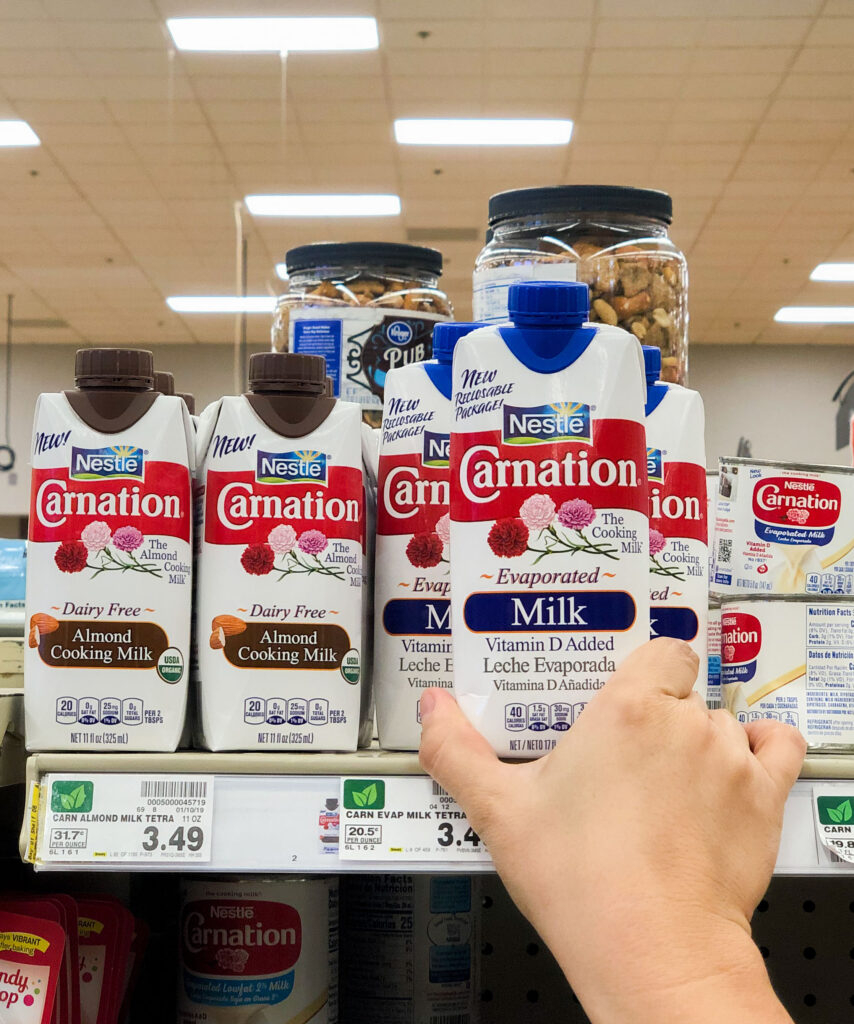 I hope you enjoy this Cilantro Garlic sauce; if you don't eat chicken, you can use the same sauce with noodles or as a salad dressing. It is very versatile and, if you want to add heat, you can add half a seeded jalapeño, serrano or poblano.
Cilantro Garlic Sauce With Chicken
Serving Size: For 4 people
Cooking time: 30 minutes
Ingredients:
4 Chicken Thighs
3 Garlic Cloves
1 Cup of Carnation Evaporated Milk
1 Tablespoon Oil
2 Cilantro Bundles (about 2 cups of leaves, washed, without stems)
4 Water Crackers
Oil, Salt, and Pepper
Directions:
In a medium skillet, heat a tablespoon of vegetable oil over medium-high heat.
Dry the chicken pieces with a paper towel and cook them with the skin touching the bottom of the pan for 5 minutes. Season with salt and pepper; turn over; season with salt and pepper again and cook for three more minutes. Cover the pan and cook over medium heat for 8 -10 minutes, until the chicken is fully cooked.
In a blender, place the Carnation Evaporated Milk, garlic, oil, salt, pepper and cilantro leaves. Process until you get a sauce. Add the water crackers. Blend until smooth.
Move the cooked chicken to a plate, clean the skillet, and pour the sauce into it. Cook over low heat; it will thicken. Return the chicken and serve immediately.
If you want a thinner, creamier sauce, add more Carnation Evaporated Milk.