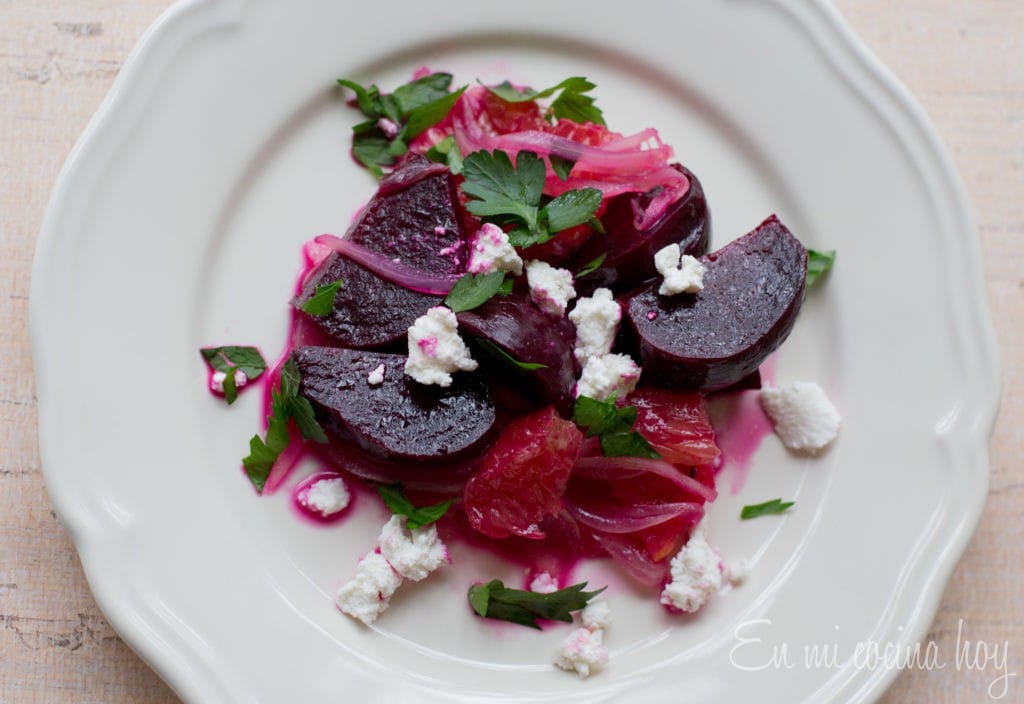 Another glorious recipe Beet and Orange Salad inspired by the book Plenty: Vibrant Recipes from London's Ottolenghi.
The beets can be cooked in advance, my favorite way is to wash them well and wrap them in foil and cook in the oven while anything else is baking. They are ready when you can pierce them easily with a knife. Cool and refrigerate until ready to use. Peel and use.
If possible buy beets with their greens attached for this beet and orange salad, a sign of freshness, that usually correlated to natural sweetness. And also, they took less time to cook. The beet greens are also edible, but keep in mind that the leak color so they can turn and stain.
Beet and orange salad
4 people
Ingredients:
3 medium beets, cooked and cut
1/2 red onion, chopped (soaked in boiling water for 5 min)
1 large orange or pink grapefruit
3 tablespoons chopped parsley
1/4 cup chopped fresh cheese or feta
apple cider vinegar, oil
salt and pepper
Preparation:
Cooked and cut the beets
Peel the orange ends first and then cutting the skin removing all white part too. Chop on the bowl to keep the juice. Discard the seeds.
Season with vinegar, oil, salt, and pepper.
Before serving sprinkle with parsley and cheese.