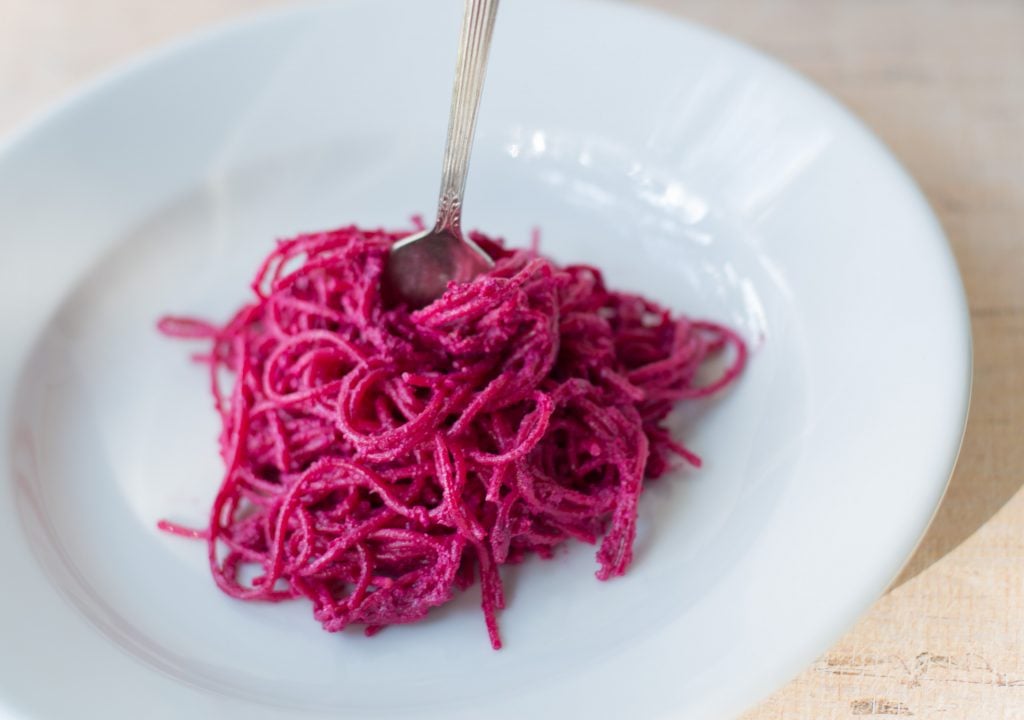 I saw a photo of this recipe on the blog Eat live run and after seeing the color I knew I had to do it as soon as possible. Of course, I change many ingredients to use what I had at home. Don't they look like those super expensive ones? they are just everyday noodles. This recipe is perfect for guests, is delicious, easy, cheap and colorful.
Pasta with beet pesto
6 people
Ingredients:
3 beets
1/2 cup walnuts
1 bunch scallions, white part chopped
1/4 cup Parmesan cheese grated
Juice of 1/2 lemon, olive oil
salt and pepper
1 package of spaghetti noodles
Preparation:
Cook the beets in cold salted water, about 25 minutes from when star boiling. Or in the oven at 400F or 200C wrapped in foil for 30-40 minutes. They are ready when you can pierce easily with a knife. Fresh beets take less than old ones. They can be cooked the day before. Let them cool.
Boil water in a large pot and cook the noodles according to package directions. With salt. Drain and return to pot.
In a food processor place the chopped beets, walnuts, green onions, parmesan cheese, lemon juice, and oil. Grind until look like pesto. To achieve the consistency you like you can add more oil or lemon juice, taste and add salt and pepper to taste. I use little oil and had super good consistency, that I liked.
Mix the noodles with beet pesto and serve warm or at room temperature.
Inspired by the blog Eat live run.