Chilean Paila Marina is a traditional and beloved dish in Chilean cuisine, known for its rich flavors and fresh ingredients. Paila Marina typically includes an assortment of seafood, such as fish, shellfish, and mollusks, on a flavorful broth and various vegetables.
"Paila Marina" refers to the cooking vessel to prepare or serve the soup. A 'paila' is a shallow, wide metal pan or cooking pot.
The exact recipe for Paila Marina can vary depending on the region and the personal preferences of the cook. However, some common ingredients include fish (such as hake or conger eel), shrimp, clams, mussels, scallops, onions, tomatoes, garlic, cilantro, and other herbs and spices.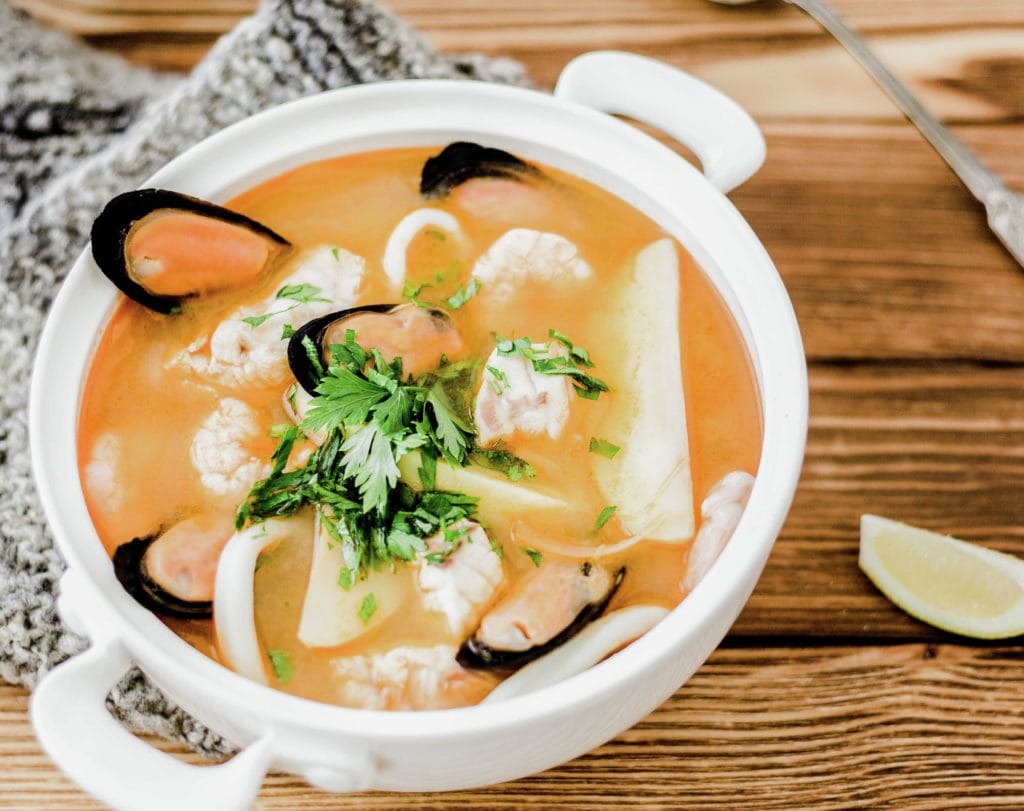 The seafood is often cooked in a broth, creating a rich and savory base for the soup. It is typically served hot and garnished with fresh herbs and a squeeze of lemon juice for added zest.
Paila Marina is known for its hearty and comforting nature, making it a popular choice, especially in coastal areas where fresh seafood is readily available. It is often enjoyed as a main course, particularly during cooler months when a warm, satisfying soup is incredibly appealing.
It is one of the most traditional soups consumed in Chile on the coast, also popular in the Mercados (Central Markets) to recover after a long night of partying. Paila Marina can be made with any shellfish and fish available that day. Their raw cousin is the Mariscal.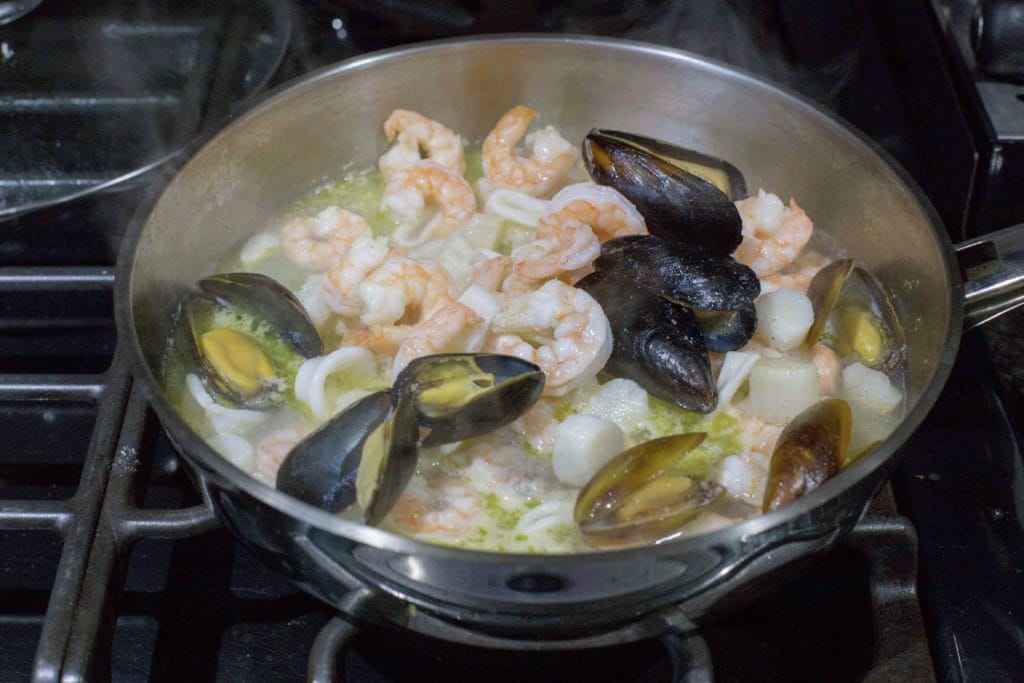 In the USA, I use the mix of seafood they sell at Costco or in supermarkets in the frozen products.
Typically, Paila Marina doesn't include potatoes, but I grew up in a potato-lover family. If you want to be authentic, omit them from the recipe.
On this blog, the recipes come from Chilean home cooks who feed their families daily with what is available in the market and what is affordable. So, the understanding of what seafood means is flexible for each of these dishes:
Print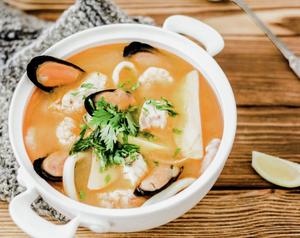 Paila Marina Chilean Seafood Soup
Total Time:

50 minutes

Yield:

6
1

medium onion

2

potatoes, optional

1/2

red pepper

1/2 teaspoon

of paprika powder

1

bay leaf

1 teaspoon

of dried oregano

1

pound

firm white fish or salmon

1

pound

of shrimp

1

pound

of fresh (or frozen) mussels or 250 g of canned mussels

1/2

pound

of squid rings (calamari)

3/4

white wine

cup

5

cups

broth of fish or vegetables
Oil, salt, and pepper
Instructions
Wash the mussels carefully (if you use fresh mussels).
Cut the onion, peel the potatoes, chop them into wedges, and cut the red pepper into cubes. Cut the fish into cubes.
In a large pot, heat 1 tbsp oil over medium-high heat. Add the onion, pepper, oregano, bay leaf, paprika, salt, and pepper, and cook for 5 minutes, stirring occasionally.

Add the potatoes, wine, and broth. Cook until it boils, then reduce heat and simmer for 5 minutes. Add the fish and mussels. Cook for another 5 minutes. Discard any mussel that hasn't opened. Fish and potatoes should be cooked.

Add the shrimp and squid. Cook until the shrimp changes color.

Serve hot, sprinkle with chopped parsley and accompany with lemon wedges.

Author:

Pilar Hernandez

Prep Time:

20 minutes

Cook Time:

30 minutes

Category:

Soup

Method:

Stove

Cuisine:

Chilean
Nutrition
Serving Size:
Calories:

395

Sugar:

4.3 g

Sodium:

1233.9 mg

Fat:

7.2 g

Saturated Fat:

1.3 g

Carbohydrates:

29 g

Fiber:

3.6 g

Protein:

46.9 g
Keywords: Chilean seafood soup, caldillo de pescado y mariscos, paila marina