The recipe Chimichurri & Seared Steak Stew is sponsored by BUSH"S Beans. All opinions are my own.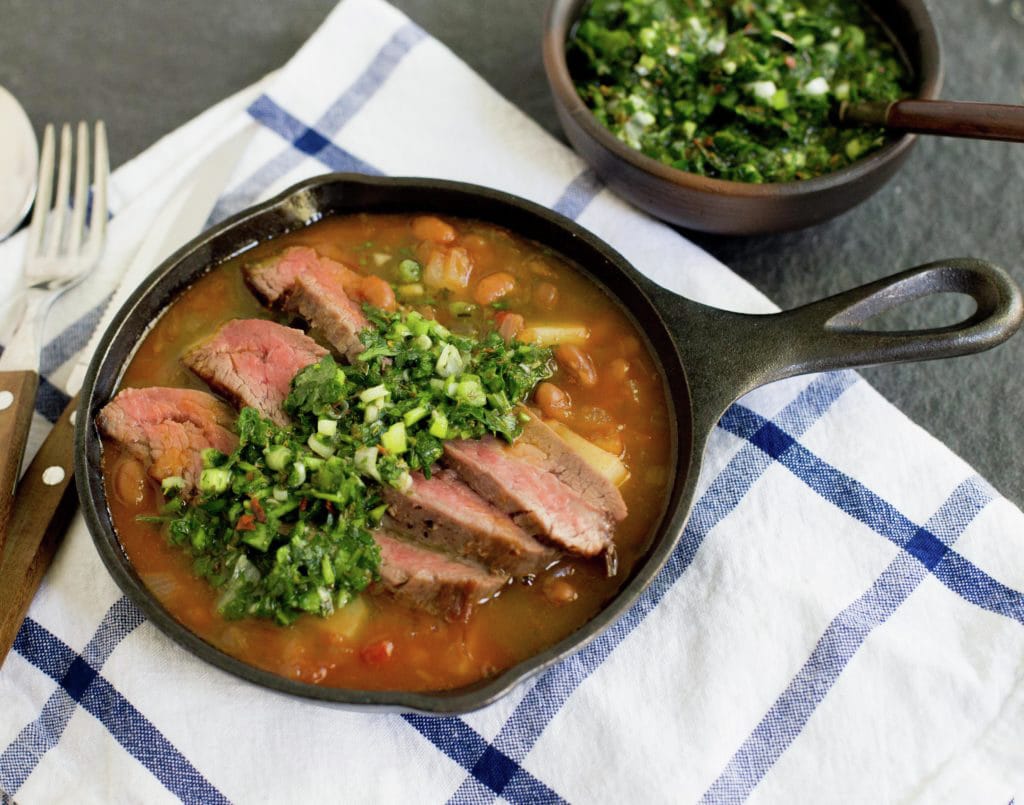 During the winter there are very cold, gloomy days where even if we want to eat a grilled steak it is too cold to go out and light the grill. So over the years I have perfected a series of winterized recipes, like my Chimichurri & Seared Steak Stew. In the stew,  the potatoes represented the classic Russian salad, the meat is cut into strips and covered in rich chimichurri sauce. Finally,  the beans keep everything flavorful.
Chimichurri is one of the most popular sauces in Argentina. It is always made using flat parsley, and it goes well with all grilled meats and beef empanadas. Is a bright sauce, easy to make and keeps well for 3-4 days in the fridge. In Houston, you can buy it in jars and also at the counter in some supermarkets. If you haven't tried it, do it. It is not spicy at all!
If you're looking for a cozy dish that brings all the flavors of a classic summer barbecue, I recommend trying my Chimichurri & Seared Steak Stew.
I used BUSH'S Southern Pit Barbecue Grillin' Beans for the stew, they are a bit sweet and very tender and they go very well with the tomato stew. For more recipes with beans perfect for the winter visit the page: Chili recipes, plenty of great ideas.
You may also be interested in the recipe: Sriracha Bean Hot Dip with corn
Chimichurri & Seared Steak Stew
Preparation time: 20 minutes
Cooking time: 35 minutes
For 4 people
Ingredients:
1,5 pound of flank steak
1 onion, minced in small cubes
3 medium red potatoes, peeled and chopped into small cubes.
1 can (14.2 oz.) of chopped tomatoes
1 cup vegetable broth or water
1 can (22 oz.) 

of 

BUSH'S Southern Pit Barbecue Grillin' Beans

1 cup of chimichurri sauce to serve (recipe below)
Oil, salt, and pepper
Preparation:
In a cast iron pot, heat 2 tablespoons of oil over medium-high heat. Dry and season the meat.
Sear and cook the meat, 6-8 minutes per side so that the center is still red. Remove the meat to a tray and cover with a plate.
In the same pot add the chopped onion and cook stirring occasionally for 6 minutes. Add diced tomatoes, vegetable stock, and chopped potatoes. Cook with the pot covered for 10 minutes. Add the can of beans and continue cooking for 5 minutes until everything is hot. Cut the meat into thin strips.
Serve with the stew on the bottom and the cuts of meat on top and the chimichurri.
For the chimichurri (2 cups)
2 green onions, 2 bunches of flat Italian parsley, 2 teaspoons oregano, 1 clove of garlic finely chopped (optional), 1 teaspoon dried chili flakes, 1 teaspoon coarse salt, 1/2 cup vegetable oil, 1/8 cup red wine vinegar, 1/4 cup water, and juice of 1 lemon.
Wash and chop the green onions white part and the beginning of the green. Wash and discard the parsley stems, chop the leaves very fine. Place everything in a bowl. Add the oregano, dried chili, salt, oil, vinegar, water, and lemon juice. Mix well, taste and let stand for at least 2 hours for the flavors to blend. It can be done the day before and refrigerated.