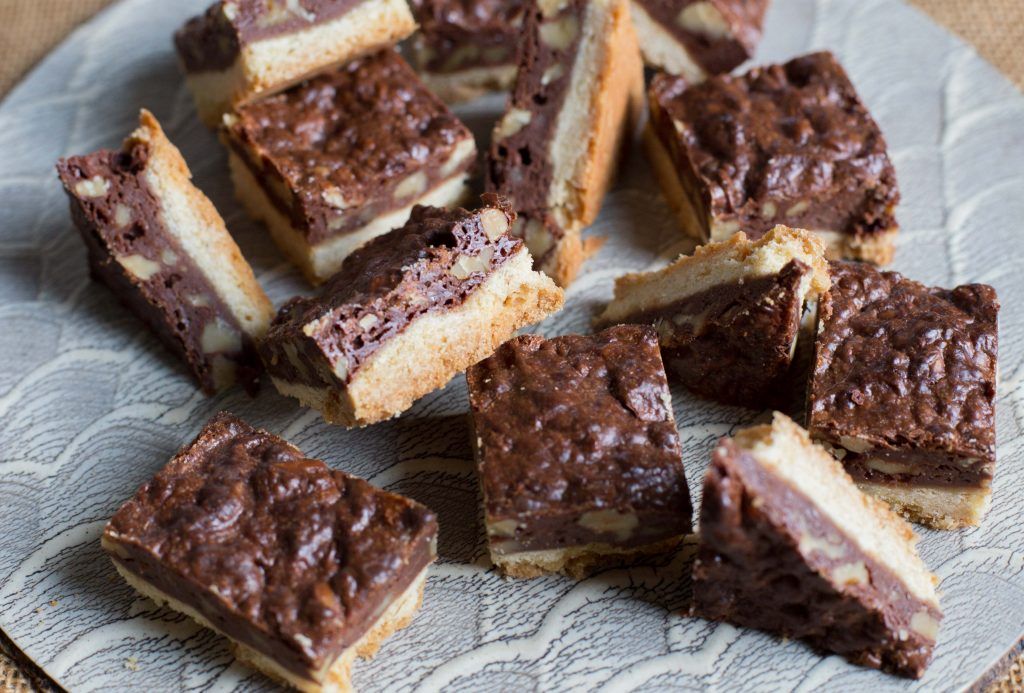 This Chocolate Walnut Kuchen has been on the blog since 2008, but without photos, so I think nobody has done it besides me.
Last weekend we were invited to a small reunion, and I wanted to bring something easy to eat without a plate and sweet, this kuchen is perfect. I organized myself and I took pictures. Everyone loved it, and when we left the party, it was all gone — total success.
Chocolate Walnut Kuchen
for 16 squares or 32 triangles
Ingredients:
for the dough,
115 grams of butter without salt
200 grams of all-purpose flour
50 grams of granulated sugar
1 egg
1/2 teaspoon of baking powder
pinch of salt
Preheat the oven to 180C or 350F.
Prepare round or square 20 × 20 cm baking pan, cover the bottom with parchment paper or aluminum paper to make it easy to unmold.
In a medium bowl beat the butter with a fork until creamy. Add the sugar and continue beating. Add the egg and beat well until it is fully incorporated into the mixture.
Add the flour, salt, and baking powder. Mix at the beginning with the fork and then with the hands to form a soft dough. Move the mixture into the pan and spread with wet fingers. Form an even layer and bake for 12-15 minutes until lightly browned.
For the filling,
150 grams of chopped walnuts
100 grams of semi-sweet chocolate chips
1 can (397 grams) of condensed milk
25 grams of butter
In a small pot over low heat, place the nuts and butter. Once the butter is melted add condensed milk and chocolate chips. Cook until the chocolate is melted. Pour the mixture of chocolate and nuts over the freshly baked dough and cover with aluminum foil. Bake for 30 minutes, carefully remove the foil. Bake uncovered for 10-13 more minutes. Allow to cool completely on a rack, refrigerate before cutting and serving. Serve at room temperature.