The most classic Chilean sandwich, and probably the most famous too, and certainly for me the most delicious: Lomito. The lunch of choice in Chile in a hurry is the obligatory stop at a soda fountain or a glorious cafeteria to eat Lomito, ready in a few minutes, thanks to the expertise of the line cooks. Even Anthony Bourdain gave his approval when he visited Chile.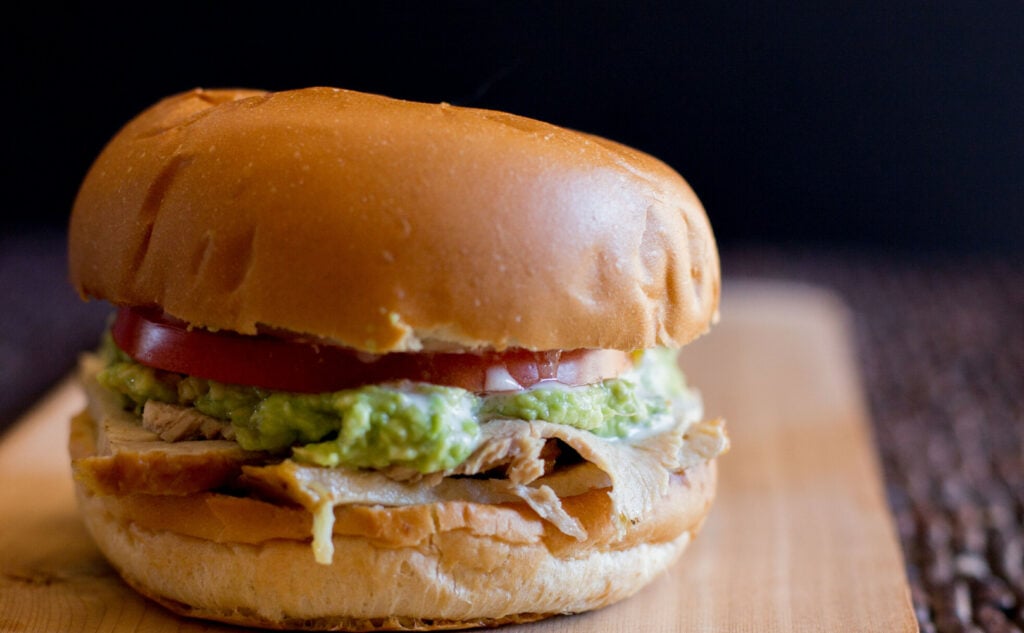 The Chilean Lomito is a famous and delicious sandwich consisting of thinly sliced pork loin (lomito means "tenderloin" in Spanish) served on a soft roll or bun. It's a hearty and flavorful sandwich that incorporates a variety of ingredients to create a satisfying meal.
The homemade version of the Lomito is superb. Take the time to do the meat and then enjoy this recipe. The pork loin should be done at least the day before to let it cool, cut into very thin slices, and return to the broth to sit and be saturated with flavor. Re-heat in the same broth over low heat.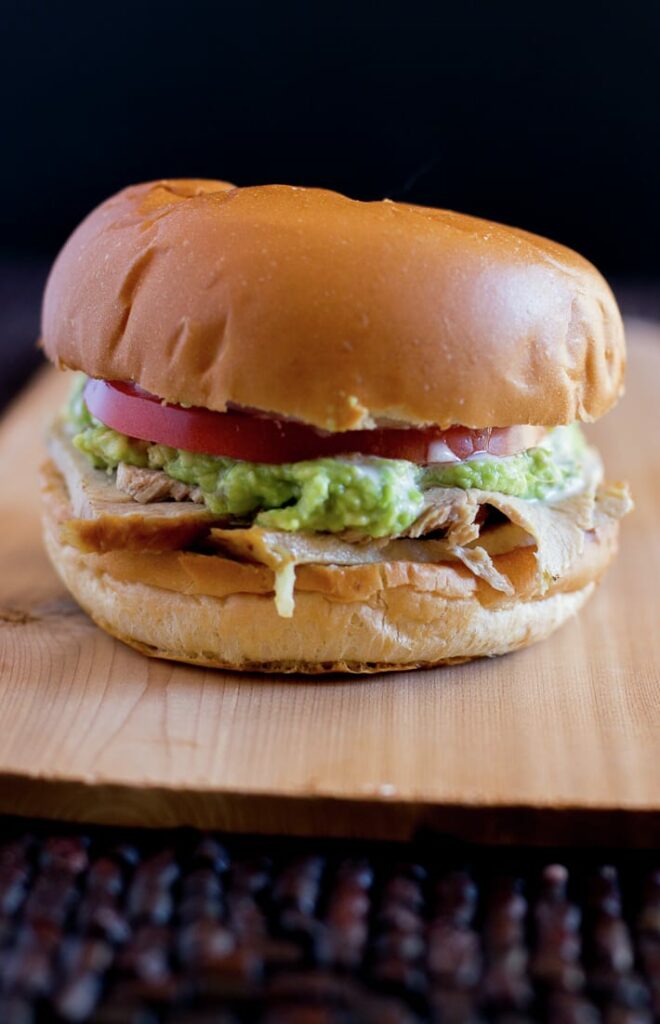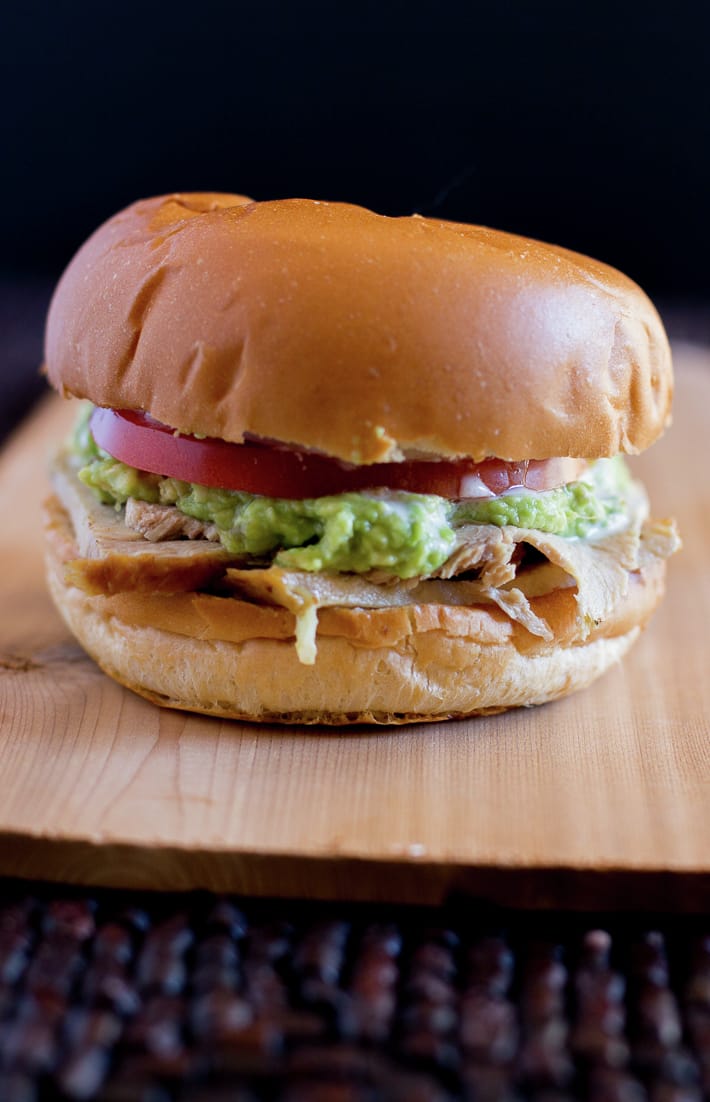 Some key components of a Chilean Lomito sandwich:
Pork Loin

: The star of the sandwich is typically pork loin, which is marinated and slow-cooked until tender and juicy.

Bread

: The bread used for a Chilean Lomito sandwich is usually a soft and slightly sweet roll, similar to a hamburger bun, but slightly larger. This type of bread is crucial as it balances the savory flavors of the meat and toppings. You can choose the bread in many places in Chile, and Lomitos en Marraqueta and Pan Amasado are also popular.

Toppings

: Lomito sandwiches are often loaded with various toppings and condiments. Typical toppings include sliced tomatoes, avocado, and mayonnaise. You might find additional ingredients like salsa verde, onions, and cheese to enhance the flavor. Some people also like to add ketchup, mustard, or aji (a hot pepper sauce) to their sandwiches for an extra kick.

Side Dishes

: Lomito sandwiches are often served with french fries (papas fritas) or potato chips.

Cultural significance

: The Lomito was invented in the "Fuente Alemana," a soda fountain in Santiago, Chile. Their existence is a tribute to German immigrants.
Avocados are commonly used in Chile in sandwiches like Churrasco or en Pan con Palta (the original Avocado toast) or in salads Repollo or Apio con Palta and Palta Reina Stuffed Avocado.
Print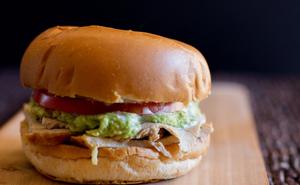 Chilean Lomito Sandwich
An iconic Chilean sandwich.
Total Time:

3 hours

Yield:

Meat for 8 sandwiches
for the meat,
4

lb

. of pork loin

3 tablespoons

vegetable oil

2 teaspoons

salt

1 teaspoon

dry oregano

1/2 teaspoon

paprika or sweet paprika

1 tablespoon

yellow mustard

1

onion, peeled and cut into wedges

4

cups

boiling water
for sandwiches,
Challah buns
Avocado, tomato, mayonnaise, ketchup, mustard, sauerkraut
Instructions
Preheat oven to 350F or 180C.
In a large saucepan heat oil over medium-high heat, brown the roast on all sides in order to seal in the juices. Sear 2-3 minutes per side.
Spread mustard on top of the pork, add salt, oregano, paprika on top. Add the chopped onion and hot water.

Cover and cook in the oven for 1½ hours, or on very low heat for the same time on the stove.
Allow cooling completely. Cut the meat into thin slices. Return the meat to the pot with the juices.

For the sandwiches: Spread a thin layer of mayonnaise on the toasted bread, layer the meat (be generous) and top with your favorite toppings: most traditional is tomato and mashed avocado.

Notes
This recipe Lomito sandwich was sponsored by The National Pork Board.
Author:

Pilar Hernandez

Prep Time:

1 hour

Cook Time:

2 hours

Category:

Meat

Method:

oven-roasted

Cuisine:

Chilean
Keywords: Lomito sandwich, Chilean pork sandwich