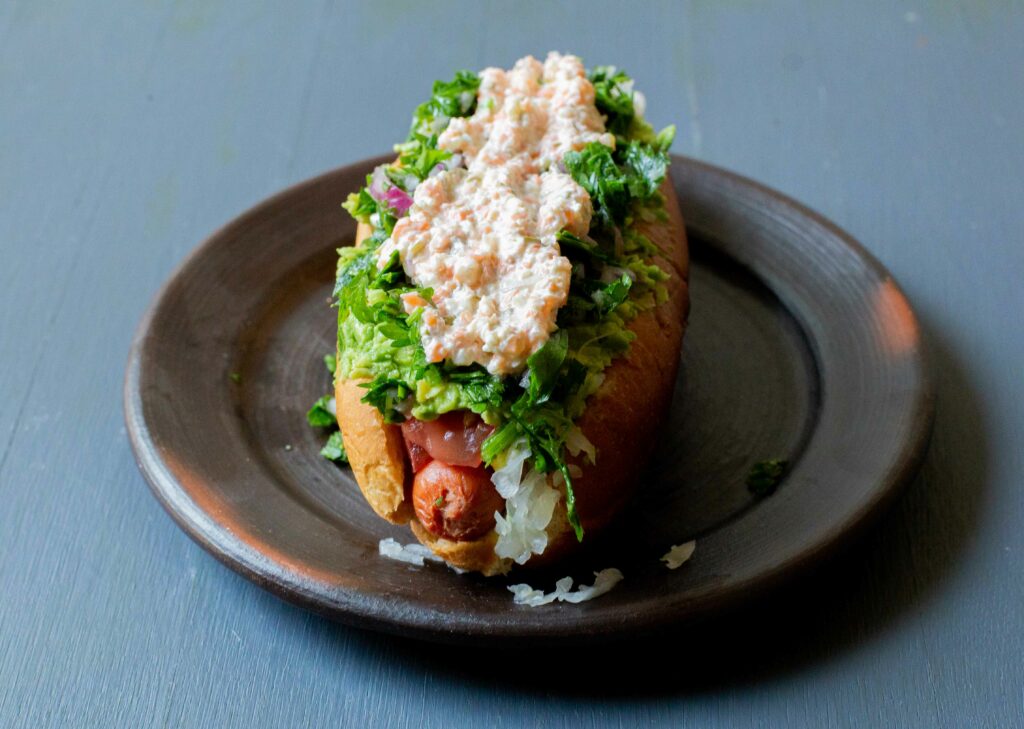 The Completo, or Chilean-style hotdogs, are part of the essence of the Chilean food culture. Chilean Completos can be a quick lunch, a big snack, or the centerpiece of a party with friends.
In addition, Completos have their vocabulary to describe popular topping combinations:
Italian Completo: tomato, avocado, and mayo
Dynamic Completo: tomato, avocado, salsa Americana, and Chilean Salsa Verde
German Completo: with sauerkraut, tomato, and mayo
Which one do you prefer?
If you are invited to a birthday party, and someone says Completada expect to have all the ingredients on the table, and each person does their own. Seconds are allowed.
Why are Chilean-style hot dogs called Completo?
Most likely because eating hot dogs American-style, just the bread, frank, and maybe a little mustard, is not a thing in Chile. Hot dogs are always loaded with toppings. It's a complete meal with your meat and veggies. The frank or sausage is always boiled or steamed. It's not the star of the dish.
When and where do Chileans eat Completos?
It's an everyday meal, a quick solution for lunch and dinner at home, and a quick (almost on the go) lunch for errands or college cafeterias. Also very popular for parties at home. It's considered a complete meal.
Is the order of the toppings important?
The mashed avocado is generally used to hold and "seal" the other toppings inside the bun, like the diced tomato. On top of the avocado are condiments: mayo, mustard, ketchup, Chilean salsa verde, or Americana.
What kinds of hotdogs frank are more common in Chile?
Pork or a mix of pork and beef meat. Hotdogs franks are called vienesas in Chile. Most Latinos called them salchichas.
Common mistakes by non-Chileans:
Do not add lemon juice to the avocado. This is never done in Chile. Only salt is used to season the avocado.
Season the diced tomatoes with vegetable oil (not olive oil) and salt.
Do not eat a Completo with a fork and knife. This is like tacos. You hold your completo parallel to the table and maneuver around.
Do not grill your franks or hotdog sausages.
Remember, it's your house. You make the rules. Enjoy!
Print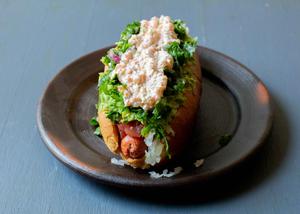 Completo Chilean Hot Dog
A Chilean classic for quick (almost on the go) lunch or parties with lots of friends.
Total Time:

25 minutes

Yield:

4
4

hot dog buns (preferably brioche ones)

4

hot dog sausages or franks cooked in water and keep warm

1

large avocado, mashed and seasoned with salt

1/2

chopped onion in fine diced or Chilean Salsa verde

2

tomatoes, chopped into small squares and seasoned with salt, drained

1/2

cup

sauerkraut
mayonnaise, ketchup, and mustard
Instructions
Heat the buns in the toaster if you like them crispy, or wrapped in aluminum foil in the oven if you like them soft.
Cut the onion an hour before and let it stand in boiling water with sugar to make it softer. Wash with cold water and strain before serving. Or prepare the Chilean Salsa Verde.

Put together the hotdogs. I usually put the mayonnaise, then the sausage, the tomato, the sauerkraut, the avocado, and the salsas.

Serve immediately.

Author:

Pilar Hernandez

Prep Time:

20 minutes

Cook Time:

5 minutes

Category:

Sandwichs

Method:

Stove-cooked

Cuisine:

Chilean
Nutrition
Serving Size:
Calories:

485

Sugar:

8.7 g

Sodium:

1129.8 mg

Fat:

30.1 g

Saturated Fat:

6.6 g

Carbohydrates:

41.7 g

Fiber:

9.2 g

Protein:

14.5 g
Keywords: Chilean Completos, Chilean hot dog