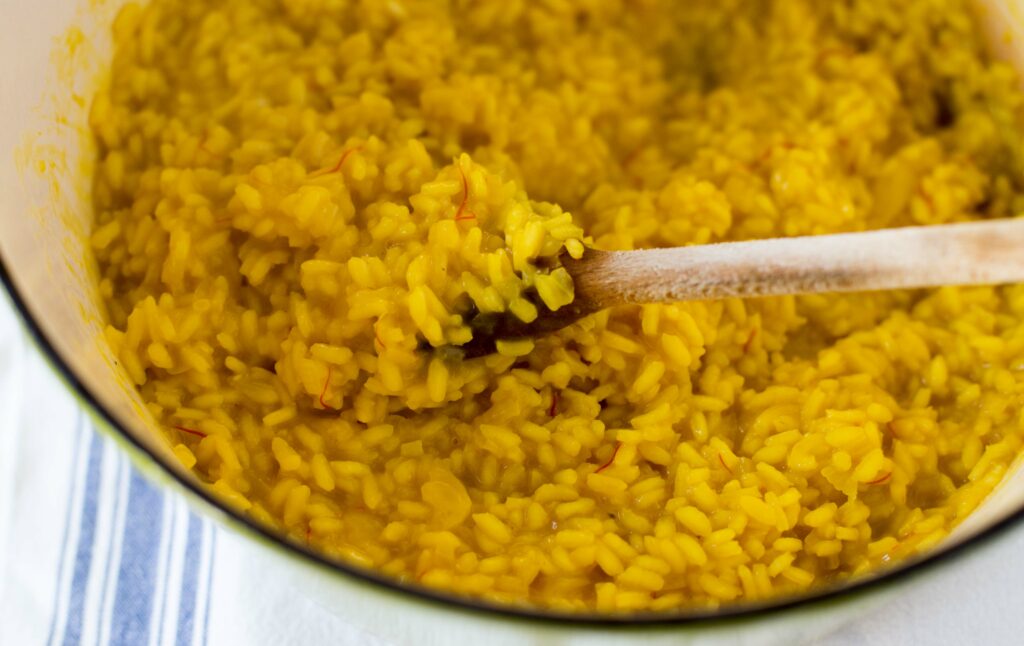 I have not made risotto in a while, I love the taste and to cook it relaxes me. I know that many people think is awful to stay 30 minutes "guarding" the pot, I usually watch TV or listen to books in the kitchen, so I appreciate these little breaks. As I 've told my husband comes from an Argentinean-Hungarian-Italian family and my mother in law taught me to cook risotto Milanese before coming to the U.S.A, the most classic and simple of the risottos, a classic one that we always return.
The keys to a?successful?risotto is a pot or large heavy-bottomed skillet, that can handle the heat of cooking a slow risotto well. And the ingredients: short grain rice: Arborio or similar and never wash before using.
Risotto Milanese
8 people
Ingredients:
3 tablespoons butter
1 large onion, chopped into small cubes
2 cups short-grain rice ?(arborio)
1 cup white wine
4 cups hot vegetable broth
2 generous pinches of saffron
1/2 cup Parmesan cheese
oil, salt
Preparation:
In a large pot with a thick bottom, I use a cast iron one. Heat 1 tablespoon butter and one tablespoon of oil over medium-high heat, add the chopped onion and cook until it is translucent about 5-8 minutes.
Heat the vegetable stock; once hot add the saffron and stir, it will turn yellow.
Add rice to the onion and fry, stirring the rice for 3-4 minutes, add all the wine at once and stir letting the wine is completely evaporated, 3 minutes more.
Reduce heat to medium and add a cup of hot broth, stir until it evaporates, set it boils gently, lower or raise the fire as needed. Keep adding hot broth, one cup at a time, stirring and allowing to evaporate, repeat this for 20-24 minutes.
Try the rice should be al dente, if not keep adding water and stirring, every 1-2 minute?test if it is ready. Turn off the heat, add one tablespoon butter and Parmesan, stir vigorously to incorporate everything.
Try, adjust the seasoning with salt. Let it stand for 5 minutes. Serve hot.
To reheat, add a little warm water and stir over medium heat or in the microwave.