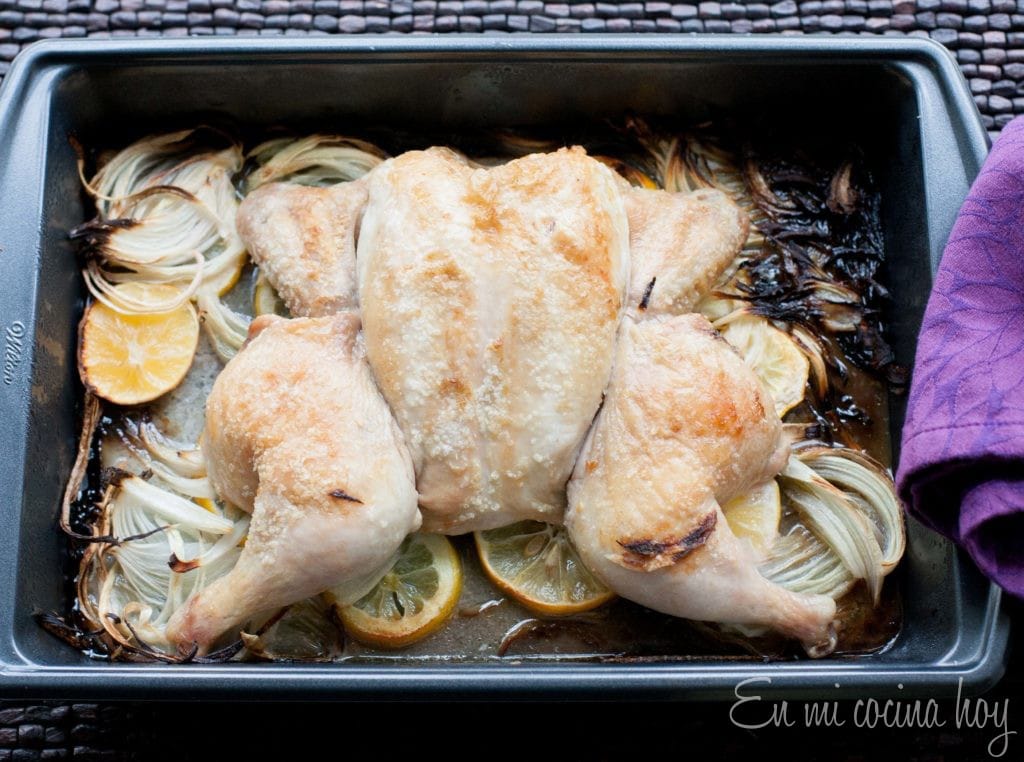 My aunt is famous for her roasted chicken. I've always been not enchanted by chicken, usually I just eat the breast meat and only a little, but obviously, thanks to Murphy's Law my husband and my girls love chicken, so I occasionally cook. The beauty of this recipe is that when you open the chicken as a "Butterfly" is cooked much faster. You can adapt with the herbs or accompaniments you wish, but do not forget to try this technique.
Roasted Chicken easy and fast
Ingredients:
1 medium chicken, about 2 kg
1 onion, sliced
2 lemons, sliced
1 tablespoon coarse salt
2 tablespoons olive oil
Preparation:
Preheat oven to 350F or 180C.
Peel and chop the onion, cut the lemons and place in the bottom of the baking pan, in a layer. Arrange the onions on the edges.
Using kitchen scissors, cut the chicken backbone (on the opposite side of the breast). See pictures.
Open the chicken like a butterfly. Sprinkle salt and pepper on the inside.
Place on the bed of lemons and put the wings partially tuck under, as seen in the picture. Thus they are not burned or dry out in the oven.
Drizzle with olive oil and smear well using hands.
Season with salt and pepper.
Bake for 40-45 minutes or until a knife run between the leg and breast, show clear juices.
If the chicken is not well browned on the outside after 40 minutes, change the oven to broiler for the last 5 minutes.
Let stand 15 minutes covered with aluminum.
Cut and serve.