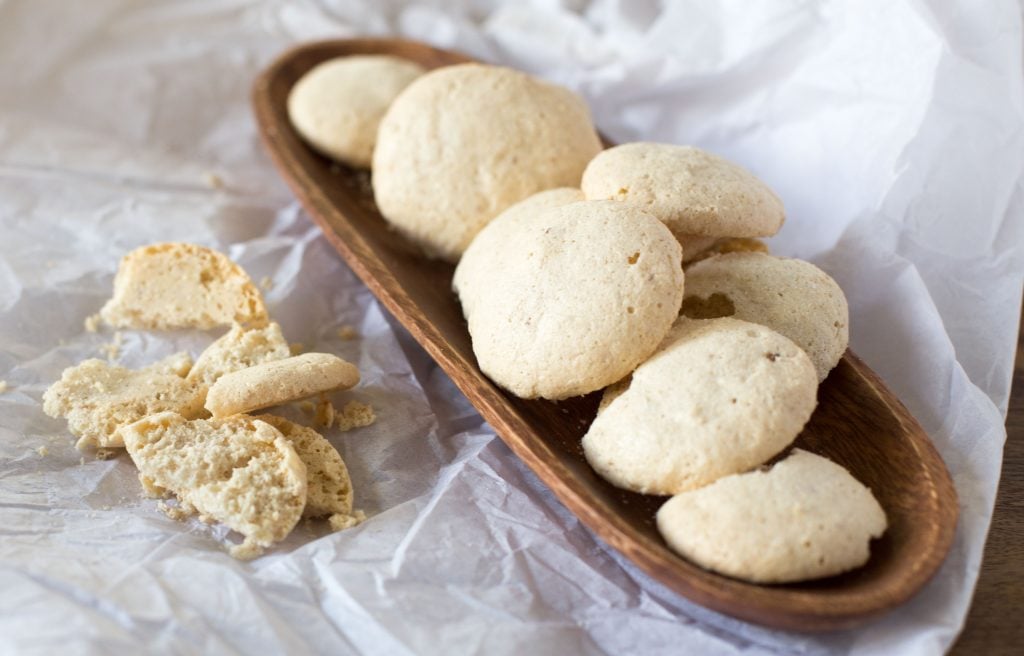 A delicious almond cookie, you can eat alone or fill. All the macaron flavor, but without having to worry about how much you should stir the mixture or having to weigh ingredients. In France, these cookies are done at home, the other macaron is purchased only at bakeries. Rustic macarons are the originals.
Rustic macarons
for 40 cookies
Ingredients:
1 3/4 cup powdered sugar
1 cup blanched almonds, not roasted
4 egg whites
50 grams of granulated sugar
Preparation:
Preheat oven to 280F or 140C.
Prepare 2 baking pans covered with parchment paper or aluminum.
Place in food processor, sugar and almonds, process until very fine. Another alternative is to buy the almond meal in which case, just mix the almonds with the sugar in a bowl stirring with a whisk or fork.
Make a meringue: with mixer at high-speed beat egg whites at room temperature until foamy (like a bubble bath) add slowly the granulated sugar, beating on medium-low speed, then continue beating at high speed until meringue forms hard peaks, it should not move. Do not overbeat.
Add a third of the almond mixture to the meringue stir about 5 times to mix a bit. Add remaining almonds, and incorporate the meringue in the least possible moves.
Spoon mixture into baking pans so they are the same size.
Bake cookies 1 tray at a time for 15-18 minutes. They should not brown.
Remove to a wire rack and let cool for 10 minutes. If they were glued to the paper, place a few drops of water between the paper and the pan should come off almost immediately.
Leave to cool completely before filling, if desired.
Can be stored for 2 weeks in an airtight tin or can be frozen for 2 months.