The recipe Savory Bread Pudding is sponsored by Nestlé® Carnation. The content and opinions expressed here are mine.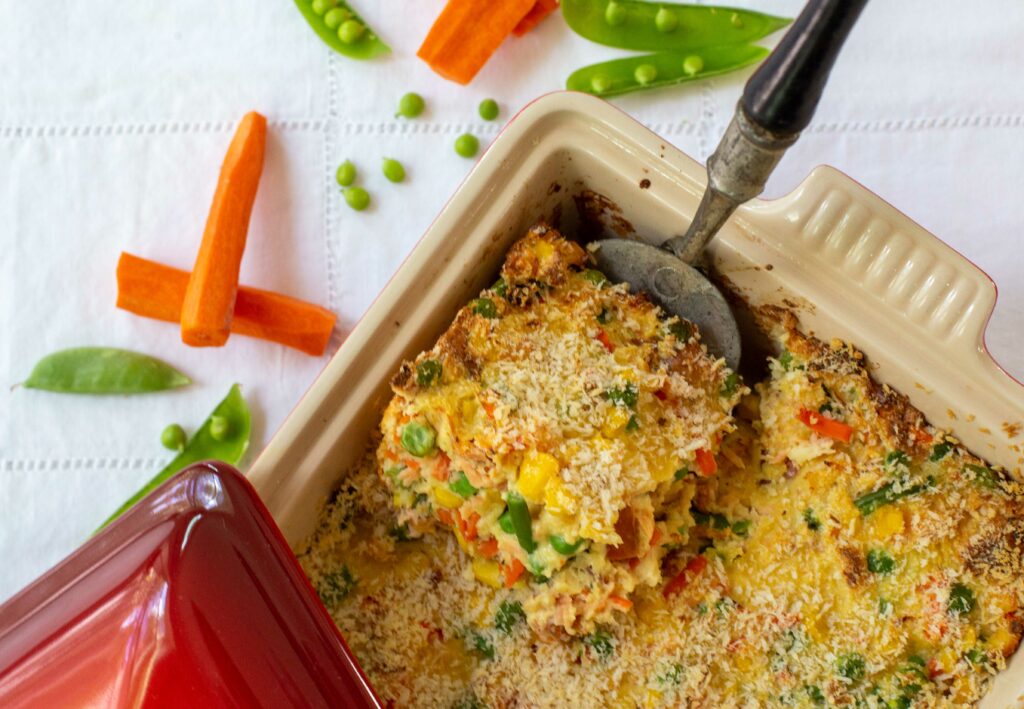 Did you grow up eating savory bread puddings? Probably yes, but I'm sure they looked different from the ones my grandmother used to make with anything she had at hand.
Latinx recipes for bread pudding usually call for soaking the day-old bread and mashing it after. 
Also, we separate the eggs, and the whites are whipped and carefully incorporated into the mixture. Latinx bread puddings are fluffy and delicate, almost like a souffle, but less complicated. 
But whether doing traditional or Latinx bread puddings, the possibilities are vast. On the blog, you can find a cauliflower casserole and the one with zucchini, both old favorites. But consider this a base recipe for your future creations. If you don't eat salmon, you can use cooked ground chicken, sausage, or beef. Or go vegetarian, nix the salmon, and add sautéed mushrooms.
Bread puddings rely on pantry and frozen ingredients to create a very nutritious dish, a complete meal for lunch or dinner. 
Like I do year-around, I reach for the versatile Nestlé Carnation Evaporated Milk to soften the bread. It is perfect because, in a single step, I add the rich and delicious taste of evaporated milk, and I know I won't end up with a watery pudding. 
I used Carnation Evaporated Milk in the new tetra container, easy to close and refrigerate for up to 10 days.
Remember that Carnation has, in addition to traditional evaporated milk, lactose-free, gluten-free, and organic milk varieties, all practical alternatives for cooking savory or sweet dishes.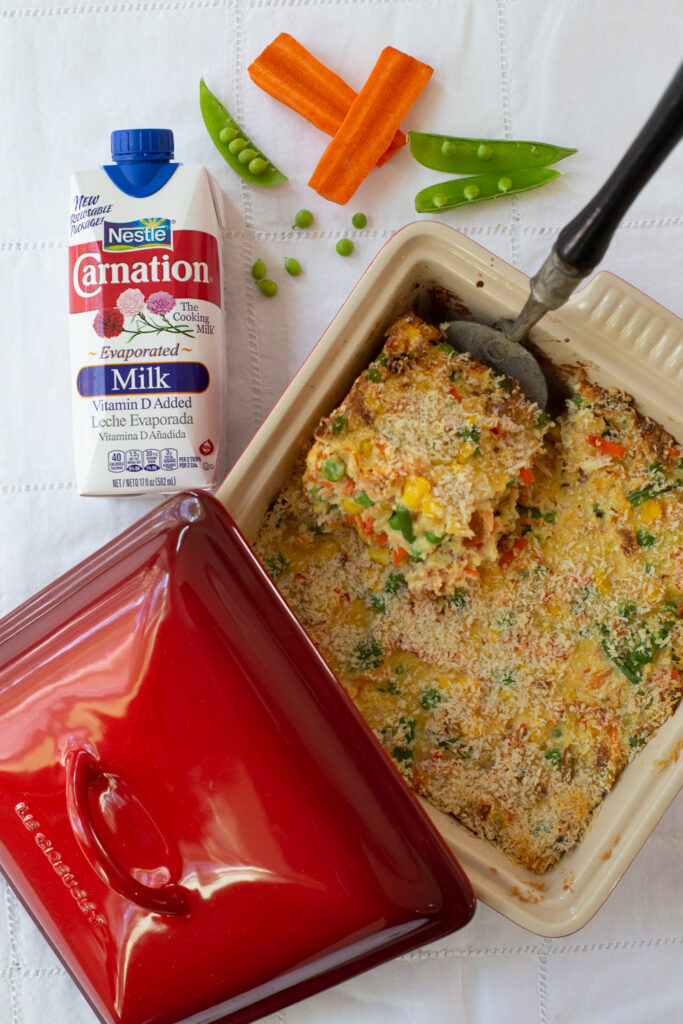 Print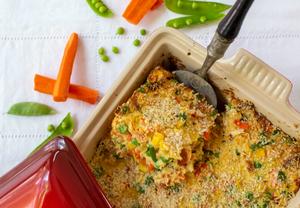 Savory Bread Pudding
A quick and delicious addition to a brunch.
Total Time:

50 minutes

Yield:

4
• 4 Slices of white bread, chopped
• 1 Cup of Carnation Evaporated Milk
• 3 Eggs
• 200 Grams of smoked, cooked or canned salmon or tuna, shredded or ½ pound of cooked ground chicken, sausage, beef or sauteed mushrooms
• 1 Bag (1 pound) of assorted vegetables thawed and drained
• Salt and pepper
Instructions
1. Preheat the oven to 400F or 200C.
2. In a large bowl, toss the bread with the Carnation Evaporated Milk. Let it soak for 5 minutes. Mash with a fork.
3. Separate the eggs. Add the yolks to the soaked bread. Beat the egg whites to hard peaks.
4. Mix the yolks, bread and salt, and pepper. Add the vegetables and salmon or meat. Stir.
5. Add half of the whipped whites and with a spatula fold into the mixture. Do the same with the rest.
6.  Move to a casserole, spread well, and sprinkle with breadcrumbs.
7. Bake for 30 minutes, or until golden brown and firm to the touch.
Author:

Pilar Hernandez

Prep Time:

20 minutes

Cook Time:

30 minutes

Category:

Brunch

Method:

Oven baked

Cuisine:

Latin