Semolina pudding with caramel sauce is one of the old traditional Chilean desserts our mothers cooked when they had fresh milk and needed to use it before it spoiled. It is an everyday dessert that is simple in its preparation and taste. My mom cut an apple into very thin slices and put them in the mold before coating it with caramel, making the dessert very tasty.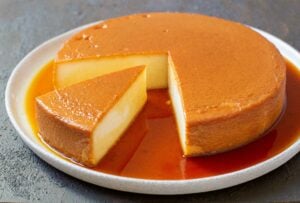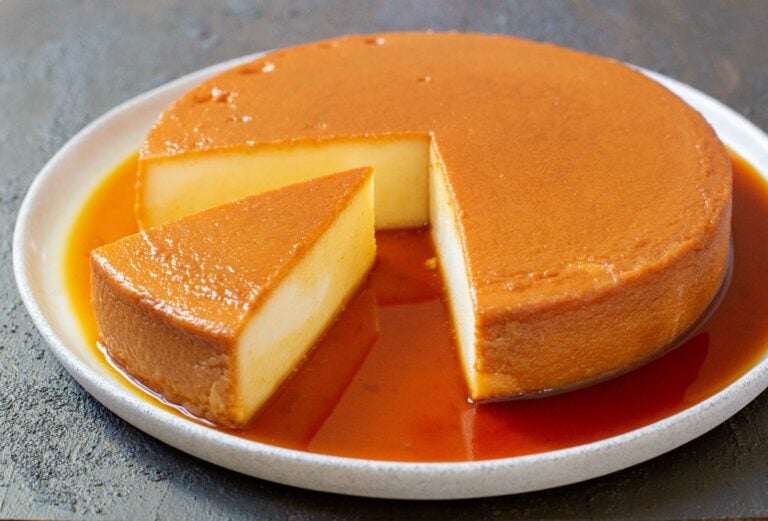 Tips for a delicious semolina pudding:
I like the creamier semolina pudding. How do I do it?
This recipe is for consistent semolina that can be unmolded. If you like it creamier, use one more cup of milk and pour it into ramekins to serve without unmolding.
What other flavors can I infuse?
Some people use half milk and half cream to give it more smoothness and flavor. You can flavor it to taste with cinnamon, orange peel, cloves, etc. Just add to the milk with the sugar.
What is semolina called in the US, and where do I find it?
In the US, it is called semolina, and you can find it in all supermarkets along with flour.
What is the difference between Nutrina and Semolina?
Semolina is made from peeled wheat (only endoderm). Nutrina is made by grinding whole wheat (Exo and endoderm). Nutrina is nutritionally more complete for this reason.
In English:
Nutrine = Farina
Semolina= Semolina
What are other traditional milk desserts in Chile? (Click on the names to go to the recipes)
Roasted milk or Leche Asada is probably the most popular of all. Other versions on the blog:  Dulce de Leche flan, lucuma roasted milk.
Nevada Milk or Floating Islands
Semolina pudding with wine sauce
Rice pudding
Can I use artificial sweeteners?
Yes, this recipe is easy to modify to taste. Read the sweetener instructions carefully. Some do not withstand heat and are not recommended for this recipe.
Can I use skim milk?
I do not recommend it because it is very watery and tasteless.
Can I use lactose-free milk?
Yes, no problem, everything is done the same.
Print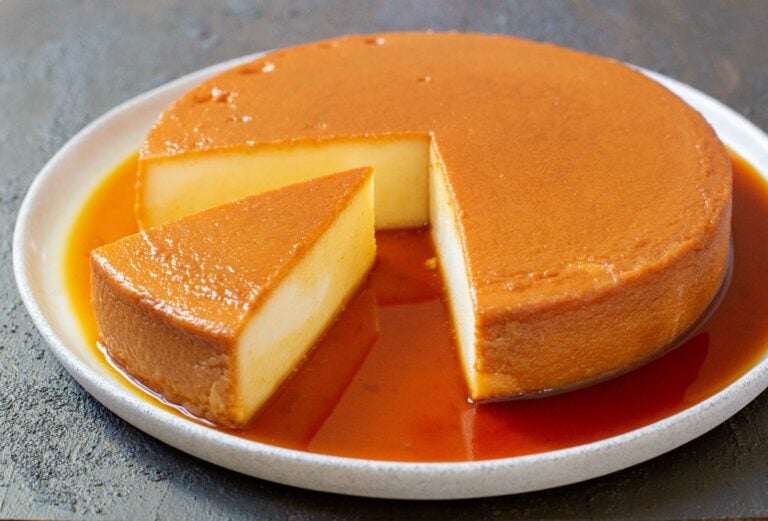 Chilean Sémola con leche Semolina Pudding
An old traditional Chilean dessert.
Total Time:

45 minutes

Yield:

8
for the caramel sauce,
1 cup

sugar

1/4 cup

water
for the semolina pudding,
5 cups

of whole milk

1 tablespoon

of vanilla extract

1/2 cup

granulated sugar, or to taste

1 cup

semolina
Instructions
Choose a baking dish 8′ or use 8 (1/2 cup) ramekins.

To make the caramel sauce: In a small saucepan, place the sugar and enough water to moisten all the sugar and cook over high heat until it starts changing color.


Lower the heat and keep watching; just as it turns tea-colored, remove from the heat, and pour into the ramekins or baking dish. Swirl so that the entire bottom is covered with caramel. Don't worry if it solidifies. And be careful. The baking dish can get hot.


For the semolina pudding: In a medium saucepan, place the milk, sugar, and vanilla cook over medium-high heat, stirring with a round balloon whisk until sugar dissolves.


When it boils, lower the heat to low and begin adding the semolina in a steady rain, beating all the time to keep them from forming lumps, it will thicken quickly. After coming to a boil, cook for 1-minute stirring always.


Pour over the caramel and let cool.


Unmold into a serving plate. It can be served at room temperature, but you need to store it in the fridge.


Author:

Pilar Hernandez

Prep Time:

25 minutes

Cook Time:

20 minutes

Category:

Dessert

Method:

Stove

Cuisine:

Chilean
Nutrition
Serving Size:
Calories:

315

Sugar:

45.2 g

Sodium:

66.5 mg

Fat:

5.2 g

Saturated Fat:

2.9 g

Carbohydrates:

60.1 g

Fiber:

0.8 g

Protein:

7.5 g
Keywords: Semolina pudding, semolina pudding with caramel sauce, chilean dessert