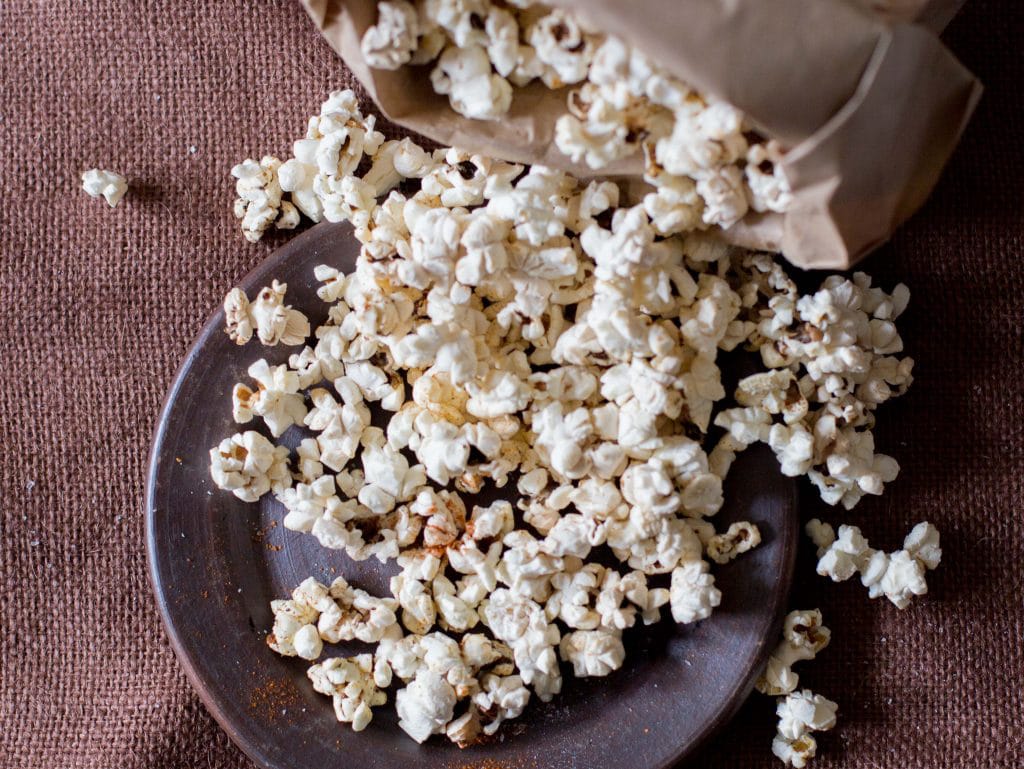 Here in the US, the traditional popcorn at theaters is salted butter and my daughters are accustomed to these and love them, so when we watch movies at home they ask me for it. In Chile, you usually find caramel popcorn for sale at movies theaters.
This recipe is adaptable and you have the option of using herb oils, I used Merken for this Spicy Popcorn or rosemary oil several times.
Merken Spicy Popcorn
4 people
Ingredients:
1/4 cup dry corn for popcorn (in supermarkets)
1 paper bag
2 tablespoons butter
1/4 teaspoon Merken or chipotle powder
salt
Preparation
In a small saucepan or in the microwave to melt the butter with the Merken/chipotle.
Place corn in a paper bag and fold the top 2-3 times on itself, as seen in the pictures.
Cook in microwave on high for 2 minutes and a half to three minutes. This will depend on the power of your microwave. Stay next to the microwave during the cooking and is ready when you stop hearing the pops.
Remove and carefully open, there will be steam inside the bag.
Pour into a large bowl and pour the butter with the Merken/chipotle above and add salt, stir well for 1 minute to mix.
Serve immediately.
Note: If you use a flavored oil, use 2 tablespoons instead of the butter.
Merken is a Mapuche seasoning (Chilean native indigenous people) is a mixture of species with smoked chili, coriander and other spices, you can replace it with chipotle powder.