Milhojas Thousand Layers or Thousand sheets Cake is the most traditional Chilean cake. This recipe is from my Great Aunt, who always bakes this cake for my birthday. So, this is yet another of my recipes that feels like home! My Aunt usually makes this cake at least a day in advance, and it will still hold its flavor and texture for 3-4 days.
For the traditional Chilean thousand-layer cake or Torta Milhojas, you must fill your cake with Dulce de Leche and walnuts. But, if you like variety, pastry, and whipped cream, "Chantilly" is also used. If you're looking for something less sweet, jams like plum or rhubarb are also excellent. The tart contrast enhances the overall flavor.
What is Milhoja cake made of?
The fillings vary a lot, and even the dough can be different. Some are puff pastry (butter, liquid, and flour). Others like this recipe also include egg yolks and reduce the butter. This is most likely because butter is more expensive than eggs.
More accessible versions of Milhojas can be made using store-bought puff pastry (see this recipe) or crackers (see this recipe).
Where is Milhoja from?
Milhojas cakes are ubiquitous in all of Latino America. Like many recipes introduced by Spaniards, almost every country has its version. Still, the Chilean version is one of the most famous ones, and it's called Torta Chilena (Chilean cake) in Central America.
How to store the cake?
It will depend on the fillings: if using a pastry or whipped cream, it must be stored in the fridge for no more than a couple of days. Freezing is not recommended. This recipe with Dulce de leche and walnuts can be stored at room temperature for three days or in the fridge for up to a week. It can be frozen for up to 3 months.
What Dulce de Leche do you recommend?
This is an important question; the most traditional is a canned Dulce de Leche, La Lechera brand (made in Chile), Amazon-affiliated link. Easy to find in Latino markets in the USA. I don't recommend using Argentinian Dulce de Leche; they are very heavy on vanilla flavor and distracting for Chilean purposes.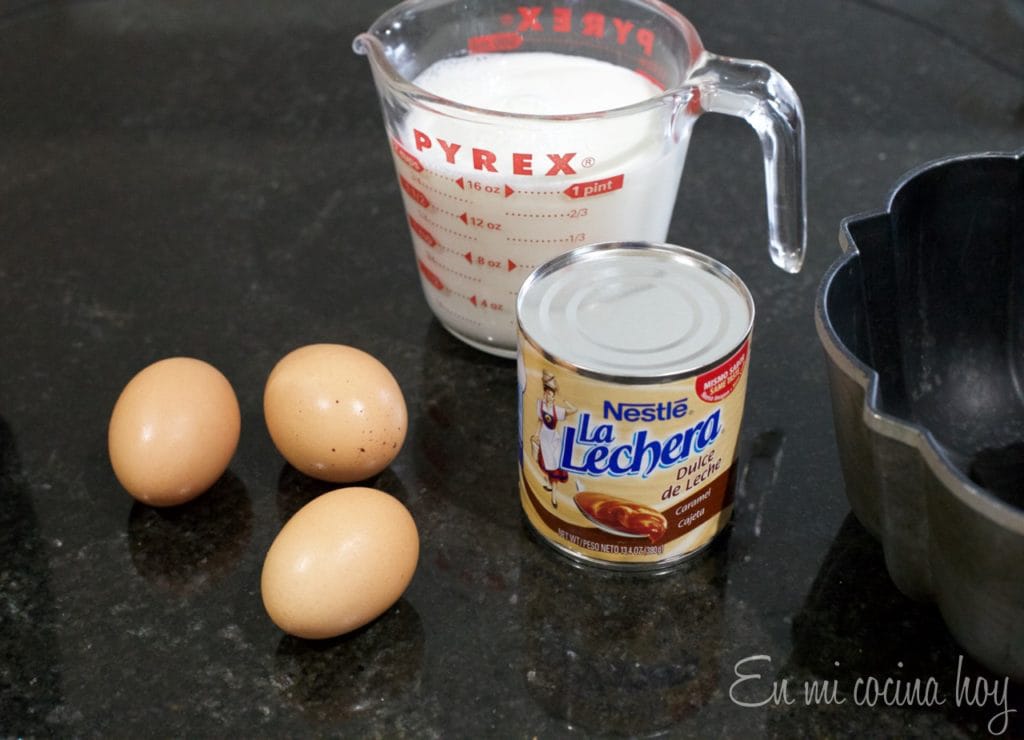 Where and when do Chileans eat Torta Milhojas?
This cake is the most loved and traditional. You can buy it in almost any bakery in Chile. They will also have slices (usually rectangular shapes) to buy. Many families have old recipes and will make this cake for special birthdays or Fiestas Patrias (Independence celebrations in September). It's eaten at birthday parties and Sunday Once (tea time).
Other Chilean layer cakes with Dulce de Leche:
Print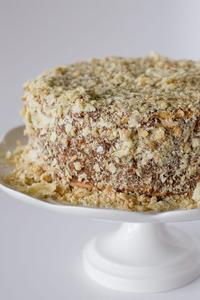 Milhojas or Thousand Layers Cake
The traditional cake in Chile. Layers of thin, crunchy dough and dulce de leche and jam. Recipe from scratch.
Total Time:

1 hour, 30 minutes

Yield:

20
For the dough,
3

cups

sifted flour

250

grams

/

8

oz

unsalted butter, room temperature

3

egg yolk, room temperature

3/4

cup

milk

1 tablespoon

rum or pisco

1

pinch of salt
For the filling,
3

cups

of dulce de leche or caramel (available in Latin supermarkets, I like La Lechera brand sold in cans, usually right next to the condensed milk)

2 1/2

cup

chopped walnuts

1/4

cup

powdered sugar
Instructions
Combine the flour and salt in a large bowl. Add butter in chunks, egg yolks, milk, and liquor, and work to form a dough of medium consistency.
Do not work with your hands. Use a fork, two knives, or a stand mixer with the paddle attachment. Please do not use your hands because the body heat will melt the butter, and bits of butter remaining in the dough give its crispness. Wrap in plastic wrap and refrigerate overnight or for at least 6 hours.

Preheat oven to 350F or 180C.
Divide the dough into 14 equal portions. Roll each piece on a floured baking sheet, parchment paper, or Silpat until very thin. Cut circles 8 – 9″ in diameter using a paring knife. I usually use a plate as a guide. Pierce the circle of dough with a fork across almost the entire surface.

Bake each circle over an un-greased baking or cookie sheet for 5-7 minutes until golden. Let cool.

Assemble the cake filling between each layer with dulce de leche (3-4 tablespoons). For every three layers, add ground walnuts, saving 1 cup for decoration.
Cover the whole cake with a thin layer of dulce de leche and sprinkle with a mixture of walnuts, powdered sugar, and crumbs.

Author:

Pilar Hernandez

Prep Time:

1 hour

Cook Time:

30 minutes

Category:

Cake

Method:

Baked

Cuisine:

Chilean
Nutrition
Serving Size:
Calories:

420

Sugar:

25.1 g

Sodium:

182.3 mg

Fat:

24.2 g

Saturated Fat:

9.7 g

Carbohydrates:

43.6 g

Fiber:

1.5 g

Protein:

8.1 g
Keywords: mil hojas, thousand layer cake, chilean cuisine