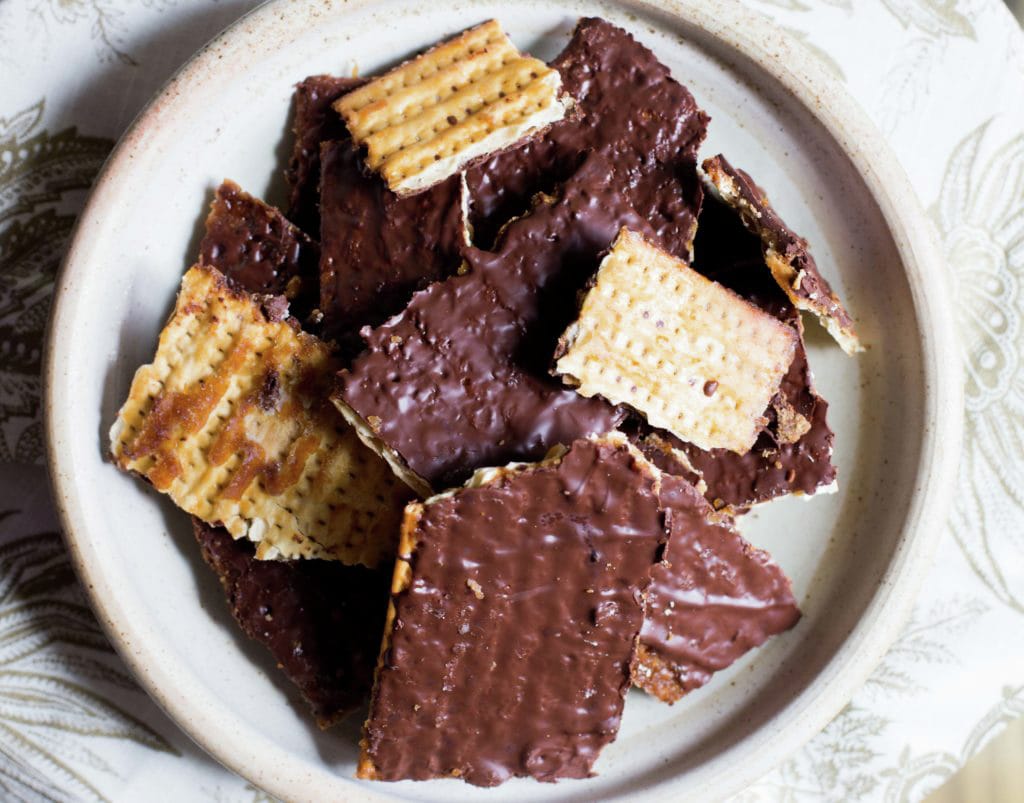 This crispy Chocolate Covered Matzo recipe is very popular in the USA for Passover. I don't think I ever had it in Chile, but it's very easy and addictive for everyone, highly recommended. It's a perfect recipe to make with children.
It stays crisp up to 4 days in an airtight container.
Recipe updated with new pictures in April 2017. This year we hosted a Seder at home, other years we spend it at friends, but this year we invited a couple of friends that are not Jewish to experience the rite. Although I'm not Jewish (my husband is), I am Catholic, it's one of my favorite traditions because it's a 100% home celebration, passing down each families traditions and has many symbolisms that apply to modern times. It's the story of the Exodus from the Old Testament, how the Jews fled from slavery in Egipt to start their journey to Israel.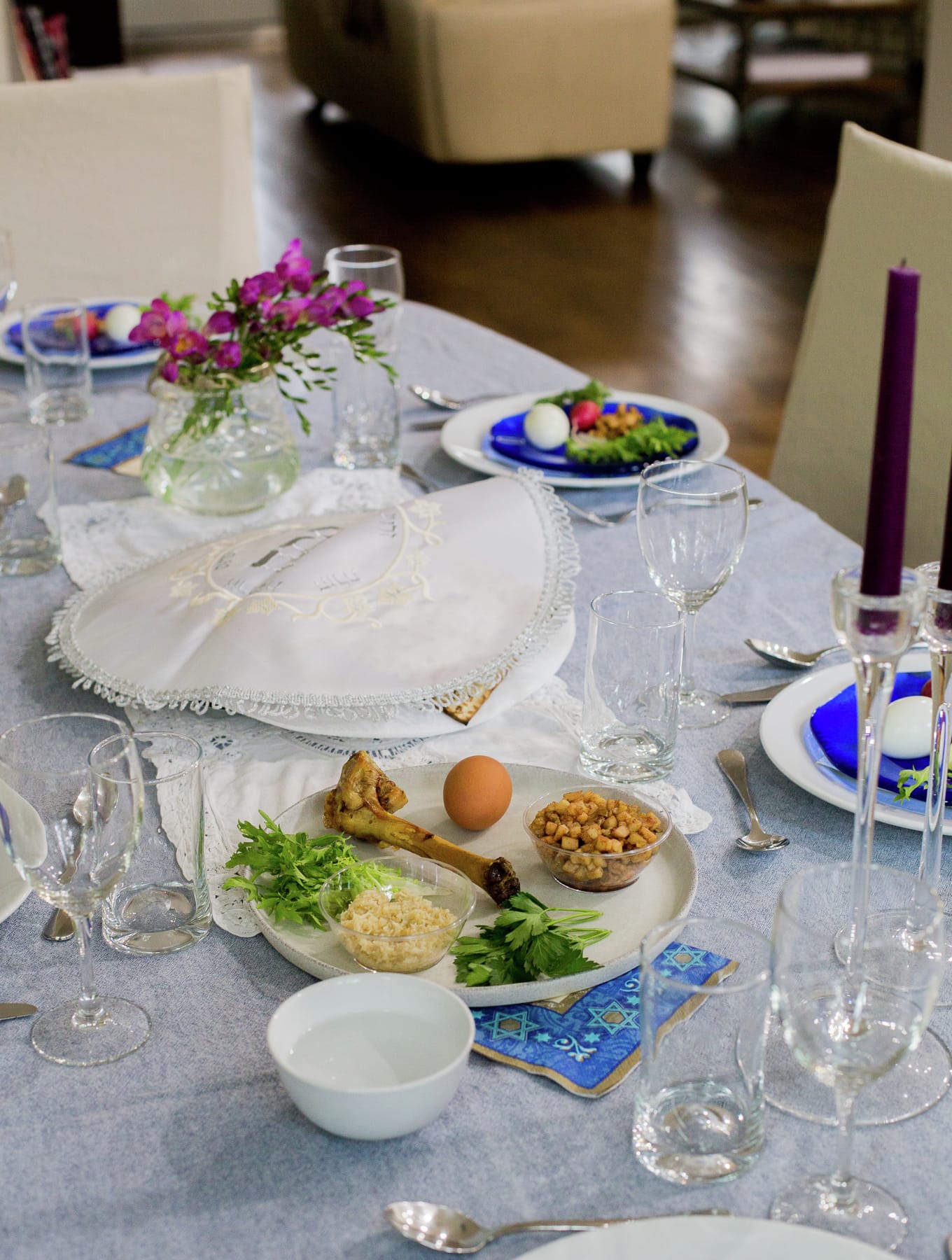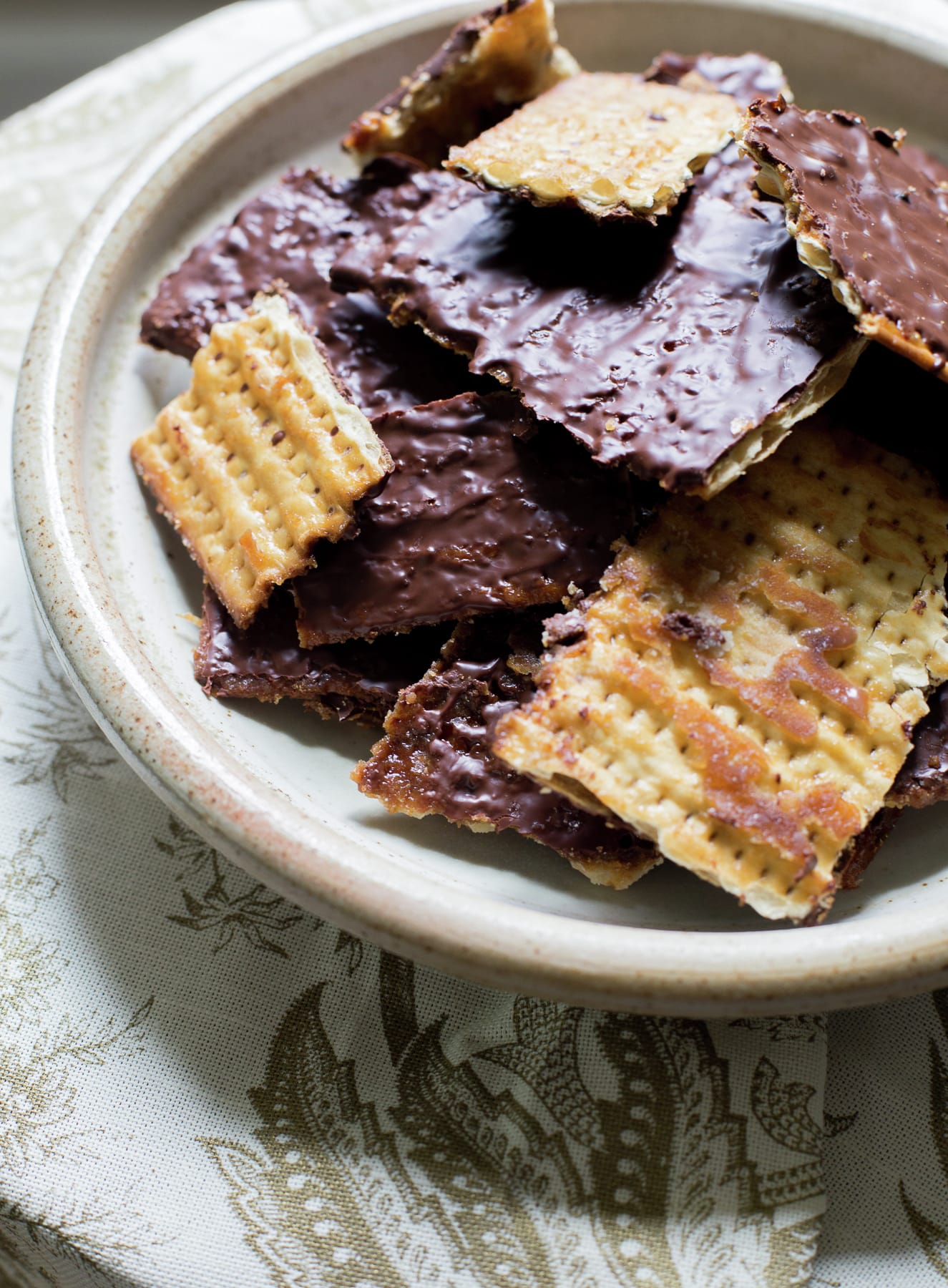 Chocolate Covered Matzo
serves 8
Ingredients:
1 cup or 250 grams butter cut in pieces
1 cup of semi-sweet chocolate chips
5 matzá
1 cup of brown sugar, compacted
salt
aluminum foil and silicon paper
Preparation:
Preheat the oven at 375F or 190C.
Prepare a rimmed baking sheet, cover with aluminum foil, including edges. Cover with a single layer of matzo.
Prepare the toffee, in a medium pan with a thick bottom. Add butter and brown sugar and place over medium-high heat, stir until the butter melts and sugar is dissolved. Once it starts boiling, simmer for 3 minutes, stirring constantly. Remove from the heat and add a pinch of salt and vanilla if you like, and pour over the matzá, spread with a spoon or spatula.
Place the pan in the oven and immediately lower the temperature to 175C or 350F. Bake for 15 minutes, check from time to time to make sure toffee does not burn if it starts to look darker, lower the heat of the oven. After 15 minutes remove from the oven and sprinkle chocolate chips, allow to sit for five minutes, later using a spatula spread the chocolate over the toffee. You can sprinkle with chopped almonds, walnuts or sea salt.
Allow cooling completely, cut with a kitchen knife in small pieces and serve. Store in an airtight container for up to one week.
Recipe adapted from David Lebovitz.
Another version of the chocolate matzo: This time I made it with sugar-free bitter chocolate (it's a gift for a diabetic person) and walnuts. You can obviously use normal milk or bitter chocolate, and substitute walnut for: almonds, pistachios, hazelnuts, all those are probably very good.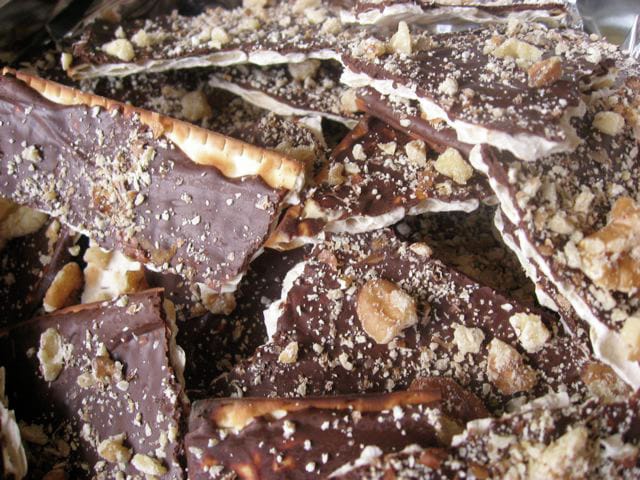 Chocolate Walnut Covered Matzo
3 matzo sheets
200 grams sugar-less bitter chocolate (I used 2 bars of Guylian 54% cocoa)
1/3 cup walnuts crushed in a bag using the rolling pin, they will be irregular
1 teaspoon vegetable lard (optional, it helps keep chocolate shiny)
Preparation:
Prepare a baking tray covering it completely with aluminum foil, distribute the matzos on top.
Melt chocolate with the lard in the microwave. Start with 20 seconds, remove from the microwave, stir well; if not fully melted heat for 15 more seconds, stir well, it's very important to be careful and not burn the chocolate, you need to be patient and stir well. Continue in 15-second intervals until the chocolate is completely melted.
Spread the chocolate over the matzos using a knife, sprinkle the nuts and allow it to cool completely and chocolate will harden, break into pieces and serve. It's very crunchy and delicious.