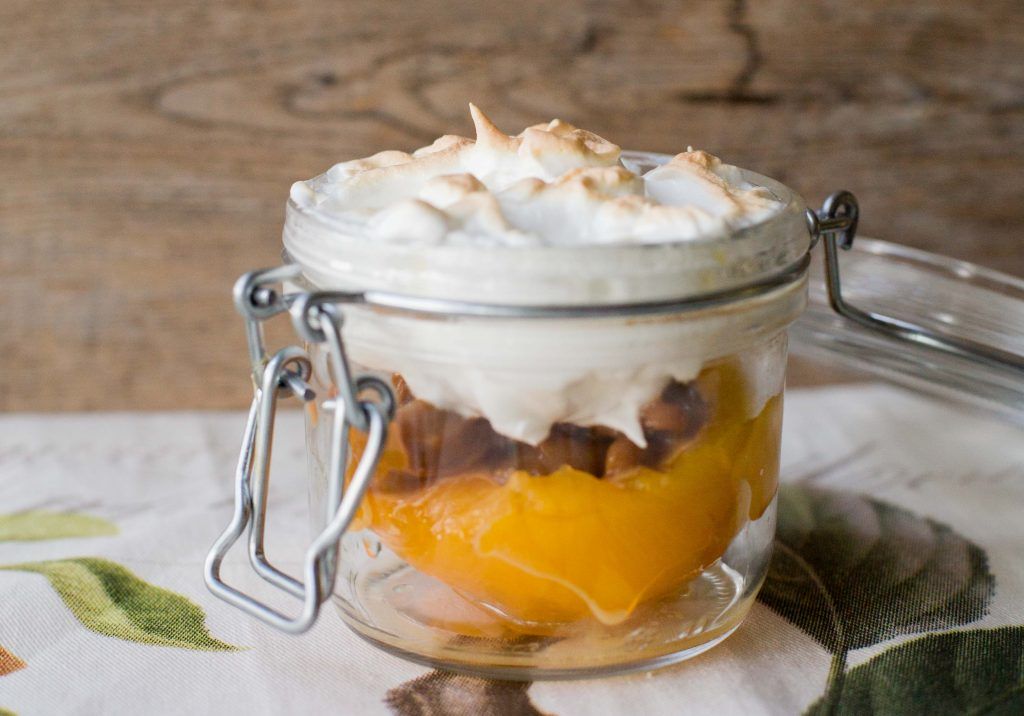 Growing up in Chile, the end of the year holidays was associated with the summer and all the delicious summer fruits, my grandmother and my mother always included them in many desserts and pastries like this Dulce de Leche Meringue Peach.
Now, here in the U.S., the holidays are during the winter, but that does not stop me from using my family recipes and I make this traditional dessert using canned fruits. Peaches and apricots are my favorites for this dessert that is very simple and easy to do but is packed with flavor.
This recipe uses meringue, which is a very traditional Latino food like my grandmother used, but you can replace it with sweetened whipped cream or ice cream if you like.
Dulce de Leche Meringue Peach
for 6-8 people
Ingredients:
1 can of Peach Halves Heavy Syrup (15.25 oz.) or Apricot Halves (15 oz.)
1/2 cup Dulce de Leche
1/4 cup chopped pecans or walnuts
2 egg whites
1/2 cup sugar
Preparation:
Drain the fruit and place it in a baking dish or ramekins, or canning jars.
In a small bowl mix the dulce de leche with the pecans, stir until well blended.
Fill each half with a spoon of the dulce de leche, pecans mixture.
Prepare the meringue, build a water bath in a large pot: put 3 inches of water, heat over high heat until it boils, lower heat to low. In a large bowl that can be placed on the pan without touching the water, place the egg whites and sugar. Whisk with electric mixer initially at low speed and then high, about 5 minutes until you see stiff peaks, then keep whisking out of the water bath until it cools down, about 5 minutes more. Using a pastry bag or a spoon place a small dollop of meringue over each peach or apricot.
Using the broil function of the oven, lightly brown the meringue, you should always stay close, the browning takes only 2-3 minutes.
Serve within the next 2-3 hours if possible. Or refrigerate until serving.