This is a sponsored recipe Healthy Cheesesteak Quesadilla by Transamerica Center for Health Studies. All opinions are mine.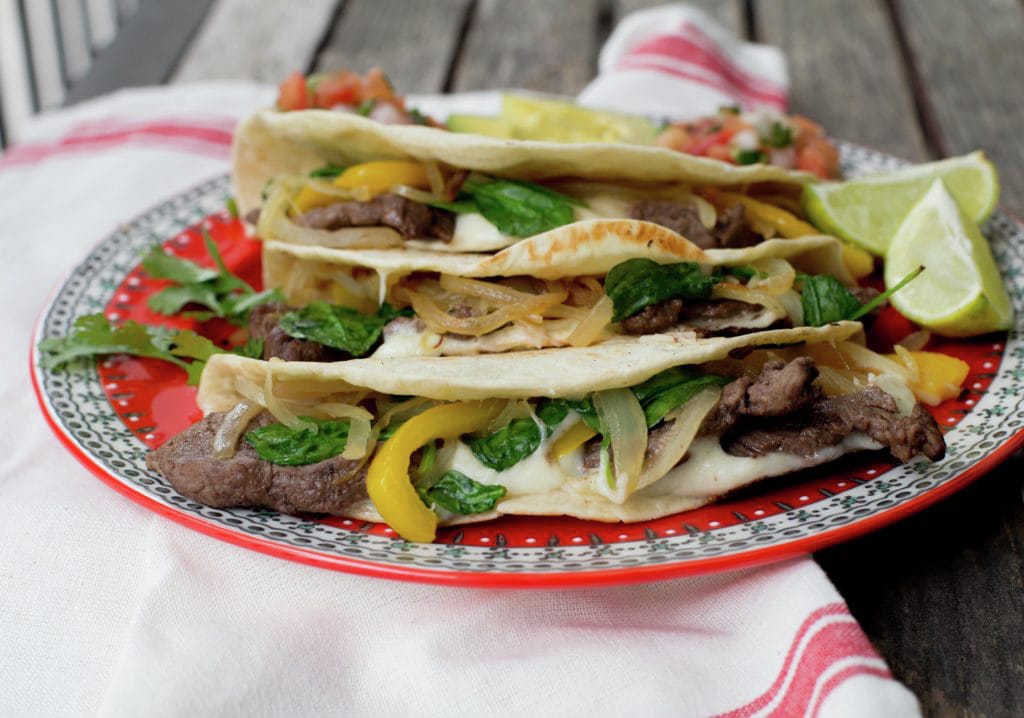 Did this photo open your appetite? I hope so because these Healthy Cheesesteak Quesadilla were delicious. This is another of the recipes that inspired the recipe book by the TCHS: Tradiciones Saludables. This year they focused on USA classics. Download the complete recipe book as an inspiration for healthy cooking.
In this book you will also find detailed nutritional information for each recipe: calories, fat, cholesterol, sodium, carbohydrates, and fiber contribution. And on their website, they have videos explaining the preparation of each dish. Some must-try classics include Texas-style chili (thick soup made of ground beef and beans, one of my Winter favorites), clam chowder (sounds weird, but it's fantastic), crab cake (croquettes that you can also make with canned tuna), shrimp Po-boy (sandwich with fried shrimp, traditional in New Orleans). And obviously, a healthy version of macaroni and cheese is also included.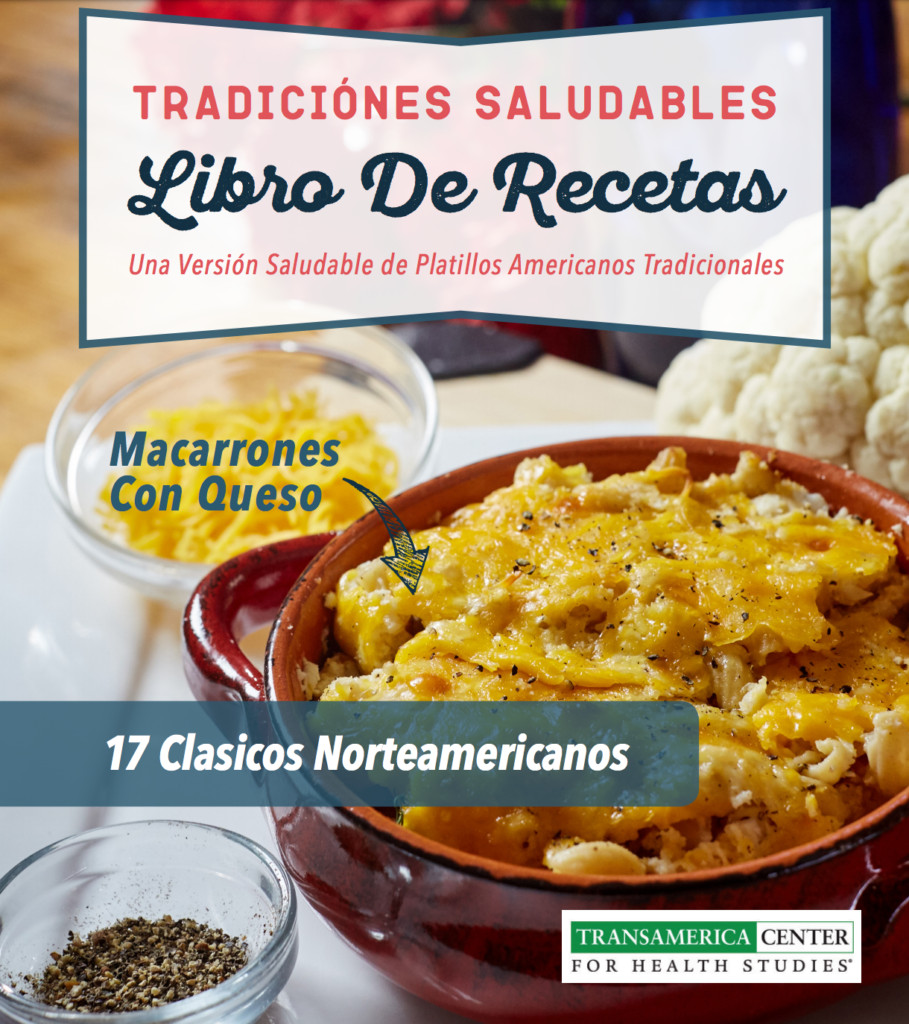 The classic Philadelphia cheesesteak sandwich is made of steak, golden onions, and peppers, all covered in a creamy cheese sauce in a soft bun. For this quesadilla version, I added spinach and made the cheese sauce with Oaxaca cheese. It was superb and very easy to make. The colors are also very appealing.
Remember to cut the meat (skirt steak) in thin slices across the grain, that way they will be more tender and easier to eat.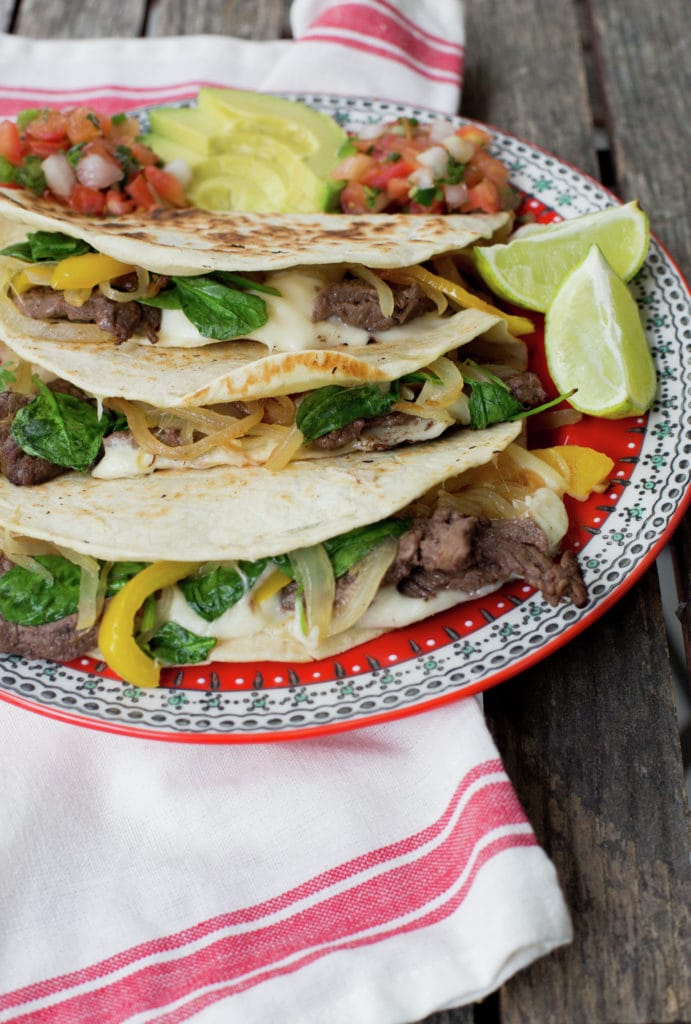 You may also be interested in another recipe I adapted from the recipe book Tradiciones Saludables: Healthy meatloaf
Healthy Cheesesteak Quesadillas
serves 4
Ingredients:
1 onion
1 yellow pepper
2 cups baby spinach
400 grams or 1 pound Flank steak (fajita meat)
1/2 teaspoon salt
2 teaspoons oil
1/2 cup milk
1 tablespoon flour
1 cup melting cheese, I used grated Oaxaca
8 tortillas
Pico de gallo, limes, avocado to serve
Preparation:
In a medium pan, cook the onion in 1 teaspoon oil over medium heat for 3-4 minutes. Stir occasionally. Add pepper and continue to cook for 4 more minutes. Season with 1/4 teaspoon salt. Add spinach, mix, and reserve.
In the same pan, heat 1 teaspoon oil and cook steak seasoned with 1/4 teaspoon salt and pepper, over medium-high heat, 2-3 minutes per side. Reserve.
In a small pot, stir milk and flour until dissolved. Cook over medium heat, always stirring until the mix thickens, 2 minutes. Turn off the heat and add the cheese, stir to form a thick sauce.
Wipe the pan with a paper towel and put together the quesadillas, place a tortilla, distribute a layer of veggies, 1/4 of the steak and 1/4 of the cheese sauce. Cover with the other tortilla, cook over medium-low heat for 2 minutes, turn and cook for 2 more minutes until the tortillas have slightly browned. You can also use a comal or griddle to be more efficient.
Serve immediately with pico de gallo, avocado and limes.