I worked together with the California Raisin Marketing Board to create this recipe: Raisin Couscous Salad and was compensated for my time. The opinions below are mine and mine alone and do not represent those of the California Raisin Marketing Board.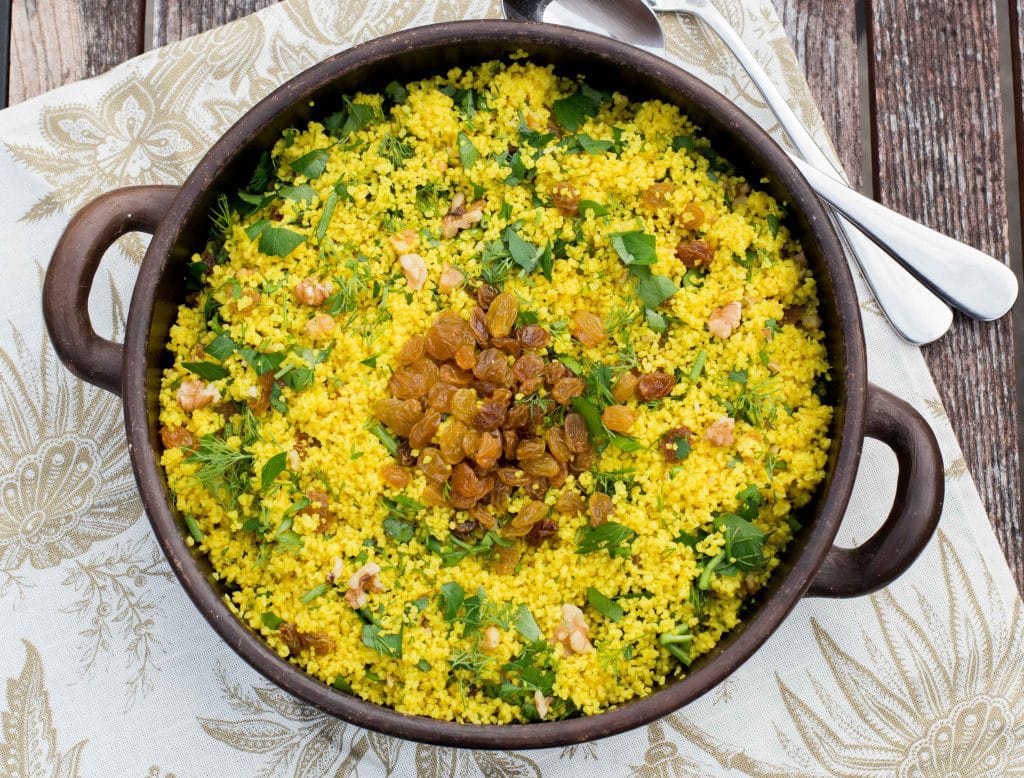 The salad bar is a very important part of the celebration of the holidays in South America since it is summer there. Here in the US, I keep up with tradition and these days since I have had several holiday lunches with different groups, I offered to bring salads. I took the Raisin Couscous Salad to one of my favorite lunches: with Urban Harvest Community Garden Committee. Obviously, all members are urban farmers and we get into a bit of competition to display our crops… this year I wanted to highlight the Meyer Lemons we harvest at the school garden and fresh herbs from my donation garden. And what better alternative than doing it in combination with the all natural and nutritious sweetness of California Raisins. The salad was a total success, looks attractive and complements meat and fish very well.
I recommend using California Raisins, they are totally natural and sun-dried. I use them with confidence this holiday season and always, the ingredient list says it all: Raisins :). For more information about the California Raisins, totally natural and unsweetened, and to discover and get inspired by more recipes visit www.loveyourraisins.com.
I used coconut milk to cook the couscous and I loved it, with that I avoid adding oil or butter and the couscous stays soft and delicious. I recommend it. Turmeric gives the yellow color to the couscous and makes it very attractive. You can also use dark raisins and other fresh herbs available in season.
Raisin Couscous Salad
8 people
Ingredients:
1 can (400 ml.) coconut milk
1/2 teaspoon salt
1 teaspoon turmeric
1 box (10 oz.- 284 grams) of couscous
1 cup golden raisins
1/2 cup walnuts, chopped
1 cup chopped herbs, I used dill and parsley
zest and juice of 1 lemon, Meyer lemon if available
Preparation:
In a medium saucepan place the coconut milk, salt, and turmeric. Heat over medium heat, stirring until all the fat is melted and the turmeric is incorporated. When boiling, remove from the heat and add the couscous. Stir and cover, let stand for 5 minutes.
Uncover and stir with a fork. Add raisins immediately.
Chop nuts and herbs.
Grate the lemon peel over the couscous, add herbs, walnuts and lemon juice. Mix.
Taste and adjust the seasoning. Serve cold or at room temperature.