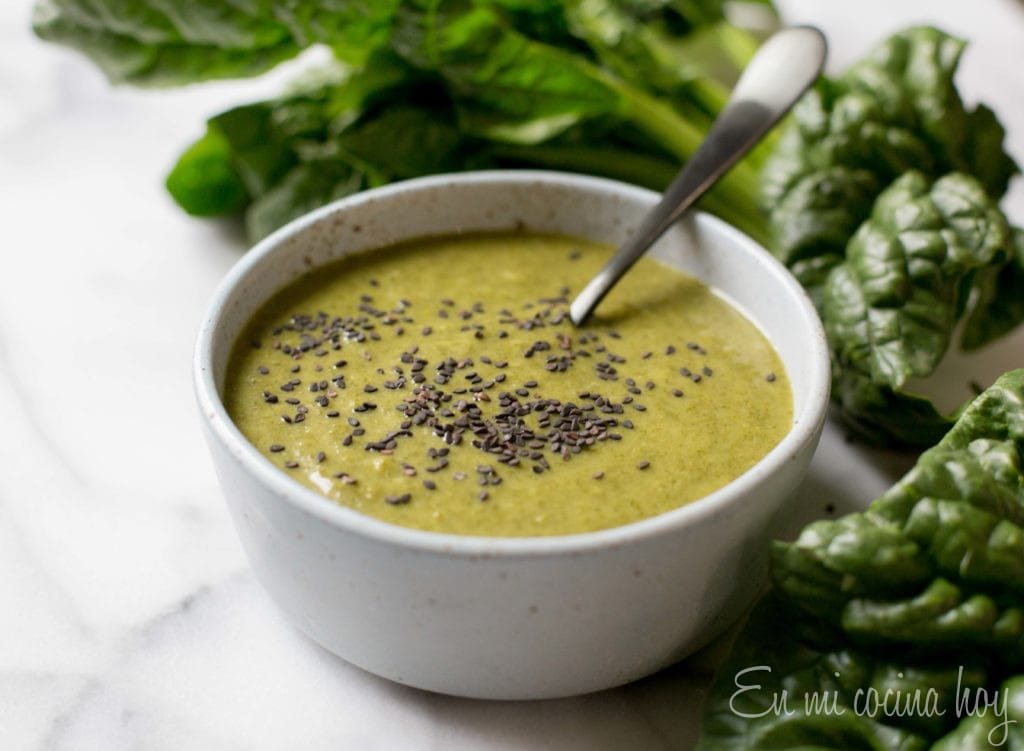 Not every winter, but every two or three years we get a freeze in Houston. In the gardens, this always means harvesting everything that can be harvest in advance and cover the rest of them. Last week, I ended up with unplanned amounts of green leafy vegetables: kale, bok choy, and the delicious spinach. Nothing better to make use of the abundance than a Cream of Spinach Soup.
We enjoyed it during a lunch with friends on the coldest day so far this winter, so it was exceptionally well appreciated. You can serve it with toast, crackers, croutons. And in the summer I serve it lukewarm so that nobody claims that it is too hot. The taste always shines and is very nutritious.
Spinach requires a diligent wash. I put them in the sink and wash them under the stream of water and let it fill up. Then "soak" for a while in plenty of water. The earth is deposited to the bottom, so without removing the plug, take out the spinach, trying not to stir the water.
This time I added cream to the soup, but it is not necessary. To thicken, I used bread crumbs that were frozen, but you can use traditional oatmeal or potatoes. These creams forgive a lot and are flexible recipes, can be seasoned with curry, or any other species of your liking. I served it with black sesame as decoration.
Cream of Spinach Soup
for 4 people
Ingredients:
1 chopped onion
3 large bunches of spinach very well washed or 2 packages of 450 grams of thawed spinach
2 cups breadcrumbs
1 liter of vegetable broth or water
salt, pepper, oil
1/2 cup of cream, optional
black sesame to serve
Preparation:
In a large pot over medium-high heat. Heat 1 tablespoon of oil. Add the onion and cook for 5-8 minutes stirring occasionally. Lower the heat to medium. Add spinach, broth, and bread. If you use water instead of broth, season with salt and pepper.
Cook covered for 5 minutes. Stir.
Cook for 10 minutes more covered. With the hand blender. Process everything until you get a cream. If you use a traditional blender do it in small portions and then return it to the pot.
Taste and adjust the seasoning. Add the cream if desired.
Serve hot.