Chilean Breakfast is usually a quick affair, especially during the work week. Tea or coffee with or without milk is the drink of choice, a toast with butter and jams, or a simple sandwich in Hallulla or Marraqueta with ham and cheese.
Most people eat breakfast at home between 6 a.m. and 9 a.m.
Long communal breakfasts are more common on weekends, but it is still a small meal. Brunch is more of a special occasion going out affair.
In traditional families and occasions, usually religious (baptism, first communion, etc.), it was expected to host a breakfast after the religious services with coffee, tea, hot milk, and an assortment of sweets: dulces chilenos and small sandwiches.
Hallulla and Marraqueta are the most consumed pieces of bread in Chile. They usually are not made at home. Most people buy them on the way from or to work daily in the many bakeries (now standard on the metro stations). Nowadays, they are also sold partially frozen, so they are only baked briefly at home, and you have fresh bread ready.
Kids usually drink warm milk: chocolate milk and tea with milk are popular. During summer, cold milk with fruits is enjoyed like the two you will see below: Milk with bananas or peaches.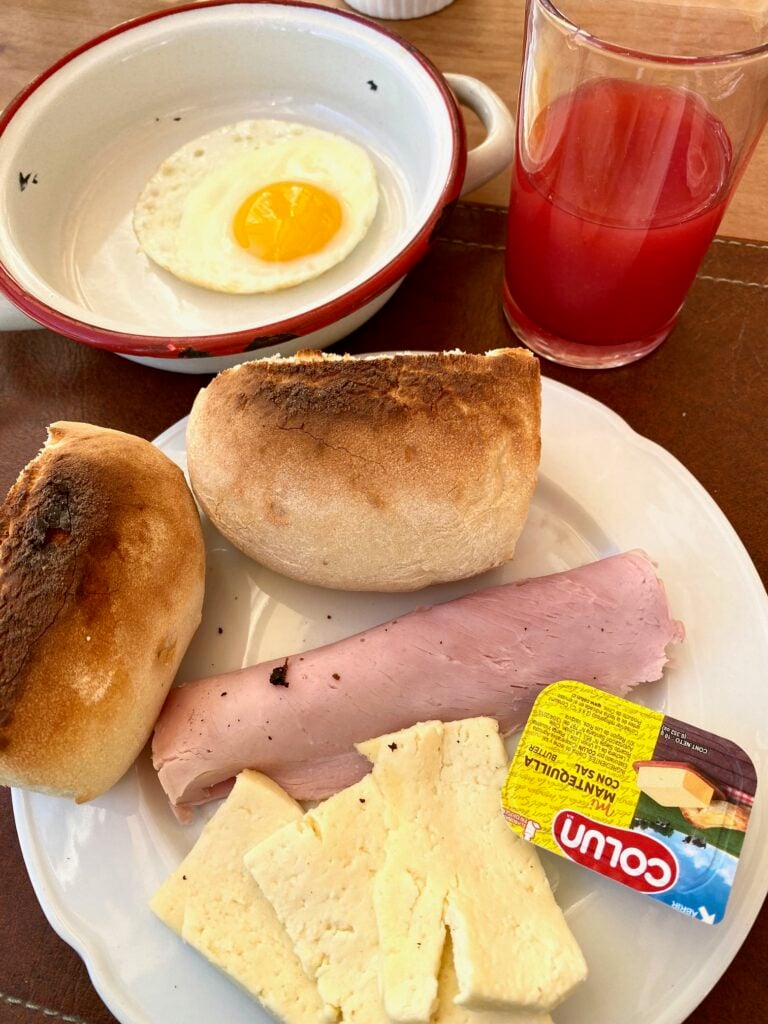 Many cold cuts are popular in Chile: pork ham and turkey ham, beef salami, and mortadella.
Other popular sandwiches or toast toppings are:
Quesillo or Queso Fresco o Queso de Chacra (cow milk fresh cheeses similar to Farmer's cheese or Mexican Panela).
Pates.
Soft mature cheeses like Queso de campo or Queso Chanco (similar options in the USA are Havarti or Muenster).
All jams are popular for sweet toppings; many are still homemade: apricots, blackberries, peaches, and more. Also, Manjar or Dulce de Leche is made with cow milk and sugar, usually store-bought. Dulce de Membrillo (Quince Paste) is also very commonly enjoyed.
The scrambled egg offerings below are enjoyed on weekend breakfast (brunch) or for once (Chilean tea time that often replaces dinner).
Churrascas is a quick bread made at home if you run out of bakery.
Cut fresh fruit or vegetables are not common in most Chilean breakfasts.
Commercial cereals were introduced during the 80s,' and many are recognizable for USA inspiration. They have become more popular as a quicker kid's breakfast alternative.