This is my family recipe, and there is no better than this Christmas Dulce de leche fruitcake or Pan de Pascua. Christmas is not Christmas without eating this Fruitcake.
The secret to this Chilean fruitcake is the addition of dulce de leche to the batter, making a cake mellow and addictive.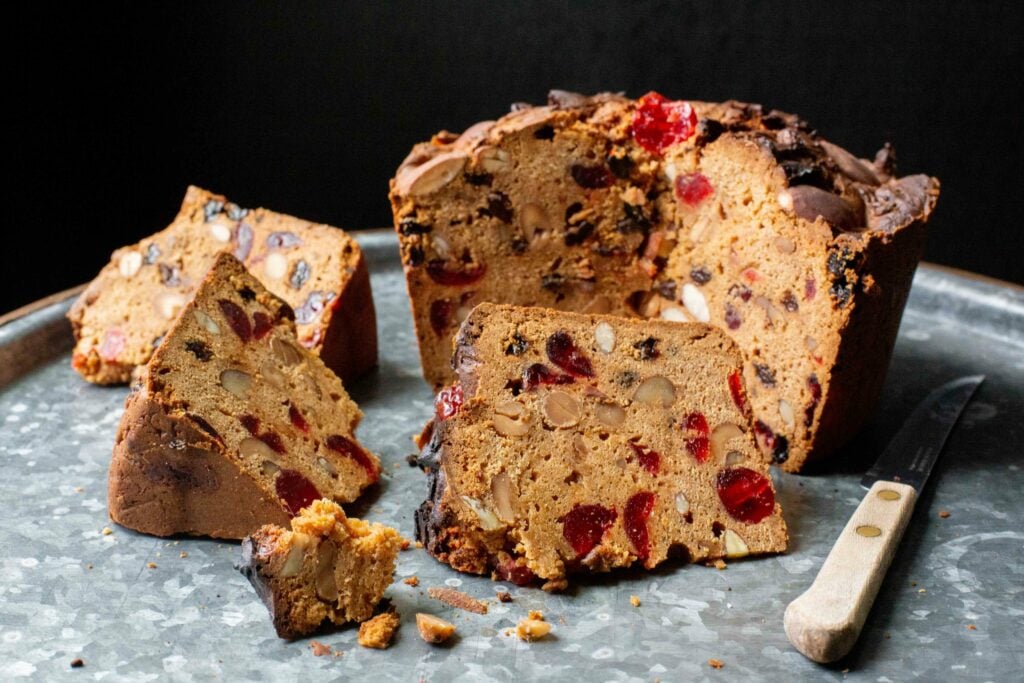 If you know some Spanish, you will notice this recipe's direct translation is Easter bread. I don't have an explanation, but Christmas is called Pascua in Chile, Santa Claus is El Viejo Pascuero, and so on. If you are wondering, Easter is also Pascua, but Pascua de Resurrección.
Don't get lost in the name; this fruitcake will make you fall in love.
How to store a Dulce de leche Fruitcake?
It is better to do it a week before eating it and store it in a plastic bag once it is cold. This way, it improves its flavor. It must rest a full day before cutting it to prevent the crumb from falling apart.
How do I ensure that my Dulce de leche Fruitcake does not crumble?
It would help if you cut the Fruitcake with a serrated knife. That avoids a lot of crumbs. You can even use an electric knife.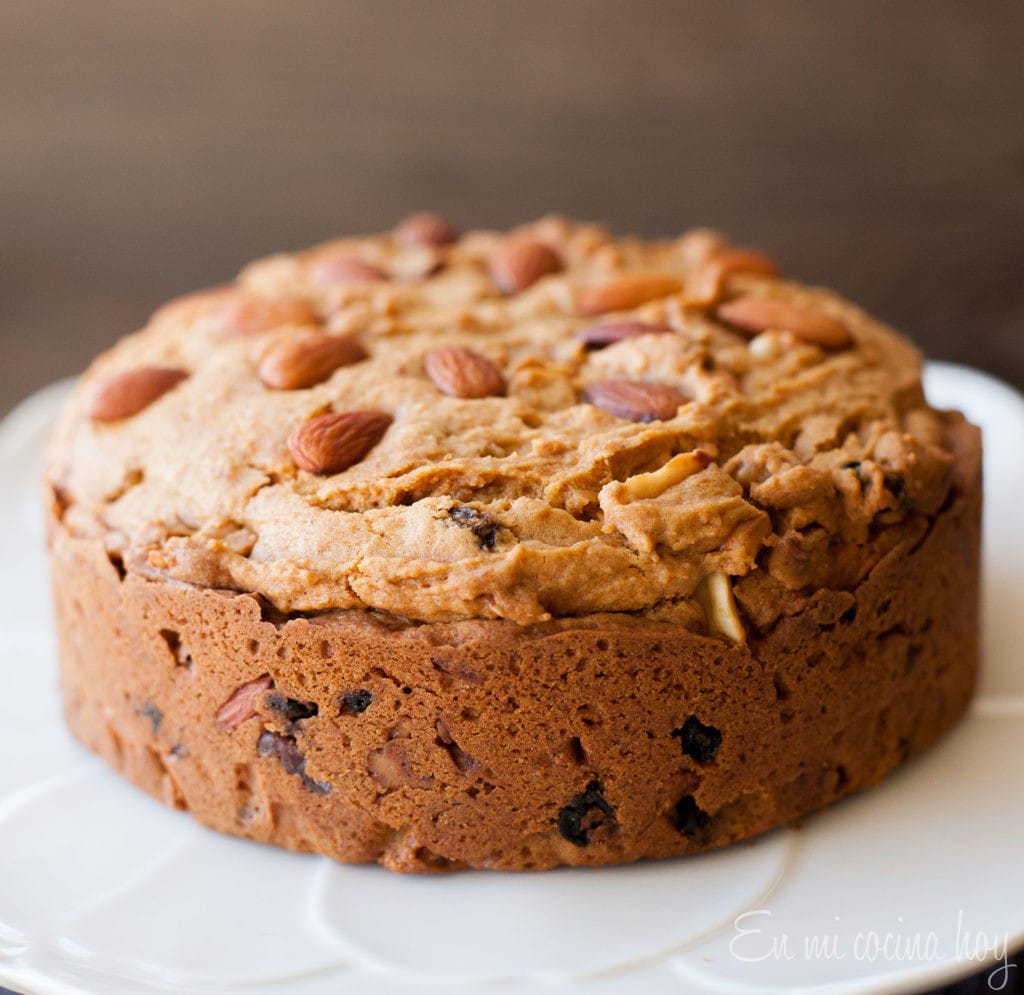 My Dulce de Leche Fruitcake was dry or hard: what could it be?
There are two common causes: one that has been overcooked, the oven must be at a medium-low temperature and bake with patience so that it does not remain raw in the middle and overcooked on the borders. Ideal to have an oven thermometer.
The other reason is overmixing: once you add the flour, you should only mix until incorporated, and it is better to combine the nuts and fruit by hand for the same reason. If you mix too much, the flour develops gluten, and the bread becomes hard.
What Dulce de Leche do you recommend?
This is an important question; the most traditional will be a canned Dulce de Leche, La Lechera brand (made in Chile) Amazon, affiliated link. Easy to find in the USA's Walmart, Safeway, and Latino markets. I don't recommend using Argentinian Dulce de Leche; they are very heavy on vanilla flavor and distracting for Chilean purposes.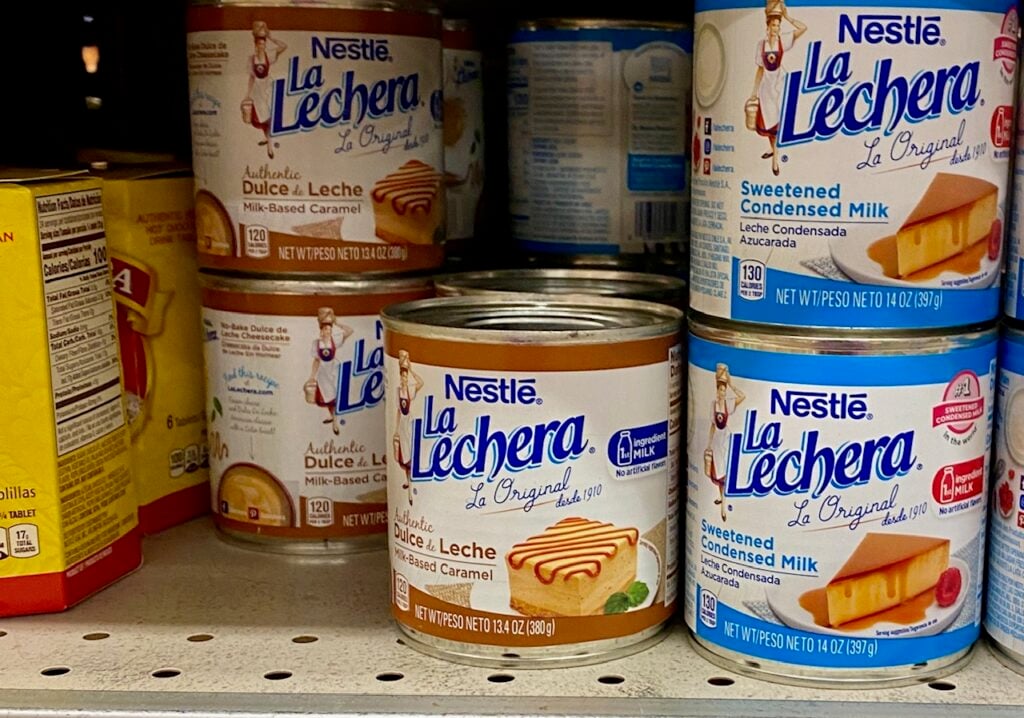 What can I serve to complement the Fruitcake?
Cola de Mono, of course, is Chile's version of eggnog, but with coffee and no eggs.
Other variations of the Chilean Fruitcake:
Chilean Pan de Pascua with molasses or Chancaca
Print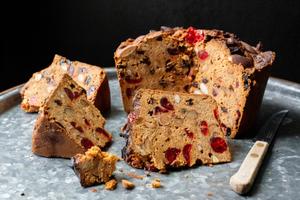 Pan de Pascua Chilean Dulce de leche Fruitcake
Try this amazing Chilean Fruitcake, with Dulce de Leche on the batter.
Total Time:

3 hours

Yield:

4 cakes (12 portions each)
250

grams

of raisins

250

grams

of walnuts

250

grams

of almonds

250

grams

of unsalted roasted peanuts

500

grams

of candied fruit chopped, optional, you may cut the fruit finely on the food processor whether or replace with candied orange

1 teaspoon

ground cinnamon,

1 teaspoon

ground nutmeg

1 teaspoon

powdered cloves
zest of

1

lemon

3 tablespoons

rum
500

grams

unsalted butter at room temperature

500

grams

of powdered sugar

6

eggs at room temperature

500

grams

of Dulce de Leche (I used la Lechera cans)

1

kilo or

1000 grams

of all-purpose flour sifted

3 teaspoons

baking powder sifted

1/2 teaspoon

salt
Instructions
The day before. Soak raisins, walnuts, peanuts, almonds, candied fruit in rum with lemon zest and spices. Stir well. Cover with plastic wrap and let sit overnight.

Preheat the oven to 150C or 300F.
Beat the butter and sugar with a mixer until creamy and pale the next day, about 5 minutes. Add the eggs one at a time, mixing until well incorporated, beating 1 minute after each egg.
Add the Dulce de Leche and beat until incorporated about 3 minutes.
Then add the flour with the baking powder and salt (sifted together) while mixing at low speed until well blended, about 3 minutes.
Finally, add the soaked fruits and nuts by hand with a wooden spoon or spatula, mix well, and divide the dough in half to make it easier.

Pour into buttered cake pans (7′ or 8′).

Bake at 150C or 300F for 2 hours or until golden brown and a stick comes out without crumbs. Let stand 15 minutes in the pan and unmold. Allow to cool completely before cutting. Store in plastic bags for two weeks.

Author:

Pilar Hernandez

Prep Time:

1 hour

Cook Time:

2 hours

Category:

Sweets

Method:

Baked

Cuisine:

Chilean
Nutrition
Serving Size:
Calories:

366

Sugar:

23.2 g

Sodium:

50.5 mg

Fat:

18.7 g

Saturated Fat:

6.9 g

Carbohydrates:

44 g

Fiber:

2.6 g

Protein:

7.1 g
Keywords: chilean fruitcake, chilean cuisine