Versión en español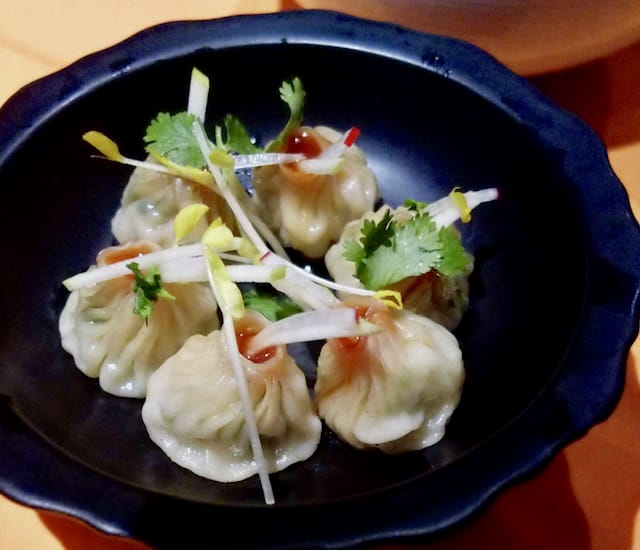 Once again I was lucky to be invited by Carnival to enjoy a cruise around the Caribbean. Three years ago I boarded the Sunshine. This time we went on the newest boat in the fleet, the Horizon. A wonder, full of activities and of course fantastic restaurants.
Carnival has been expanding the options of meals on their boats to new limits, offering numerous options included in the cost of the trip (a post with my favorites in that category coming soon) and others with a supplemental charge. Different restaurants work differently on the ship, but this is all well explained in the Carnival App. Once on the cruise you can access the App for free and make reservations in the restaurants and see all the entertainment and meals options available at that time. It is incredibly practical. I recommend it.
Bonsai Sushi
Generally located in the middle of the boat, 5th-floor Promenade deck. In the Horizon has a terrace where you can also eat. It's a full-service restaurant.
Each dish has an associated cost, but it is cheap: prices are between $ 2 – $ 8 for individual dishes. It is easy to share and order more things if desired. I never saw it full, a great option always. It's one of my favorite restaurants on Carnival cruises.
Recommended dishes: To start, edamame or vegetable tempura. The sushi rolls are excellent; I liked the Bang Bang Bonsai Roll. Yakitori is another good choice: you can order chicken, pork or beef (they are the skewers of the photo) If you want to try a different dessert, the green tea ice cream tempura is perfect. It is a significant portion, easily feeds three people.
Next to Bonsai Sushi is Bonsai Teppanyaki. I could not get reservations, so I did not try it, but people from the group that went found it very entertaining and lots of food.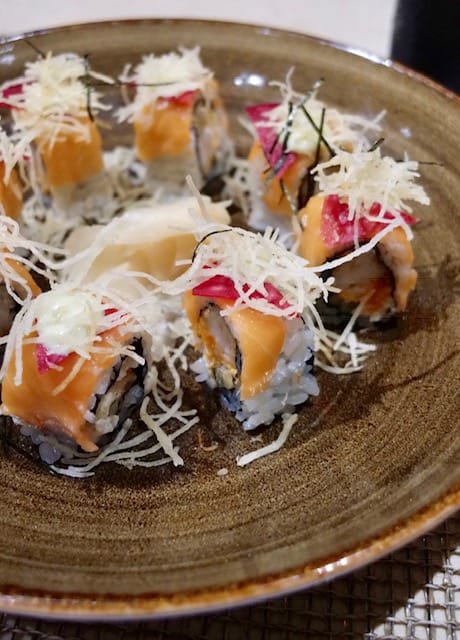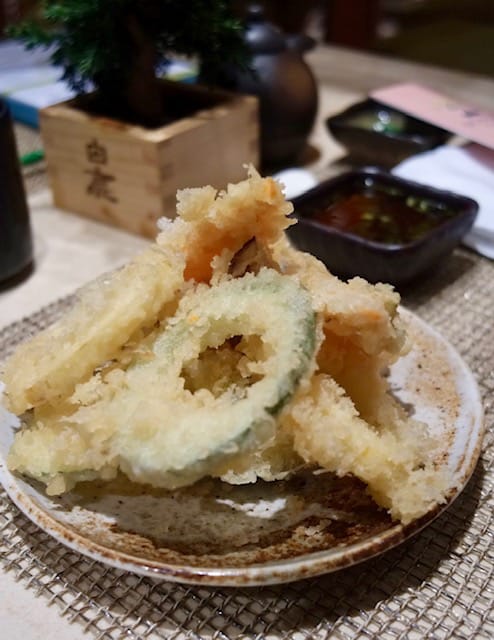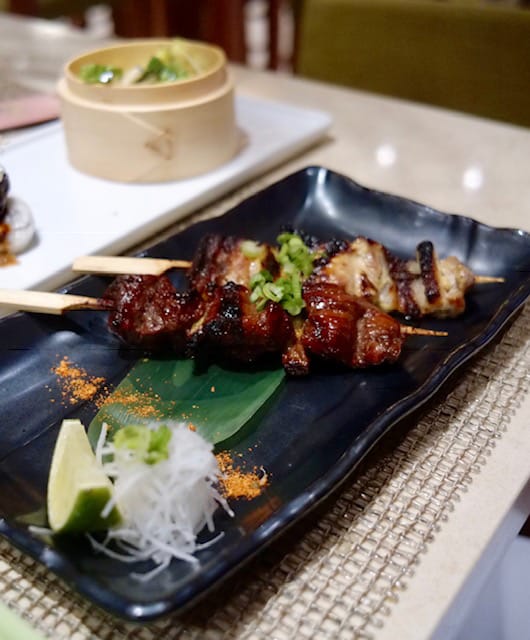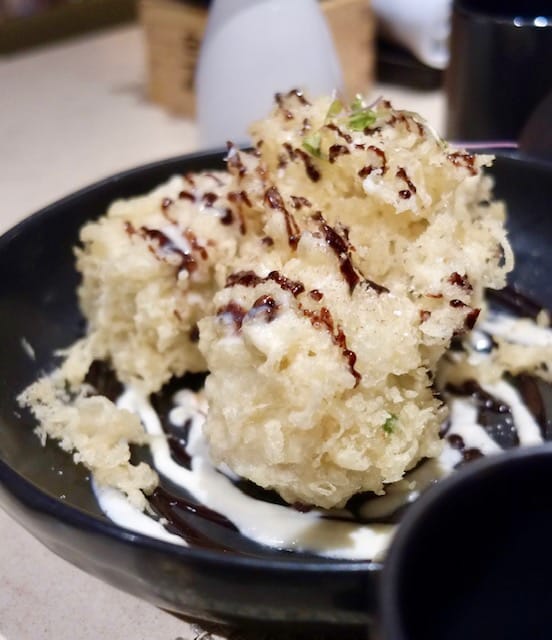 I also tried the omakase ($ 15) which consists of an entree, salad, and main course. Although I liked it, I recommend ordering from the menu and trying more things. Other options available at Bonsai Sushi are bento boxes for one or two people.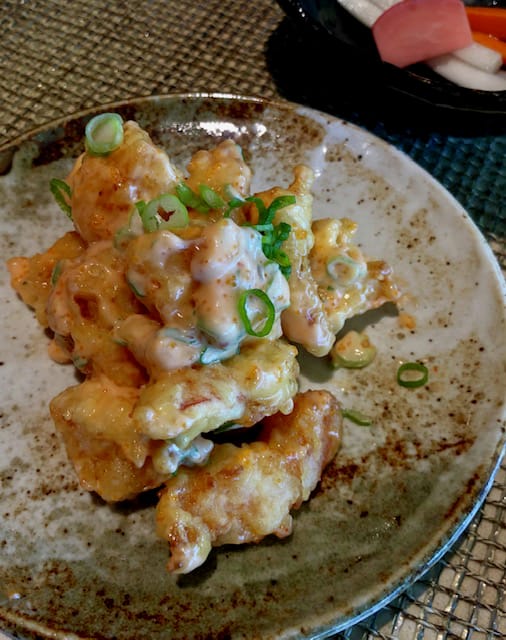 Seafood Shack
Located near the pool, outdoors, but shaded. Counter service: you order and pay, your device vibrates when the food is ready. It never saw it have a wait.
The menu consisted of seafood prepared in different ways. I tried the lobster roll ($ 12), which I found rich, with excellent bread, toasted and generous in size and portions of lobster. I heard the shrimp skewers are also great.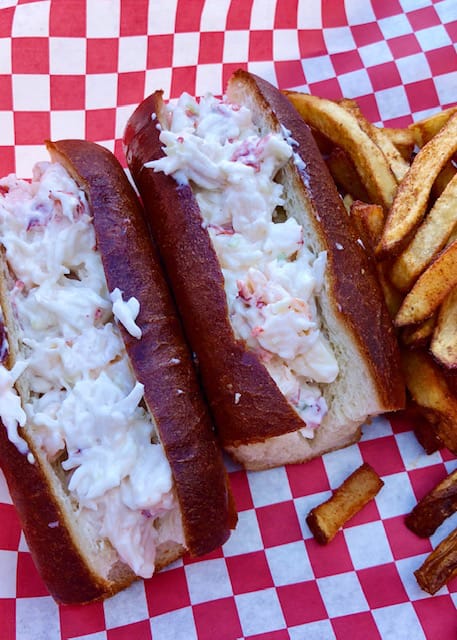 JiJi Asian Kitchen
This was my favorite restaurant in the Sunshine. Again, I was amazed at the quality of the service and the complex flavors of the food, as well as the decoration very much in tune with the Asian theme. During lunch it does table service, is part of the all-inclusive package, and they serve noodle bowls. Look for the Mongolian Wok. I did not get to try it this time, but it's popular, and several times I saw lines. I advise you to go early, as soon as they open for lunch or close to the end.
For dinner, it is a flat rate of $ 15 per person. Each person chooses an appetizer, a main course, a side dish, and a dessert. All served in generous portions at the center of the table and everyone eats what they want, family-style. Everything is tasty, so I am going to recommend what I consider to be a must: Chicken and cilantro soup and duck for appetizers. Mains: sweet and sour shrimp or pork. Sides: the green beans and the wide noodles. Desserts: creme brûlée and the crepes.
Don't forget to open your fortune cookie before leaving. An excellent experience.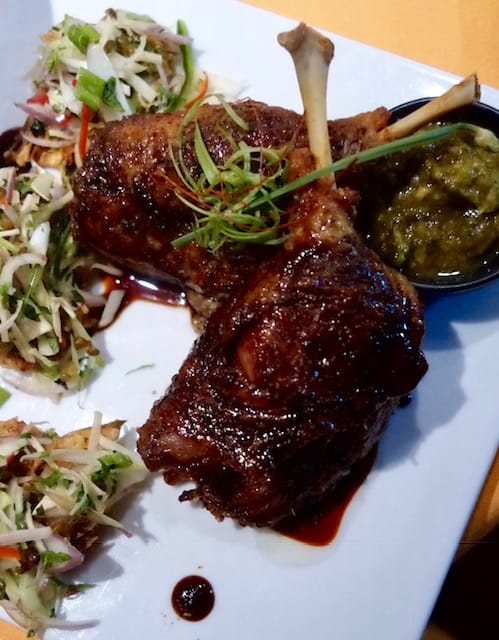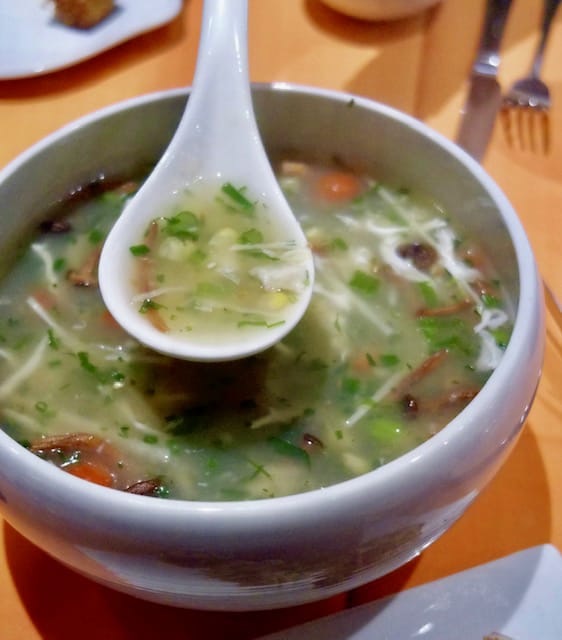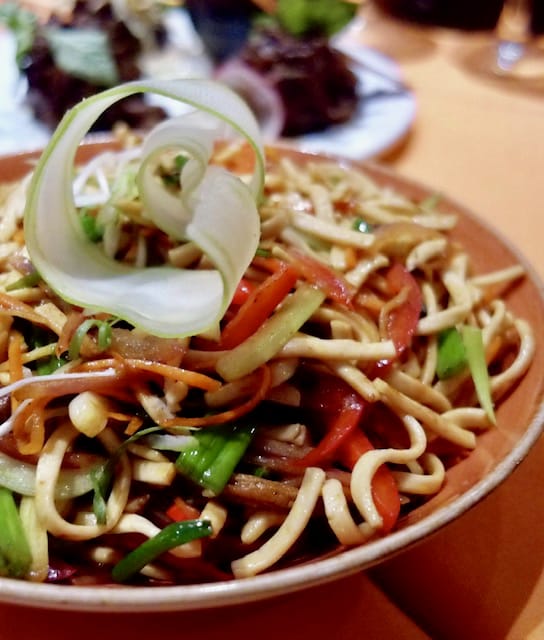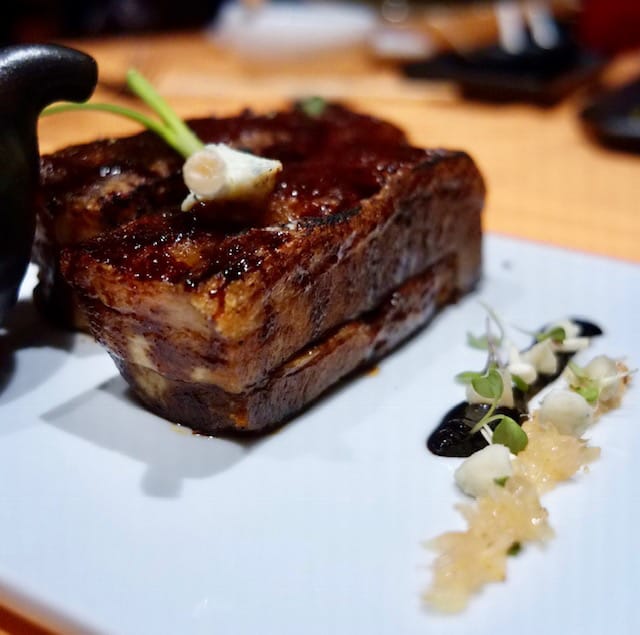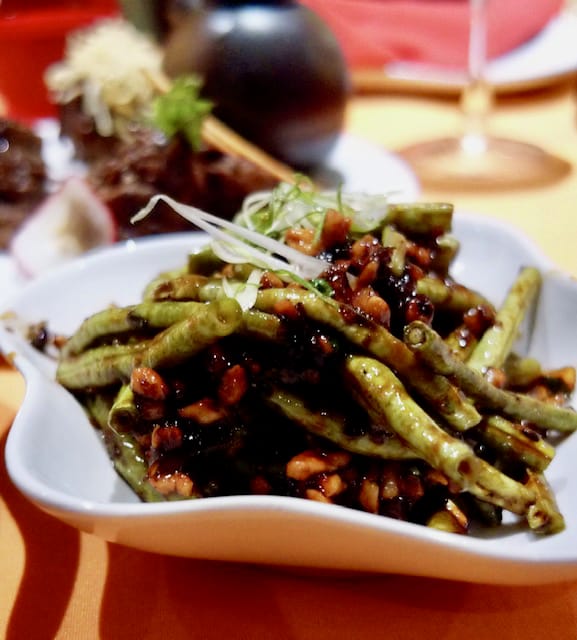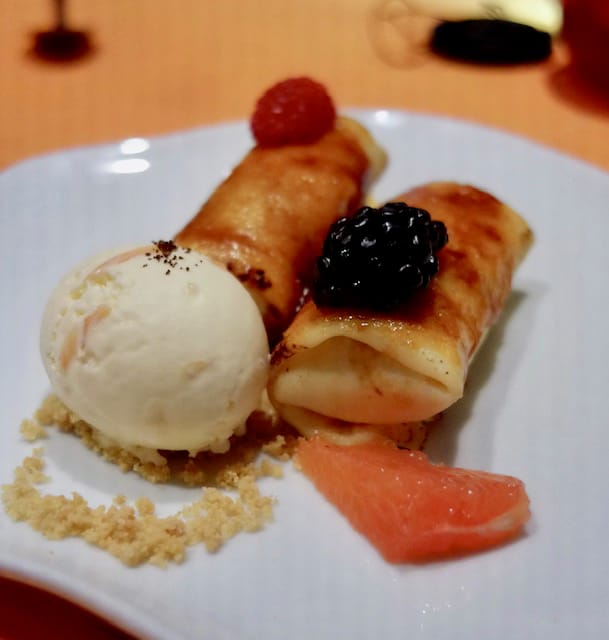 Fahrenheit 555 Steakhouse
Only open for dinner, no shorts. It is better to have reservations; it has a flat rate of $ 38 per person. Choose an appetizer, an entree, a side, and a dessert. This restaurant has a more formal setting and is slower. Unless you have children who appreciate this type of dinner, it is best to leave them at the kids club. Unlike Ji Ji and Cucina del Capitano who are more relaxed, the presentation of the dishes is more elaborate and modern, as is the decoration.
The menu is elaborate with 8-10 options for each: appetizer, main courses, and sides. At the table we shared, we tried almost everything and the favorites were: oysters (the presentation is spectacular), and stuffed mushrooms for an appetizer. They have wagyu, rib eye, cowboy steak, and other classic cuts and of course Surf & Turf: filet mignon with lobster. Each cut is prepared at the temperature you want. I had filet mignon, and it was perfect. Here you can also choose your favorite salt, among eight varieties, to season your meat. Recommended sides: Roasted potato, mac & cheese, or rapini.
For dessert, I recommend asking for the "Art at the table." The whole table needs to order it, but it's worth it. The chef comes and mounts the dessert in front of you. Entertaining and it has many parts: cookies, ice cream, fudge, chocolate, something for everyone.
For vegan options on the Fahrenheit 555 read the extensive review at Amanda's blog. Lots of tips and pictures.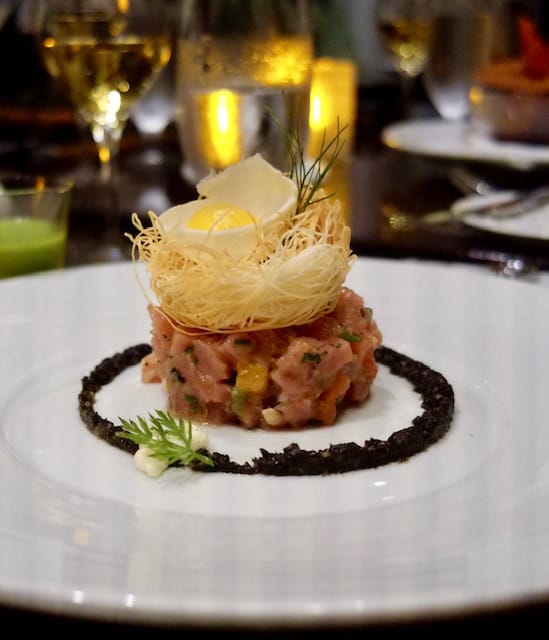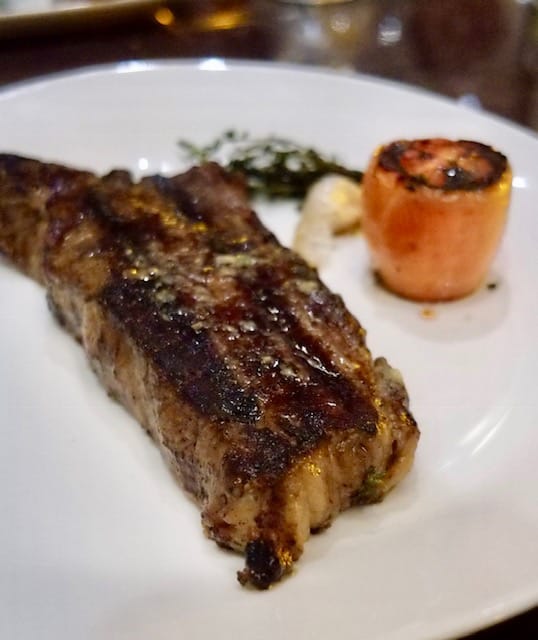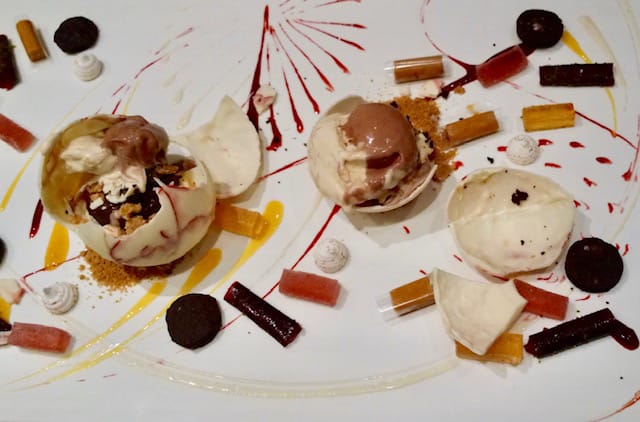 Cucina del Capitano
During the lunch hour this restaurant is also table service, and part of the ship's all-included meals. It is a pasta bar where they prepare the pasta with the additions that one chooses from a list and a sauce. They also have meat lasagna. It is called Pasta Bella for lunch, but it's the same location.
Cucina del Capitano is a perfect restaurant to go with family. Flat rate of $ 15 per person. Full service. Appetizer, main, side, and dessert are included. It is plentiful; the pasta dishes are super generous.
I recommend starting with the tasty meatballs, arancini (risotto balls with cheese inside, and then fried), and the burrata that is prepared on the Horizon. Main: I ate the branzino fish, it was excellent. Other dishes that I tasted and were delicious were the risotto Milanese, the beef ribs and all the plates of pasta. Of the sides: roasted cauliflower and broccoli and potatoes. I do not recommend the eggplant dish. For dessert: my favorite was the apple pie.
To finish they serve a small glass of Limoncello.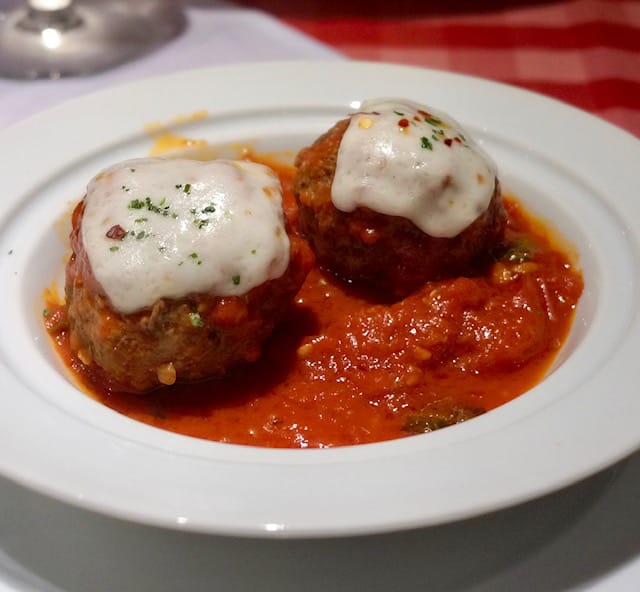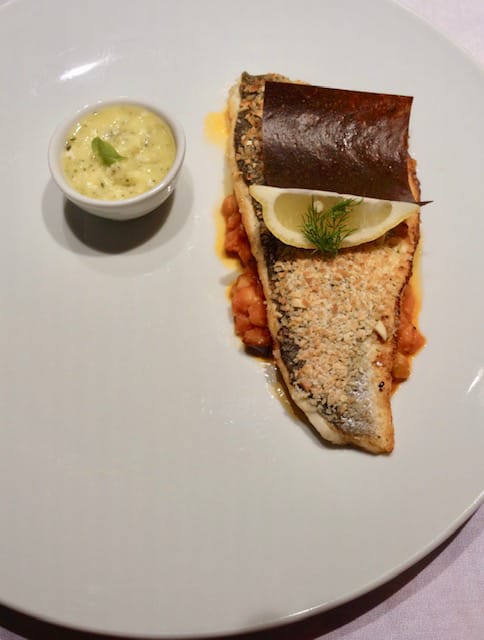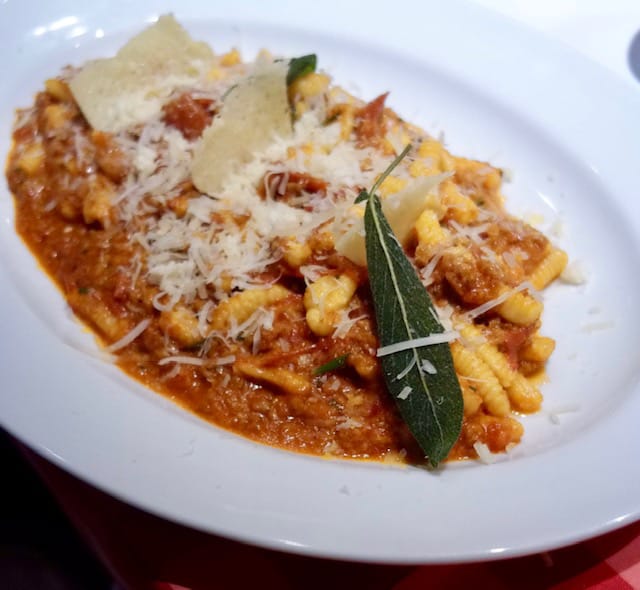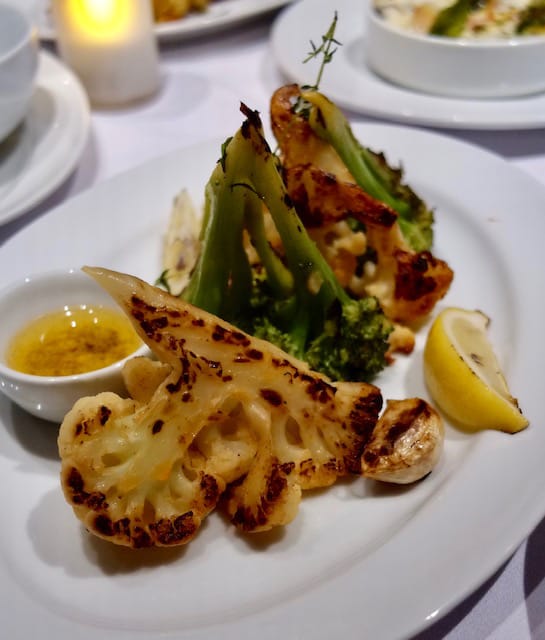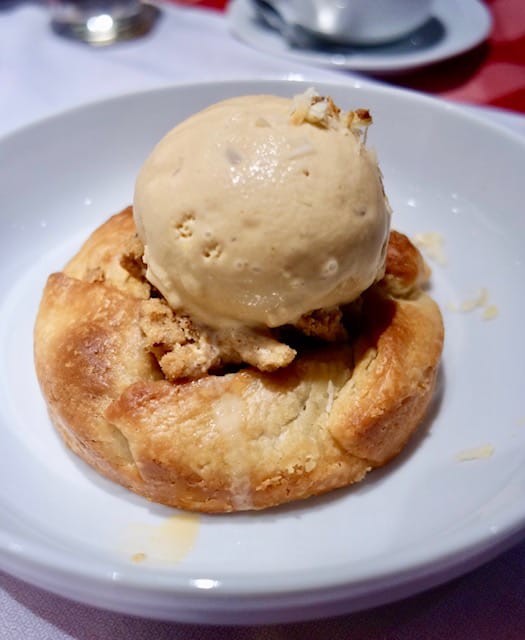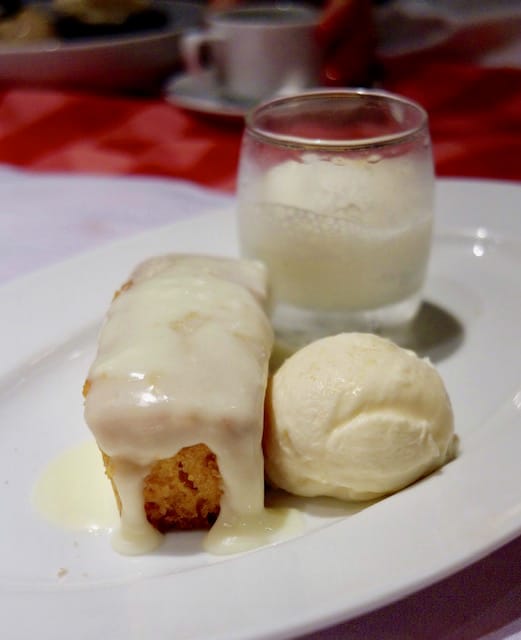 JavaBlue Café
A cafe with all the basics: lattes, espressos, cappuccinos and since we are on holiday there are spiked coffees too. The coffee is well made, and they also serve gourmet teas, frappuccinos, and pastries: donuts, cupcakes, cakes, cookies, and strawberries dipped in chocolate. So much deliciousness.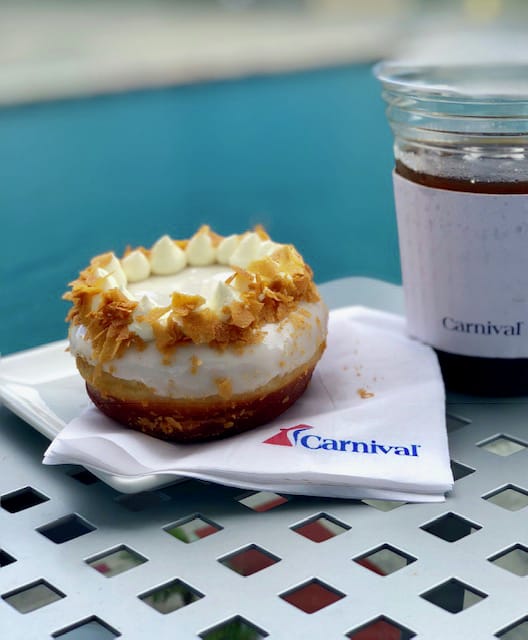 Alchemy Bar
My favorite bar on the cruise, located in one of the main corridors, which allows for superb "people watching," making new friends, and enjoying cocktails. These are special drinks. One can tell the bartender or "mixologist" what liqueurs and flavors are your favorites, and they will surprise with a perfect "prescription." The vintage-themed pharmacy decor is terrific.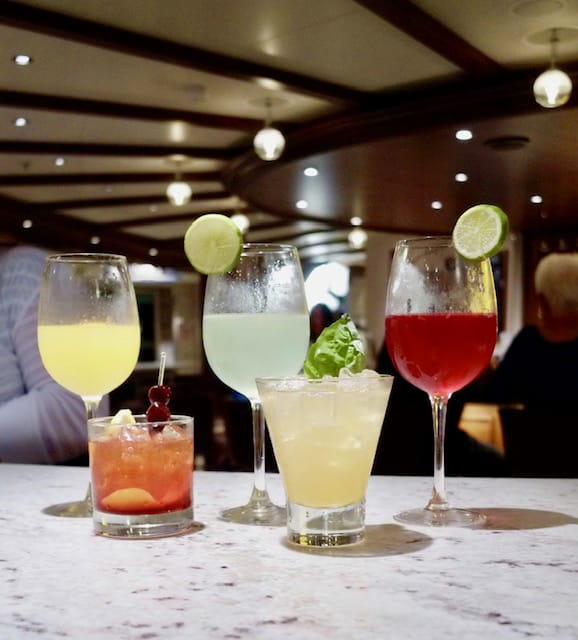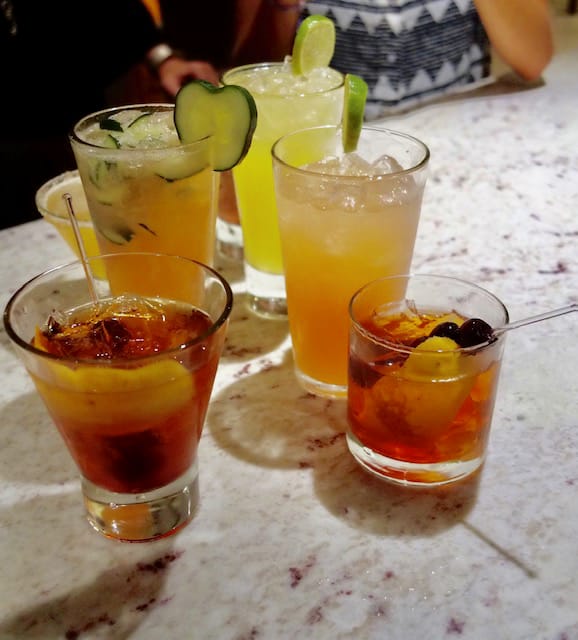 Brewery Tour: Guy's Pig & Anchor Brewhouse
If you have days at sea, a fun activity is to do the tour of the brewery (you have to make a reservation, and it costs $ 29 I think). The truth is it's incredible to hear and see the process of brewing beer on a ship, with desalinated sea water. The tour includes tasting four craft beers and a beer glass to take home. The restaurant during lunch offers a buffet (included) and excellent. At night it works like the Smokehouse. I didn't have time to try it, but heard good reviews.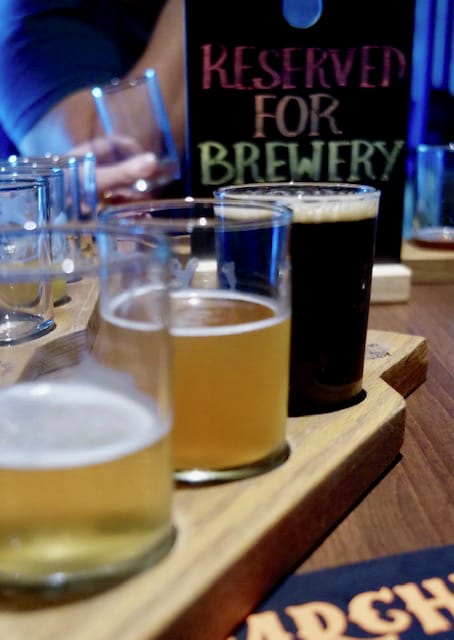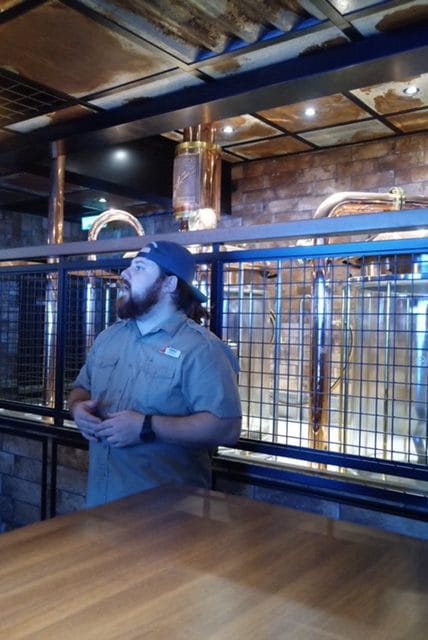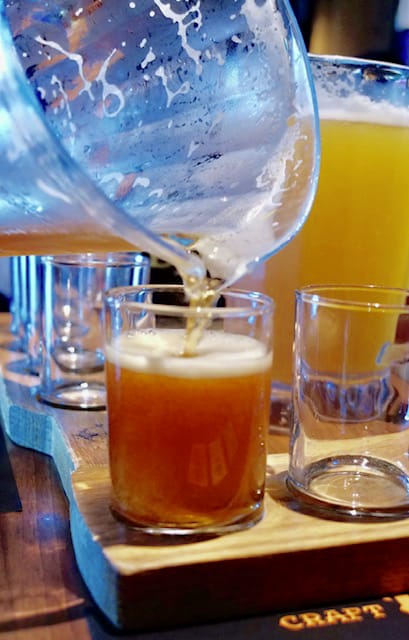 Thank you, Carnival for the invitation! And if you were tempted by the photos and need an urgent vacation go to Carnival. Carnival operates 26 cruises with options from 3 to 24 days on board visiting The Bahamas, Caribbean, Mexican Riviera, Alaska, Hawaii, Canada, New England, Bermuda, Cuba, Australia, New Zealand, Pacific Islands, and Southeast Asia.
If you have questions about the activities, staterooms or entertainment available, leave a comment. Here on the blog, I write about restaurants, but obviously, I got to try and got an opinion on other things as well. I even went to the Spa. Thanks for reading and commenting.