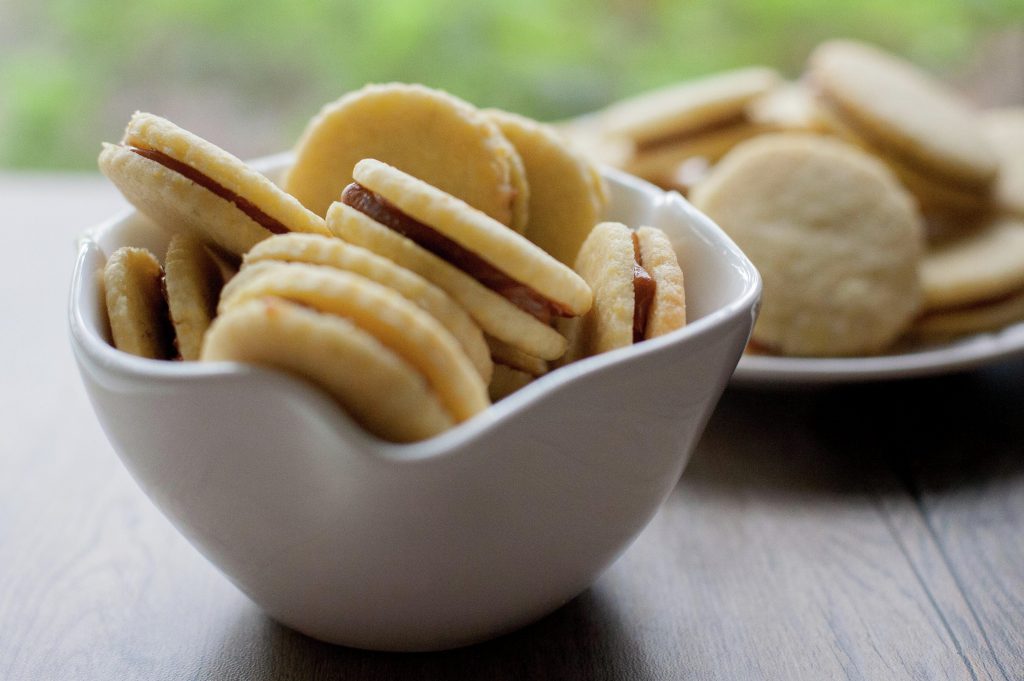 The first time I ate cornmeal cookies was in Boston, I grabbed a package at Flour for the road to Maine, and I was so glad I did. The subtle corn flavor, brightened with a hint of lemon is so delicious and the little bite or crunch make these cookies addictive. Of course, I turn these cookies in little Alfajores with the help of some dulce de leche.
Cornmeal Cookies
for 50 or 25 medium cookies Alfajores
Ingredients:
1 1/4 cup all-purpose flour
1/2 cup cornmeal
3/4 cup sugar
1 teaspoon salt
zest of 1 lemon
100 grams of butter
2 tablespoons olive oil
1 egg
1 teaspoon vanilla extract
Dulce de leche or apricot jam to stick
Preparation:
Working in the food processor, mix the flour, cornmeal, sugar, lemon zest and salt, pulse a couple of times or for a 1 minute.
Add the cold butter diced and pulse until crumbs form, should look like sand.
In a bowl mix the egg, olive oil and vanilla, beat lightly with a fork to incorporate.
With processor running incorporate the beaten egg to the flour mixture, pulse until a soft dough forms. Do not  knead.
Wrap on plastic wrap and refrigerate for 1 hour or more.
Preheat oven to 350F or 180C.
On a floured counter, roll the dough until 1/2 cm. thick. Cut into circles using a cookie cutter and place on a baking sheet.
Bake for 8-10 minutes until lightly browned on bottom.
Remove from oven, let stand 5 minutes in the baking sheet and then using a knife lift to a rack to cool completely.
Once cool store or stick with dulce de leche or jam and serve.
Can be stored in an airtight container 2-3 days. It also can be frozen.