Versión en español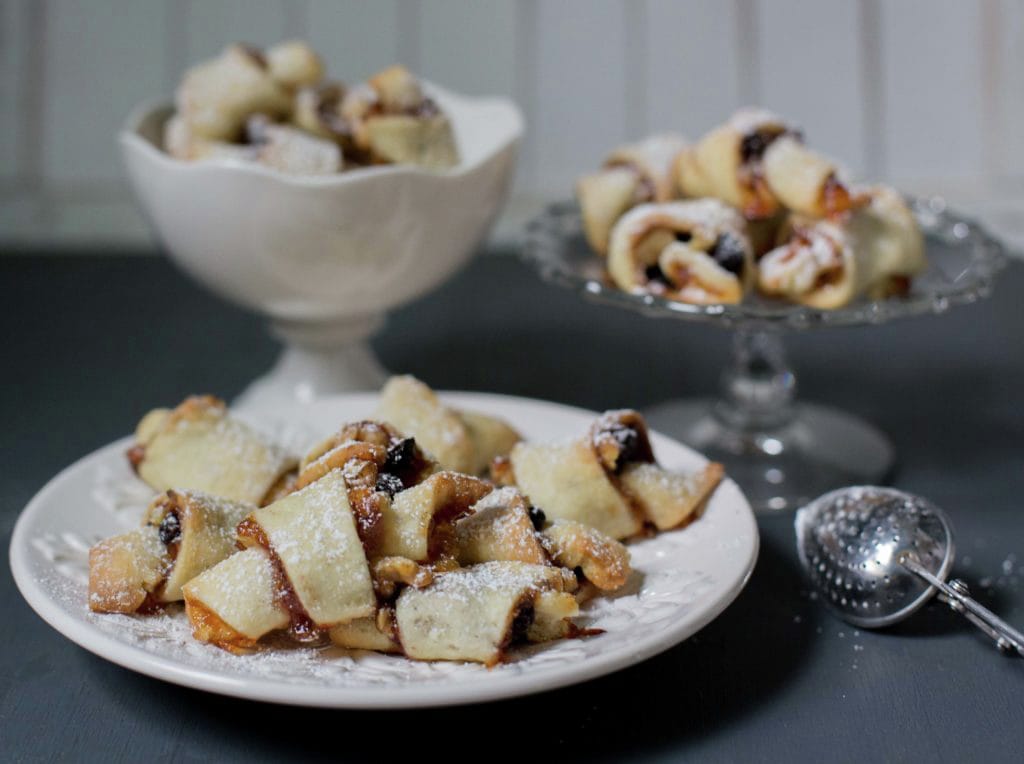 Rugelach cookies are of Jew origin. I had never tried them while living in Chile, but here they are easy to find in Jewish delis or bakeries. They are delicious, they look nice and can be modified with the ingredients you have or what you want to eat.
This recipe was first published in the blog in 2009, I've adapted it and there are many variations, you can use your favorite jam and combine it with finely chopped chocolate, nuts, peanuts, etc. (I am including an old photo towards the end of the post).
I love these cookies because I don't like to use the rolling pin over and over again and cutting shapes when making cookies. That´s why I love cookies that are made as a bar and cut using a knife or where you form little balls and then press down, great to make with kids.
Since the dough has cream cheese it's delicious and they keep well. Sprinkle with powdered sugar before serving. I highly recommend them, although I did no grew up eating them, they are among my favorites today.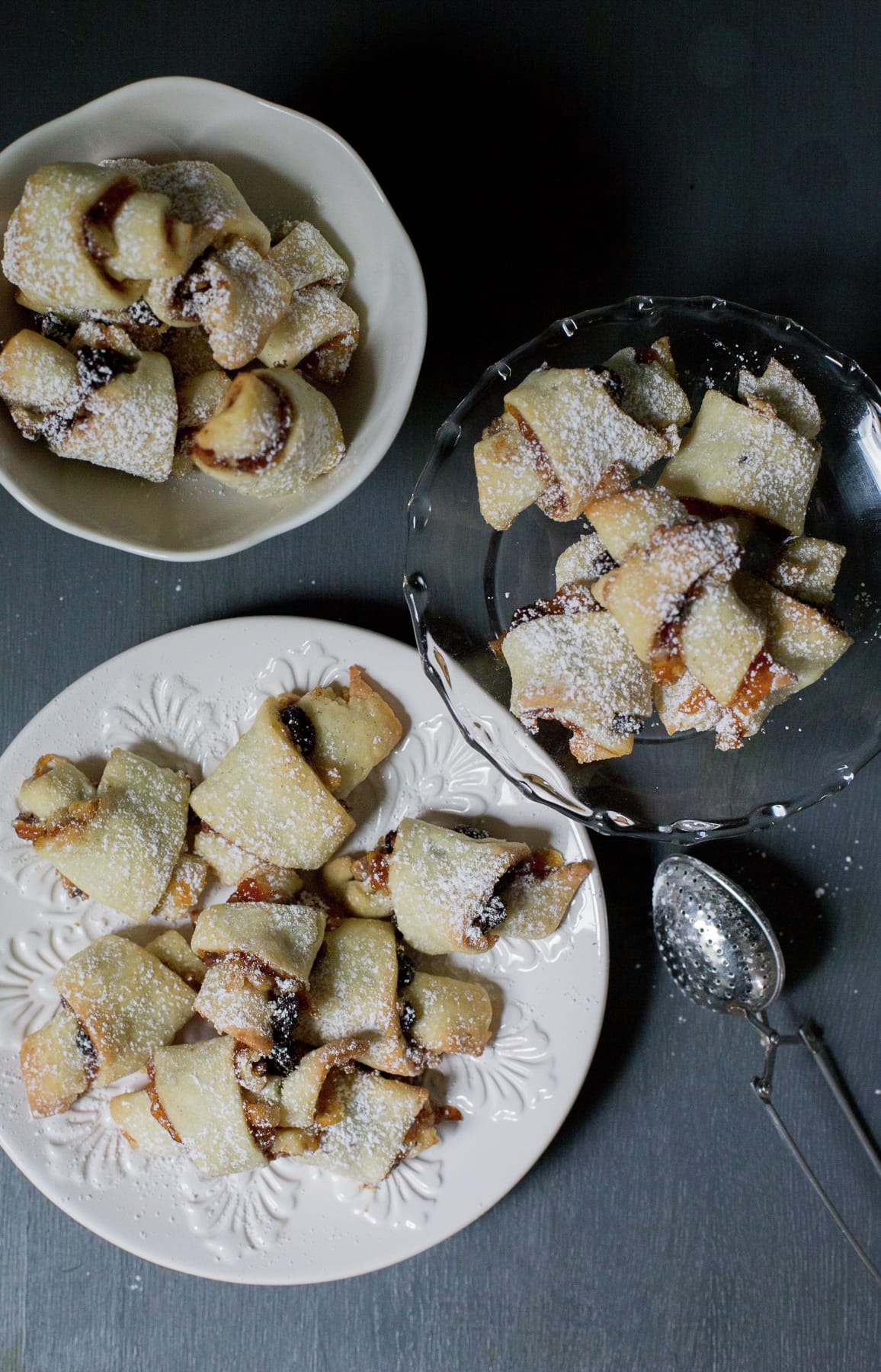 Rugelach cookies
48 cookies
Ingredients:
1 cup butter at room temperature
225 grams cream cheese (Philadelphia) at room temperature
2 3/4 cup regular flour
2 teaspoons vanilla extract
1/2 cup granulated sugar
1 cup raisins, chopped
1 cup walnuts, chopped
2 tablespoons ground cinnamon
1 cup apricot jam
Preparation:
Prepare the dough, beating together the butter and cream cheese until frothy and soft. Add sugar and vanilla, beat to combine. Add flour and form a ball. Form a disc with the dough and refrigerate wrapped in plastic film at least for 1 hour, overnight,t or up to 2 days.
Prepare the filling, combine almonds, raisins, and cinnamon. Separate into 4 equal parts.
Preheat the oven at 375F or 190C. Prepare an oven tray with aluminum paper or Silpat.
Divide the dough into 4 portions, take one, and put the rest back in the refrigerator.
Extend the dough using the rolling pin on a surface sprinkled with flour, form a circle of approximately 25 cm in diameter.
Cover the circle with jam, use 1/4 of the total jam. Sprinkle with 1/4 of the filling. Cut the circle into 4 parts and then each quarter into 3 parts. Roll from the outside, they will look like small croissants, place on the tray and bake for about 15-20 min or until slightly golden.
Allow cooling on a cooling rack. Repeat with the rest of the dough. Can be stored in an air-tight container for up to 1 week.
Variations:
With blueberries and almonds: Replace walnuts with almonds, instead of 2 teaspoons of cinnamon substitute for 1 teaspoon cinnamon plus 1 teaspoon powdered cloves. Use blueberry jam instead of apricot jam.
Sugar-free: Replace sugar with 1/2 cup of Splenda, jam with 1 cup of sugar-free peach jam. And if you like you can add 1 bar of sugar-free chocolate, finely chopped. Of course, you can use different flavors of jam. And although it is sugar-free it's not light on calories, eat in moderation. Since these cookies are sugar-free they don't keep well, so hopefully prepare them the day before serving.